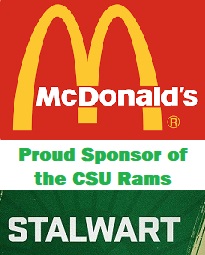 CSU basketball released their 2023 non-conference slate, and it's a tough one.
The Rams men's team is set to face Boston College, possibly Creighton or Loyola Chicago, the Colorado Buffaloes, Washington, and Saint Mary's, among others.
"This is one of, if not the most challenging non-conference schedule that we have put together. We always strive to schedule in a way that prepares us for the Mountain West and gives us an opportunity to play in the postseason," head coach Niko Medved said. "Our coaches and players understand the challenge and we are always excited to compete against the best."
Let's take a look at who Medved's Rams—led by Isaiah Stevens—will face to start their 2023 season.
Early-season matchups favor Colorado State
Louisiana Tech went 15-18 last year in Conference USA and they return two of their top-3 scorers in Isaiah Crawford and Keaston Willis. The Bulldogs won't be a pushover, but the season-opener at Moby Arena? Colorado State will look to start the season off with a win.
Wright State went 18-15 in 2022-23 in the Horizon League. That should be another home victory for CSU.
Next up is the University of Northern Colorado Bears in Greeley. Normally, one might chalk this up to a win for the Rams, but the Bears beat CSU last year 88-83. In the game, they out-rebounded CSU 30-16. Medved and Co. will be hungry for revenge this year.
Finally, there's Kansas City in Fort Collins. The Roos went 11-21 last season in the Summit league, and this will be a chance for CSU to earn another win and start off the year 4-0 if things go right.
2023 Hall of Fame Classic preview
Less than a week later, the green and gold will in Kansas City for the two-game Hall of Fame Classic.
On Nov. 22, the Rams face Boston College on a neutral floor. BC went 16-17 last year, which was their best season in the last six. On paper, Colorado State should win, however you can't look past 7′ senior forward Quinten Post. He led the team in points (15.1) and rebounds (5.6) last year and his height could give CSU some fits. Patrick Cartier will have to bring his A-game.
If CSU wins that first game, they'll play the winner of Creighton–Loyola on Thanksgiving Day. Or, they'll play the loser if they fall to the Eagles on Wednesday before Thanksgiving.
Last year, the Creighton Bluejays went 23-14 and went to the Elite Eight in the NCAA Tournament while Loyola finished 10-21 and could be in a second straight transitional year.
Click here for a full preview of all three teams the Rams could possibly face in the tournament.
A tough finish to non-conference play
Next up for Colorado State is the Rocky Mountain Showdown at Moby Arena. It's the first time CU has played in Fort Collins since 2019 and the Buffs were solid last year at 18-17 in the Pac-12.
The Buffaloes have a ton of youth and return basically everyone from last year, which will make Tad Boyle's team even more difficult to contend with. One key player to keep an eye on is Nique Clifford, who joined CSU basketball in the offseason and transferred away from CU.
Next up is a contest against Washington in Las Vegas. The Huskies finished last year at .500, 16-16, and Keion Brooks is a dynamic forward who's back and averaged 17.7 PPG last year.
In early December, Denver University travels an hour north to Fort Fun to face the Rams at Moby Arena. DU went 15-17 but finished behind the aforementioned Kansas City in the Summit League due to conference record.
The Pioneers are just a warmup for Saint Mary's, though. The Gaels not only went 27-8 last year but they finished the season at No. 19 in the AP Poll. They did lose leading scorer Logan Johnson, but something says they'll make up for his loss and be competitive again this year.
Adams State should be a layup for CSU basketball, before playing another solid team in Loyola Marymount to finish off their non-conference slate. LMU went 19-12 last season in the West Coast Conference, two spots behind the aforementioned Saint Mary's in second place.
In previous years, the Rams have played multiple "layup" games. But not this year. Medved's right; this is one of the toughest non-conference schedules in recent memory for CSU men's hoops.
The Rams are stacked with talent, from Stevens and Cartier to newcomers Clifford, Javonte Johnson and Joel Scott. If they can gel early, that starting five could really build up momentum going into Mountain West Conference play.