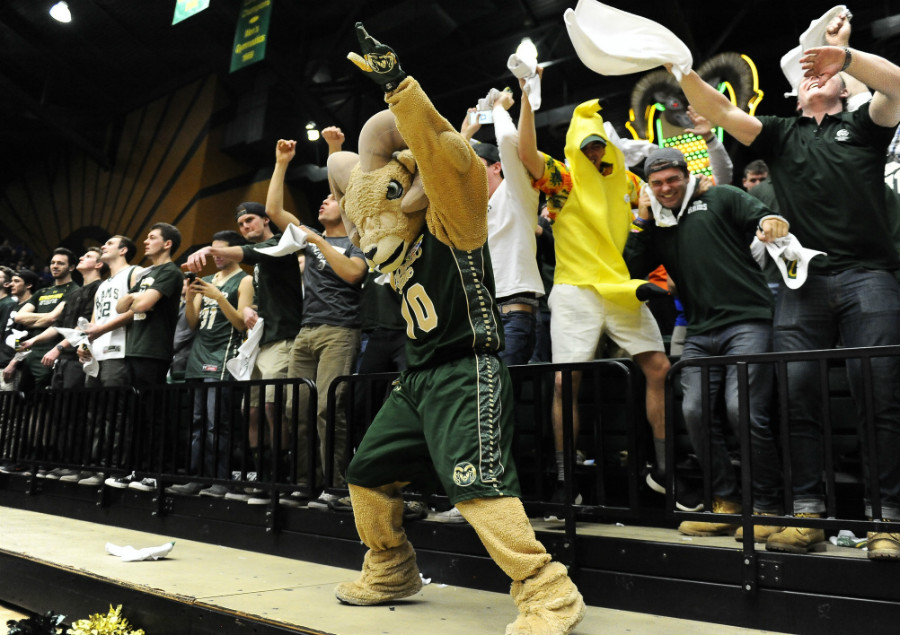 The Colorado State women's basketball team is well on their way towards breaking the program's record for longest win streak, set in 1998-99. Currently, with 17 straight victories, the women hold the second longest streak.
And while the rest of the nation is looking towards Golden State for basketball dominance, Colorado looks towards CSU.
Since going on a run to end the 2014-15 season, the Rams have won 26 consecutive regular-season home games and are currently 11-0 at Moby Arena in 2015, beating teams by an average of 22 points.
"You can tell the fans are excited about the team," Sam Martin, a CSU basketball alum, said. "They get into the games and love watching them play. CSU has always had an amazing group of supporters, but as the team continues to succeed, the numbers are growing, and it is so much fun to start to see Moby looking more and more like it used to back when Becky Hammon was here."
Defense is a huge contributor to the success CSU has seen. And Sweden-native Ellen Nystrom has lead the team to be defensive minded since the beginning, recording a personal-best seven steals in her first game.
"Ellen Nystrom is one of those players that does it all, which you can tell from her stats. She can play any position and has a presence on the floor that is hard to explain," Martin said.
Having held 12 teams to under 50 points this season, CSU is hoping they can put the sang, "Defense wins championships," to the test.
The women hold a perfect 10-0 start in the Mountain West Conference and are quickly proving to be a force throughout the nation.
But the Rams would be nowhere without their bench. The bench is not only full of depth, but they're passionate on every possession. Lead by head coach Ryun Williams, the team's bench is always cheering each other on, and coach knows he can count on each and every one of his girls to show up and put in good minutes.
"He (Williams) is always challenging you to be better, to do more and to play with confidence. He pushes his players to be the best they can be and to perform. As an athlete, you have to perform, and he's going to help you get ready for that moment when you do," Martin said.
The type of enthusiasm the team carries comes from a history of CSU women treating each other as family.
"When I played, we had such a great team chemistry that, no matter what, we wanted each other to succeed, but we also all had a common goal to succeed as a team, and that means that every single person is involved in whatever way they can be," Martin said.
These next three games will be crucial, though. Currently sitting at 20-1, CSU will have to defeat three very well-coached Mountain West programs if they want to keep their perfect conference record and win streak intact. Tonight, the Rams will face off against Boise State for the second time this season, following it up with UNLV and Utah State at Moby in the next week.
If they continue to play as they have, though, they should have every opportunity to keep their streak going.