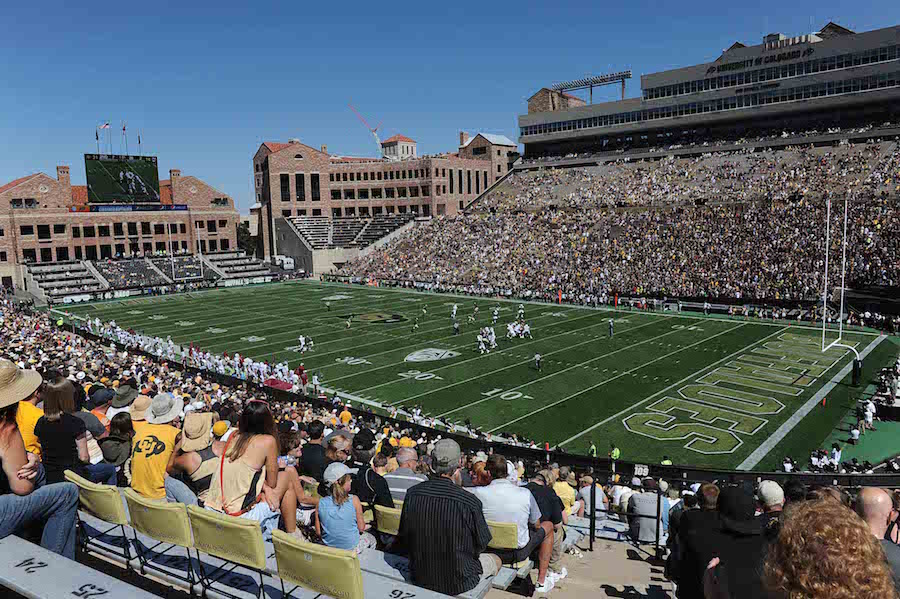 The big news for Colorado football this week was the transfer of defensive lineman Antonio Alfano from Alabama to CU. Alfano was the No. 28th ranked recruit of the 2019 class entering college this fall (ESPN300). The 6'4″ true freshman has yet to play in his first college game.
See you in January @Antonioalfano99! Welcome home! pic.twitter.com/rqOLVSptXf

— Mel Tucker (@Coach_mtucker) November 5, 2019
That is exciting for the future, but there are still three games to be played this season.
Mel Tucker's first year started with fireworks as the Buffs defeated rivals Colorado State and Nebraska in back-to-back weeks. Now, a seemingly much different Colorado team (3-6, 1-5) sits at the bottom of the Pac-12 South and has lost five straight games. To finish the year off right, the Buffaloes will have to topple a couple tough opponents.
Stanford (4-4, 3-3) has battled in close games, similar to the five games Colorado has played decided by one score or less. They have also suffered a couple lopsided losses. So have the Buffs. And while Colorado lost to Arizona 35-30, Stanford beat those same Wildcats in Week 9, 41-31. Stanford is a three-point road favorite against Colorado.
On the other hand, Colorado can beat Stanford if the Buffaloes can get back to playing Colorado football, relentless football. Stanford beat Washington last month, and Washington is Colorado's next opponent after Saturday's game with Stanford.
But that's getting too far ahead. This week, the Buffs' challenge is securing their first home win since the dreadful September day when Nebraska painted Folsom Field red.
The Colorado defense has struggled to be consistent, but early in the season they were ferocious in their ballhawking abilities. With corrections to tackling issues and an improved pass rush, playmakers like Mikial Onu can get back to creating turnovers. Onu leads the team with four interceptions. The Buffs' graduate transfer safety also has three forced fumbles on the year.
Junior linebacker Nate Landman was heralded as a defensive leader since last season. Although Landman leads the team in solo and combined tackles, 68 and 92 respectively, he has had little big play impact throughout the season. The 6'3″ Danville, CA product has two sacks this season and two passes defensed, but has not created any turnovers. His leadership is always present, but some of the responsibility for the struggling defense rests on his shoulders.
Earlier this week, Nu'umotu Falo Jr. expressed that it is important for the Buffaloes to be prepared for the passing attack of K.J. Costello and Stanford. Costello was 31-for-44 for 322 yards and three touchdowns in his last game against Arizona. The Cardinal offense scores 22.6 points per game. Colorado may be able to gain an edge on the scoreboard with a strong defensive game. The Buffaloes average 25.7 points per game.
Falo, the senior Colorado linebacker also emphasized that the Buffs need to get back to how the team played early in the season. For the Colorado defense, their identity lies with creating turnovers and a stout run stopping ability. Cameron Scarlett will present the Colorado front seven with a tall task as he enters the game with 700 rushing yards this season and a touchdown in three-straight games.
Tony Brown echoed the sentiment that the Buffaloes need to return to their roots. "We've just got to get ourselves going, you know, just like we did in the beginning of the season," Brown shared during media availability. The senior receiver has been reliable all year and leads the Buffs' pass catchers in yards (624), receptions (48) and touchdowns (five).
Next we have the Pac-12 Team of the Week on offense!https://t.co/HukSDxI80H pic.twitter.com/YEaY9ipXz3

— PFF College (@PFF_College) November 5, 2019
Brown earned Pac-12 Team of the Week honors again in Week 10. A complete game from the wide receiver room would go a long way against a Stanford team that is averaging over 50 yards fewer per game than Colorado.
K.D. Nixon and Laviska Shenault Jr. have demonstrated big play ability, but they can only be as good as Steven Montez is. Keeping his cool in the pocket and using his legs when necessary will be Montez's keys to beating this Stanford defense with 20 sacks, six interceptions, and six forced fumbles on the year.
As Mel Tucker said last week, "It takes what it takes."
Colorado and Stanford play Saturday at 1:00 PM (MT). The game will be broadcast on the Pac-12 Network.