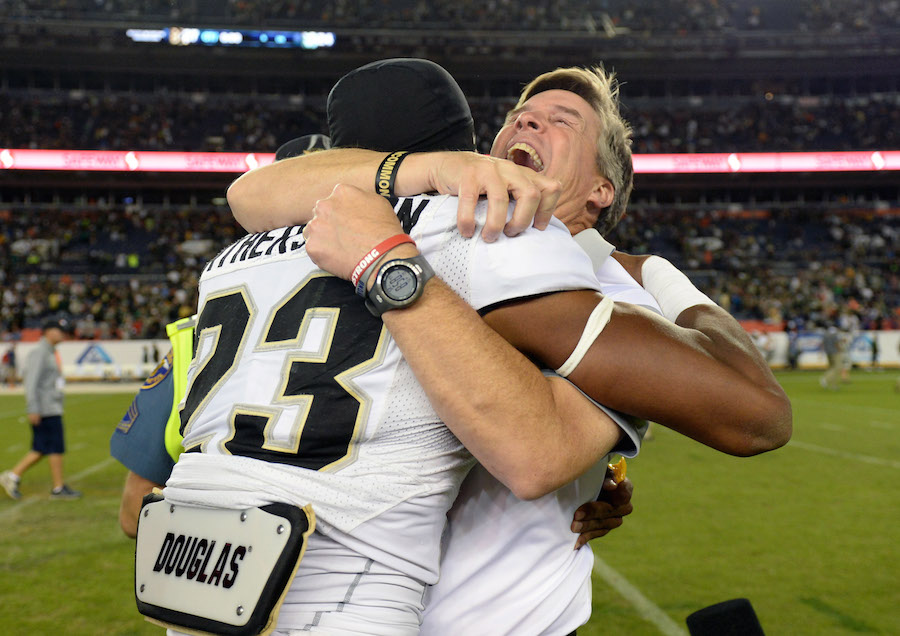 This college football season has had its share of upsets and blowouts, spectacular performances and pratfalls. But it's been unlike any other before it in one strange way: There are already eight head coaching openings for next year and we're just entering the homestretch of this season.
These openings have come about in unusual ways. First, a head coach (Tim Beckman at Illinois) was let go one week before the first game of the season. Another (Dan McCarney at North Texas) was fired moments after his FBS team ("Division I" for us old school types) was humiliated by a FCS (Division I-A) team. Two top-tier programs lost their coaches on the same day, both for personal reasons – one (Steve Spurrier at South Carolina) resigned to presumably play more golf, the other (Steve Sarkisian at Southern California) was dismissed so he could address substance abuse issues. Randy Edsall was canned at Maryland and Al Golden at Miami because fans and prominent boosters had lost their patience, and George O'Leary at Central Florida abruptly retired midseason (at 0-8) in what was expected to be his final year anyway. Then, this week, Minnesota's Jerry Kill, who has suffered numerous seizures and is battling major health concerns, was forced to retire for his own well-being.
Sometimes you have to wonder why these men put themselves through the rigors of the job in the first place. How many more would be better off, health-wise, if they choose a different profession?
Although it happened late Saturday night while few were watching, another troubled head coach – Colorado's Mike MacIntyre – who's been showing signs of wear and tear recently himself – got a measure of relief when his Buffaloes ended a long Pac-12 conference victory drought, beating Oregon State 17-13 on the road. It was MacIntyre's second Pac-12 win in the two-and-a-half seasons he's been in Boulder and Buffs fans hope it's a sign that better, more fruitful days are ahead.
Leading up to that game, MacIntyre was – and still is – dealing with his own personal issues in the form of the failing health of both his father (and mentor) and his mother-in-law. Add to that the pressure of a 14-game conference losing streak and it would have been understandable if the CU head coach had suffered his own type of breakdown. But he hasn't. He's persevered. Yet that has not prevented some Buffs fans from beginning the call for yet another coaching change at the foot of the Flatirons.
Yes, even after all the turmoil of the past decade, from the mishandling of the Gary Barnett firing to the ill-fated Dan Hawkins and Jon Embree "eras" to the hiring of MacIntyre from San Jose State (rather than a Power Five school), there were CU fans that were – and maybe still are – calling for yet another coaching change for CU. You have to believe that the competent people running things in Boulder understand what a disastrous move that would be.
We live in a time when patience is thin and the pressure to win immediately – even at the college level – is everywhere. Just this season, first-year coaches at Michigan, Florida, Pittsburgh and Houston have their teams nationally ranked. It's fair for ardent CU supporters – the ones who actually attend games and put dollars into the program – to wonder, "Why not us?" Yet I have a suspicion that those who truly do bleed silver and gold (the actual school colors, by the way) are not the ones who want to see another coach fired. Educated backers understand what a mess that would create.
What message would it send to the college football nation – including recruits – if CU pulled the plug on a guy who's done the best he possibly could with the limitations he's had to deal with? He didn't inherit a top-25 program. Just now, CU's football facilities are being brought up to snuff, in time for this recruiting class – not last year's or the year before or any of the years before that. Those classes were being recruited against powerhouse programs with first-class facilities when CU was and had neither. Just now are MacIntyre and the CU program reaching a place where they can start to see a playing field that's beginning to level out. Fire your head coach now and you're telling the rest of college football that Colorado is a like a fault line: Totally unstable and a place to be avoided.
Is Mike MacIntyre the best coach in the Pac-12? No. Is he in over his head and not capable of lifting the CU program out of the doldrums? No, he's not incapable, either. Like the CU program as a whole, Coach Mac 2.0 is "middle of the Pac." And he's exactly the type of guy CU needs right now. He's not looking for a cushy gig or demanding his office be redecorated. MacIntyre is dedicated and hard working, with a character trait that's often overlooked. He's not "me first," making "CYA" moves on or off the field that are designed to protect his job. He's trying his damnedest to win.
Many – if not most – coaches in MacIntyre's situation would have been fearful of bringing in an experienced, veteran assistant like Jim Leavitt who could be considered a potential successor and threat to his job security. But MacIntyre did not hesitate to grab the former South Florida head man and NFL assistant when he became available last winter, knowing the Leavitt could contribute to the building process and benefit the Colorado program. Leavitt has already contributed to lifting all the boats around him. Few head coaches in similar situations would have brought someone like Leavitt on board.
Colorado fans – and that includes the fair-weather variety that populate message boards and Twitter – should be appreciative of the gains already made under MacIntyre. They should also understand and be fearful that those gains could all be lost by making a fifth coaching change in a decade.
Listen to Mark Knudson and Michael Klahr Saturday mornings 8a-10a on Sports Stampede Radio on Mile High Sports AM 1340.