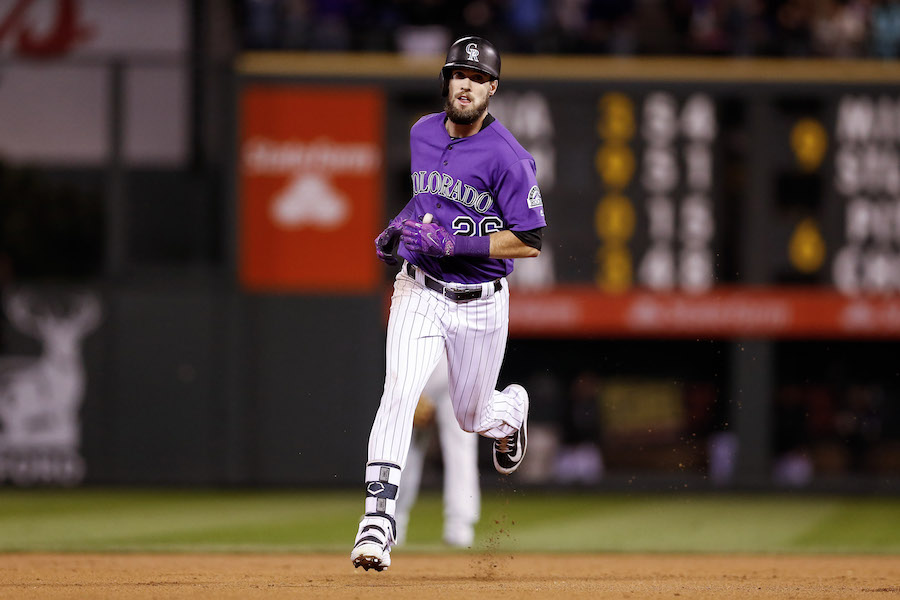 Colorado Rockies outfielder David Dahl has been named the National League Player of the Week presented by W.B. Mason for the week ending September 30th.
Dahl hit .333 (10-for-30) with eight runs scored, a triple, six home runs and 15 RBI over seven games played to claim his first career NL Player of the Week Award.
"Just trying to find the barrel and happen to get some good pitches to hit…I've never really hit with this much power before," Dahl told Mile High Sports on Sunday after smacking his sixth home run of the week, a three-run shot in the fifth inning.
"I think I'm just hitting a stride. Getting a lot of at-bats. Starting to feel a lot better. Trying not to do too much, not really thinking about the importance of the game. Just going out there and trying to have good at-bats."
Among his NL counterparts, the dynamic outfielder finished his impressive week first in home runs, RBI and total bases (30); tied for first in extra-base hits (7); tied for second in runs scored; third in slugging percentage (1.000); and tied for fifth in hits. David is the third Rockies player to earn weekly honors this season, joining his teammates Trevor Story (July 15th) and Nolan Arenado (June 24th).
Dahl began his award-winning week in impressive fashion, homering in each of his first five games of the week from Monday-Friday, leading the Rockies to a perfect 5-0 record. The 24-year-old became just the fourth player in franchise history to club a homer in five-or-more consecutive games, joining Dante Bichette (August 1-5, 1995), Larry Walker (June 18-23, 1999) and Arenado, who holds the Club record with a streak of six games from September 1-5, 2015.
In Tuesday's contest against the Philadelphia Phillies at Coors Field, the 10th overall selection of the 2012 MLB Draft matched his career high with three hits and four RBI to pace Colorado in a 10-3 victory. In yesterday's critical final scheduled contest of the regular season against the Washington Nationals, the left-handed-hitting slugger clubbed his sixth home run in seven days, and reached a personal-best 16 homers on the season. With today's Tiebreaker game still remaining for the Colorado Rockies in 2018, Dahl has registered his best month of the season in September.
Across 23 games, the Alabama native has slashed .298/.333/.679 with 15 runs scored, 25 hits, three doubles, a triple, nine home runs and 27 RBI. Dahl became the first Rockies player this season, and the first since Arenado in August 2016, to log at least nine round-trippers and 27 RBI in a single calendar month.
Other noteworthy performances last week included the aforementioned Arenado (.379, 5 R, 3 2B, 3 HR); outfielder Ryan Braun (.364, 7 R, 5 HR, 9 RBI) and All-Star outfielder Christian Yelich (.353, 4 HR, 13 RBI, .607 OBP) of the Milwaukee Brewers; starting pitchers Jacob deGrom (1-0, 0.00 ERA, 8.0 IP, 10 SO) and Noah Syndergaard (1-0, 0.00 ERA, 15.0 IP, 11 SO) of the New York Mets; starter Miles Mikolas (1-0, 0.00 ERA, 8.0 IP, 6 SO) of the St. Louis Cardinals; and first baseman Anthony Rizzo (.400, 4 R, 10 H, 3 2B) of the Chicago Cubs.
In recognition of his National League Player of the Week Award, David Dahl will be awarded a watch courtesy of Rockwell.