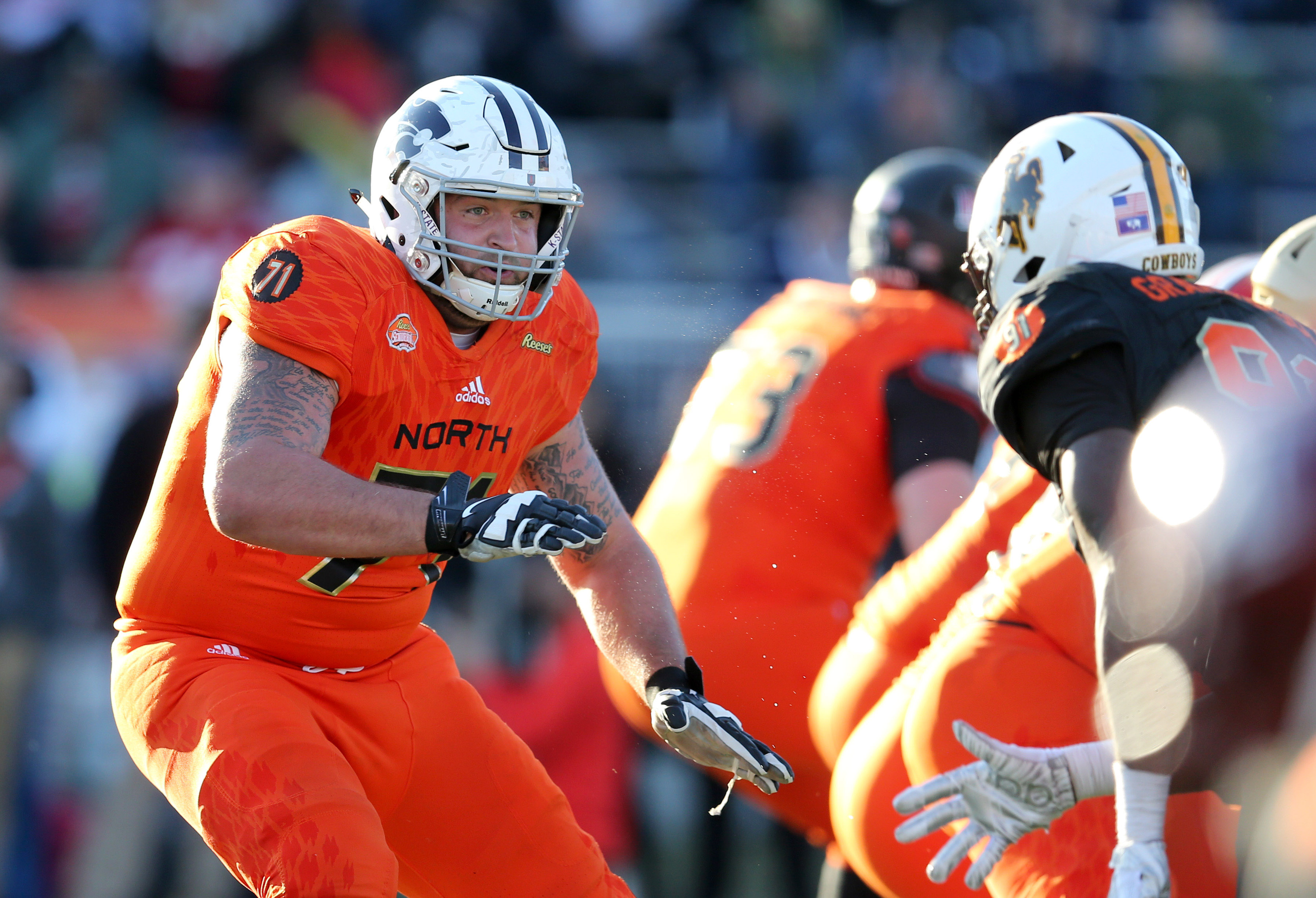 Dalton Risner is a man that gets it. A three-time All-American and the 2018 Big 12 Offensive Lineman of the Year at Kansas State, Risner's accolades could fill the front page.
What separates Risner from the competition, though, aside from his maturity – is the ability to play anywhere in the trenches. Risner started 13 games for Kansas State as a freshman, before being moved to offensive tackle. Now, Risner will attempt to switch roles again, this time as a guard.
"Wherever coach wants me at, whether that is Muchak, coach Fangio, wherever they want me – that is where I am going to play," Risner told reporters on Saturday.
Risner explained that while he expects to enter the season running with the twos, his intention is to come in and make an immediate impact for the Broncos this fall. Whether it ends up being at the guard position, offensive tackle or even center – which Risner played most of his life – the Wiggins, Colo., native says he will come in and work his ass off.
"I had an offensive line coach that had me play guard throughout my career, had me play at left tackle, left guard, right guard, kind of all over the place," Risner said. "It's just something that I became comfortable with."
Risner went on to say that when you play as much as he did K-State, it gives you a sense of familiarity and comfortability at the various o-line positions. He also expressed that his size and measurables serve to benefit him if he needs to serve different roles in the NFL.
While there will certainly be an adjustment period for Risner as he transitions from the exterior back to the interior – the local product is confident that he will be able to handle any test that comes his way. As Risner explained, he will face different kinds of athletes on the inside. For instance, at the guard position, Risner is more likely to encounter a player like Derek Wolfe rather than Von Miller. Either way, Risner has experience, though.
"Obviously, it's going to be a different game but that is something I did, so it's not like I'm jumping into a position that I haven't played before," Risner said.
Along with making an impact on the field, Risner hopes to someday be a leader in the community. The new Broncos lineman was frequently highlighted for his community outreach while in college, and wants to be a role model as a professional as well.
"That is something that means a lot to me," Risner said. "Football is going to end someday, but I feel like the type of person you are off the field is what matters. I obviously want to be involved in the community and have an impact, but as of right now, my priority is to come in and earn the respect of this football team and the staff here."
The Broncos selected Risner with the 41st overall pick in the 2019 NFL Draft. One pick later, Denver traded up to select Missouri QB Drew Lock. Denver's 2019 draft picks are listed below & Denver's UDFA signings can be found here.
Noah Fant (TE, Iowa)
Dalton Risner (T, Kansas State)
Drew Lock (QB, Missouri)
Dre'Mont Jones (DL, Ohio State)
Justin Hollins (LB, Oregon)
Juwann Winfree (WR, Colorado)