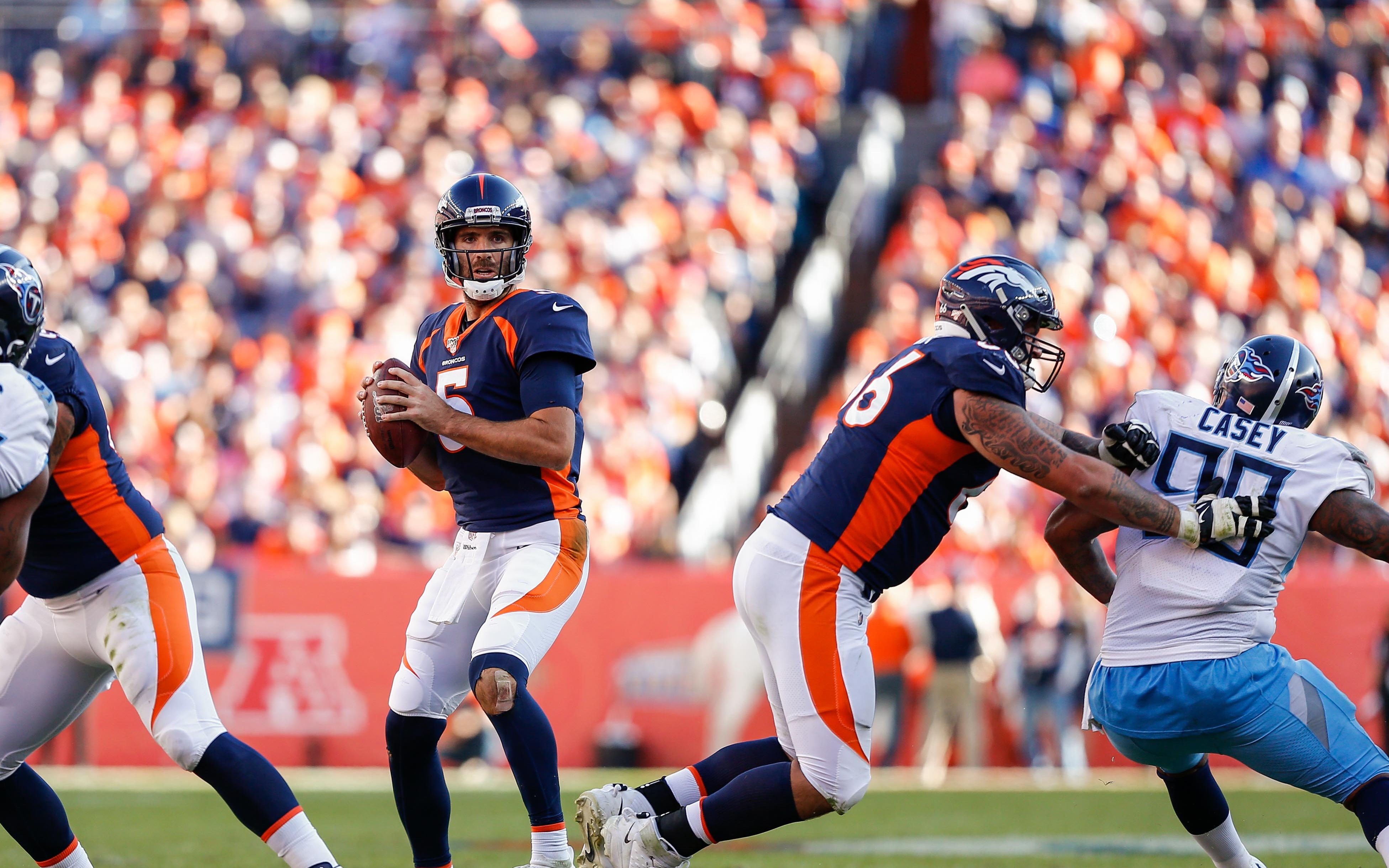 Dalton Risner has it all.
He's a hometown kid, growing up in Wiggins, Colorado. He's a roughneck who loves getting dirty off the field, transferring that love onto the field. And Risner has quickly become arguably the best offensive lineman in Denver.
In fact, according to Pro Football Focus, Risner's 67.8 grade makes him easily the best lineman on the Broncos, ahead of Garett Bolles (65.9) who is second. Interestingly, Risner has really impressed the graders at PFF in his pass blocking where he's averaging a stellar 73.3 grade including two 80-plus games (against Oakland and Los Angeles) already this year. He's also yet to give up a sack and has allowed a mere two quarterback hits to this point.
But, where he's caught the eye of offensive line evaluator Brandon Throrn is on the ground, in his run-blocking. Check out this quick video montage of Risner getting after some of the Chargers in Week 5:
Risner is such an excellent run-blocker and quickly has become one of the best pullers in football.

Very good processing, understanding of leverage, angles, and competitive toughness. Has made a seamless transition to LG after starting 50 games at RT/C at KSU. pic.twitter.com/5fReWL2a4v

— Brandon Thorn (@BrandonThornNFL) October 9, 2019
In the first play, he simply man-handles the defensive tackle and takes him to the ground. On the second, Risner shows off his speed to get all the way to the edge and then set it, allowing Royce Freeman to find some space outside for a solid gain. On the next, he pulls and kicks the linebacker out at the second level for more running room and finishes it up by attacking that second level again.
And, in showing some maturity, the rookie quoted this tweet and said, "Lots of work to do still in Denver though!" He's taking the praise and not being content, he's still working to become better every day.
On this next play, we see him keeping it simple, leaning on the defensive tackle and moving him out of the way to create a massive hole for Phillip Lindsay to run through before he picks up the back.
Great job by Risner banging down hard into the NT's side, creating movement, and staying thick on it since the LB never came. Created a huge hole and of course he's picking the RB up after it's over. pic.twitter.com/YhmzB8WIUz

— Brandon Thorn (@BrandonThornNFL) October 16, 2019
Of course, his most iconic play so far has been the touchdown in which he literally carried Lindsay across the goal line. Not only was that a special play, but it also came on 4th and goal, a play the Broncos absolutely had to have to stay alive in their game against the Packers.
Phillip Lindsay was stopped at the four… and somehow found the end zone! #DENvsGB @I_CU_Boy

📺: FOX
📱: NFL app // Yahoo Sports app
Watch on mobile: https://t.co/qnNxI5gZ8j pic.twitter.com/CI4vRhN1mV

— NFL (@NFL) September 22, 2019
When looking at this 2019 draft class for the Denver Broncos, some stars are starting to shine, but Risner looks to be the brightest of all of them. At least, six games into their careers.
Noah Fant has flashed at times and Broncos fans need to remain patient considering tight ends take time to develop. Still, 14 receptions for 152 yards and one score is a decent start for him. Of course, the other second-round pick Andew Lock is still on the Injured Reserve for now, meanwhile, Dre'Mont Jones is finally starting to make a few plays on the defensive side of the ball, too.
It's extremely early, not even a half of a season into their careers, but Risner looks to be the lone lock as a true starter from Day One. The Broncos got a stud at No. 41 overall and he's got a chance to become a cornerstone of that offensive line for years to come while working with guru Mike Munchak.
Next up for Risner and the now 2-4 Broncos is a tough test against Kansas City and the 4-2 Chiefs. That game kicks off Thursday night at 6:20 p.m. MT in Denver.