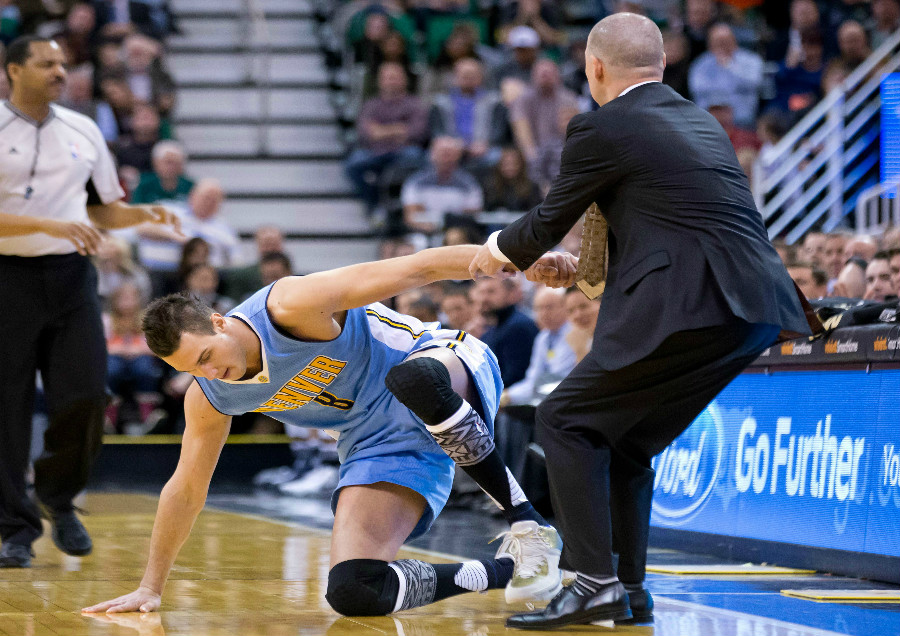 Denver Nuggets forward, Danilo Gallinari, has been diagnosed with two lateral tendon tears and a sprained medial tendon in his right ankle, per numerous sources.
No surgery will be required for Gallo, who has already started rehabilitating the ankle.
#Nuggets Gallo has 2 lateral tendons tears & a sprained medial tendon. He has started rehab, per @AllySturm

— Aniello Piro (@aniello_piro) March 1, 2016
Gallinari is expected to miss a month according to Adrian Wojnarowski of The Verticle, putting his status for the remainder of the season in limbo.
The injury occurred during the team's game against the Dallas Mavericks last Friday. Gallinari left that game in a boot and underwent an MRI on Saturday.
With Gallinari out, the Nuggets will turn towards guys like Will Barton, Kenneth Faried and Darrell Aurthur to fill the void and produce for the team.
Gallo was the Nuggs' leading scorer, averaging 19.5 points per game, which is good for nearly 20 percent of the team's points on a nightly basis.
In addition to his scoring ability, Gallo was able to get to the charity stripe quite often, earning eight shots at the line per game.
There is a possibility that Gallinari can come back this year; however, there is no real need at this point, as the Nuggets are virtually out of the playoff race.
The best course of action may be to let him rest up and get ready for an all-important offseason in Denver.