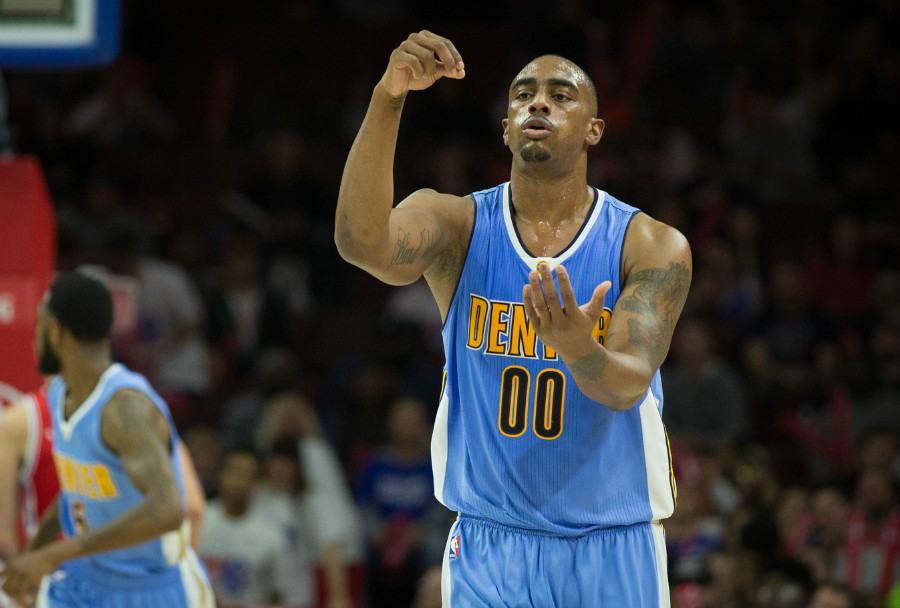 The Denver Nuggets knocked off the visiting Utah Jazz Tuesday night, in part due to forward Darrell Arthur's recent tirade on the hardwood.
The game started off slow for the Nuggets, who quickly found themselves down 12 in the middle of the first quarter. There was no flow or energy stemming from the players, forcing head coach Michael Malone to make a change. With just over three minutes to play in the opening quarter, Malone called upon veteran Darrell Arthur to help propel the team forward.
Well, Arthur did that and some. The moment he checked into the game his impact was felt. Arthur knocked down the first two shots he saw which happened to be from beyond the arc, tallying six quick points, cutting the Jazz lead to just four by quarters end.
By the time the second quarter had rolled around, Arthur was locked in. He picked up right where he left off, knocking down a quick three followed by converting three free throws after being fouled on another three point attempt.
All of that was good for 16 points and eight rebounds en route to the Nuggets big win over the Utah Jazz, who are currently the 5th best team in the Western Conference.
The reason I'm saying all of this is because the unprecedented amount production that Arthur has brought to the team has been overshadowed due to his limited availability this season, and the plethora of youth, specifically Nikola Jokic, that have take this team by storm.
With that said, Arthur is this team's dark horse. He does just about everything at a high level, and has been the spark plug the Nuggets have been searching for all season.
"He gives us a different dimension," head coach Michael Malone said. "I don't care if it's Karl-Anthony Towns or Derrick Favors. When he's (Arthur) in the game we can guard guys in the post straight up. He embraces that challenge, he wants that challenge … He's a workaholic. He takes a lot of pride in his job."
While his defense has been rock solid, Arthur's offense has taken center stage this season. Don't look now, but Arthur is currently shooting over 50% from beyond the arc, while shooting just under that mark from the field. He's averaging 14.7 points per 36 minutes, and has really developed the offensive side of his game this season with the results showing as of late.
For Arthur, it's all about putting in the work.
"I think our developmental coaches have been helping me a lot." Arthur said. "I'm just trying to stay consistent and shoot the same way every time."
Unfortunately, lingering knee issues have forced Arthur to miss games in spurts, resulting in inconstant playing time and production; however, when Arthur and the rest of team are healthy, the Nuggets are a better team.
"When we are healthy, we are a pretty dangerous team." Malone said. "When we are healthy and defending, we are even more dangerous. Darrell is a guy that spaces the floor, makes three's, guards the post, communicates, and guards pick n' rolls…when they're out there good things usually happen."
The Nuggets are hot right now, winning five of their last seven games. As it stands, Denver is looking to end their three season playoff drought. If the Nuggets are indeed able to snap the skid, and get invited to the postseason dance, expect Darrell Arthur to be a big reason why.
He may not get the credit or attention he deserves, but Arthur is a key to the success the Nuggets have been experiencing in recent time, and will continue to be a key as the Nuggets season progresses.