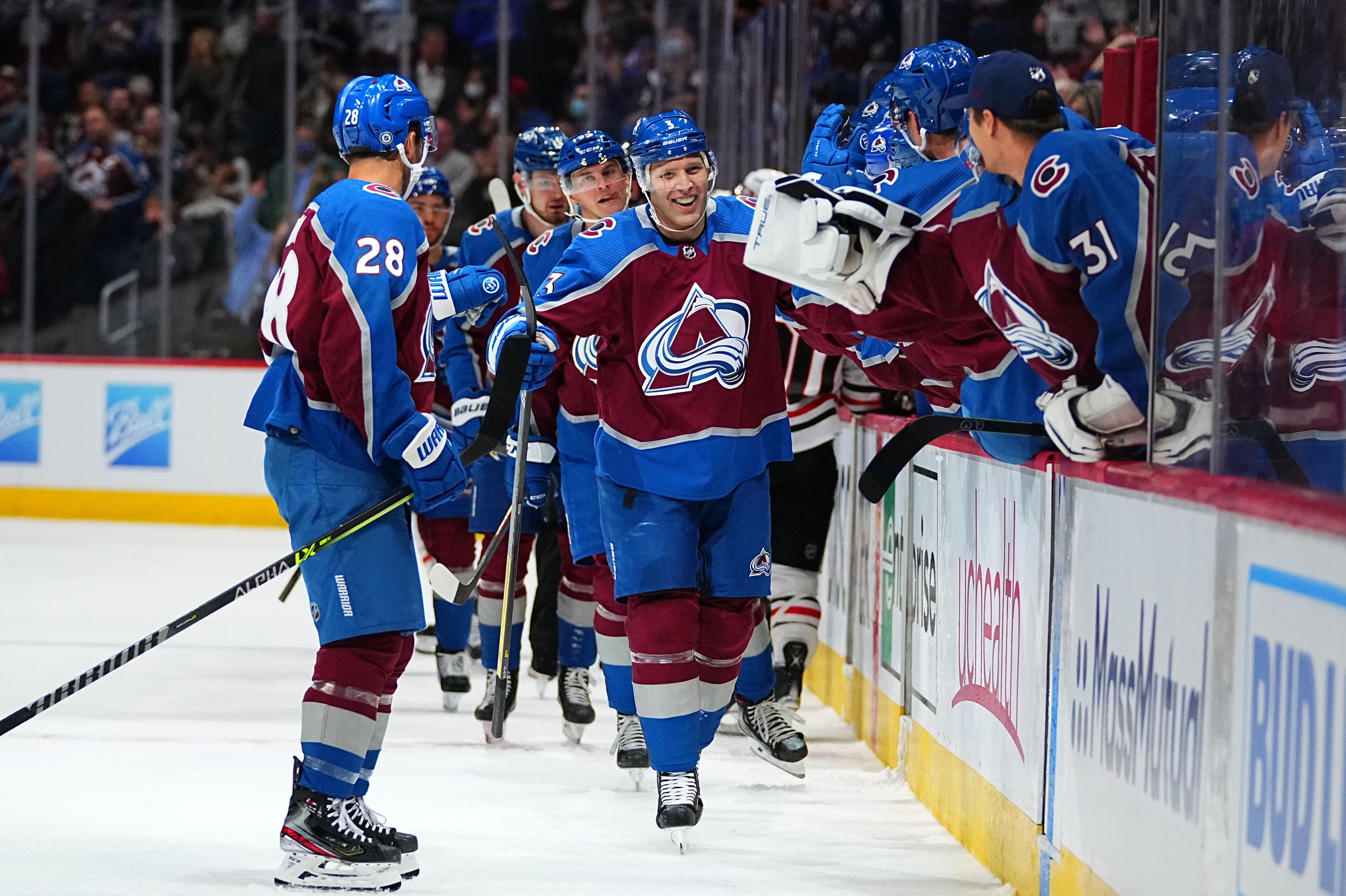 It didn't take long for Jack Johnson to make his mark on the Avalanche.
Less than 72 hours after signing a one-year deal after a successful training camp tryout, Johnson, 34, got Colorado on the board with the type of goal you don't often see from a depth defenseman not known for his goal-scoring abilities.
His tally was one of three for the Avs in a 5:06 stretch in the early going that gave them a comfortable lead they would never relinquish against the visiting Chicago Blackhawks at Ball Arena. The Avalanche came away with a 4-2 victory in front of a packed house to open the 2021-22 season.
"That was something we talked about, just being prepared," Avs forward Nazem Kadri said. "And having a good start, you know it always helps."
Johnson accepted a pass from Andre Burakovsky and confidently skated in and went backhand, top shelf on reigning Vezina Trophy winner Marc-Andre Fleury — an uncommon occurrence for a 17-year veteran that had scored just 71 goals before this. It was the type of play you see from the league's best scorers.
"He's played close to 1,000 games in this league so he definitely knows what he's doing there," Avs rookie defenseman Bowen Byram said of Johnson's goal. "He made a great move on Fleury there and put it away to give us a kickstart to the game."
Johnson played just 15 games with the New York Rangers last year before an injury ended his season early. The odds were stacked against him. Not just for continuing his NHL career, but for cracking a roster loaded with talent and depth.
"I always knew I had some good hockey left in me," Johnson said. "I didn't know what the future was going to hold for me but I'm just thrilled to be here and be a part of this team. I'm very fortunate to be in the room with those guys and just excited about this year."
Making league minimum on his new contract, a humbled Johnson spoke in length on Monday about how he isn't here to just be the seventh defenseman. He wants to play. And his impressive goal was just another example of how tough it'll be for the coaching staff to keep him out of the lineup when Devon Toews returns.
An excellent start for a deserving veteran. And even more so for the reigning Presidents' Trophy winners.
Listen to "Opening Night Preview" on Spreaker.

Deen's List
Johnson & Johnson
All this talk about the newer Johnson on the team and we've yet to mention that the longest-tenured Av, Erik Johnson, made his return to the lineup after playing just four games last year.
Erik also played a part in the Avs' great start. The 33-year-old took a shot from the blue line that was tipped by both Kadri and Gabriel Landeskog before beating Fleury to make it 2-0.
One Johnson scored & the other Johnson recorded an assist.
Erik was a plus-3, playing 17:21 in his return.
Bo gets his first
With all the hype around rookie forwards Alex Newhook and Sampo Ranta at training camp, it's sometimes forgotten that Byram is just 20 years old and a rookie himself.
Byram scored his first career goal with an absolute laser to make it 3-0 in the first period. He played 19 impressive games last year but the growth and development in his game were very much apparent on Wednesday. Byram also recorded an assist.
"Nice to get it out of the way," Byram said of scoring his first NHL goal. "Get the pressure off. I think it was a fun game."
Bo could be in the Calder Trophy conversations as NHL rookie of the year. He'll likely be the most effective of the Avs' trio of rookies.
Kuemper's crease
The Avalanche's new starting goalie was strong in his debut. Darcy Kuemper surrendered a goal on Chicago's first power-play opportunity — a bomb from Dominik Kubalik — but held his own otherwise. He finished with 32 saves after giving up another goal in the third.
"It was a lot of fun to finally play a real game with this group," Kuemper said. "A lot of talent in this locker room so it's fun to be a part of and always fun to start off with a big win."
Kuemper wasn't tested early. Midway through the first period, the Avs had a commanding 3-0 lead and a lopsided 17-2 shot advantage. But Kuemper had a solid outing in the second, where Colorado was outshot 13-9 but scored the lone goal.
He stopped two breakaways against young forward Kirby Dach, one of which came after a turnover at the blueline from Avs defenseman Sam Girard on a 4-on-3 power play.
"On any breakaway, you just try to stay patient," Kuemper said. "Obviously he's a really skilled young player with a good shot so I just tried to stay patient and read his release and was able to make both saves."
No. 1 center Nazem Kadri
The offensive prowess the Avalanche showed is even more impressive considering superstar center Nathan MacKinnon did not play because of a positive COVID test result. The Avs had to turn to Kadri to lead the charge as the top-line center.
He didn't need to be MacKinnon, he just needed to play his game. And Kadri did his part. He scored the only goal of the second period, one that gave the Avs a 4-1 lead and kept Chicago from pulling within one. He also had the primary assist on Landeskog's goal. Kadri and his wingers Landeskog and Mikko Rantanen combined for 11 shots.
"In some ways, I guess you're replacing Nathan MacKinnon, but by position only," Avs assistant coach Ray Bennett said of Kadri's game. "There's really only one of those guys so I thought Naz did a really good job. And to be honest with you, he's been terrific through training camp. He's been a real committed player."
Wednesday's showing was further evidence that Kadri could be effective despite a poor 2020-21 season.
O'Connor's physicality
Logan O'Connor entered the season with a shiny new two-year extension, locking him up through 2023-24. He also had a permanent roster spot locked up among the top-12 forwards for the first time in his career.
His career has been one met with constant growth. And his performance against the Blackhawks was everything the Avs wanted and more. O'Connor didn't score. He didn't even record a point. But he was noticeable on every shift, often throwing his body around while playing on an energy line with veterans Darren Helm and Jayson Megna.
O'Connor recorded three shots and two hits in 10:18 while playing regularly on the penalty kill. He's going to be an absolute treat to watch for 82 games.
__
Aarif Deen is our Colorado Avalanche beat reporter. He covers Avs games live from Ball Arena and attends practices, media availabilities and other events pertaining to the Avs on the daily beat. He is also a co-host of Hockey Mountain High: Your go-to Avalanche Podcast. Deen joined Mile High Sports upon completion of his bachelor's degree in journalism and master's in business administration from the University of Michigan – Dearborn. Before Mile High Sports, Deen worked for the Michigan Wolverines Athletics Department as the assistant sports information director.
Follow him on Twitter @runwriteAarif
Listen to "Opening Night Preview" on Spreaker.