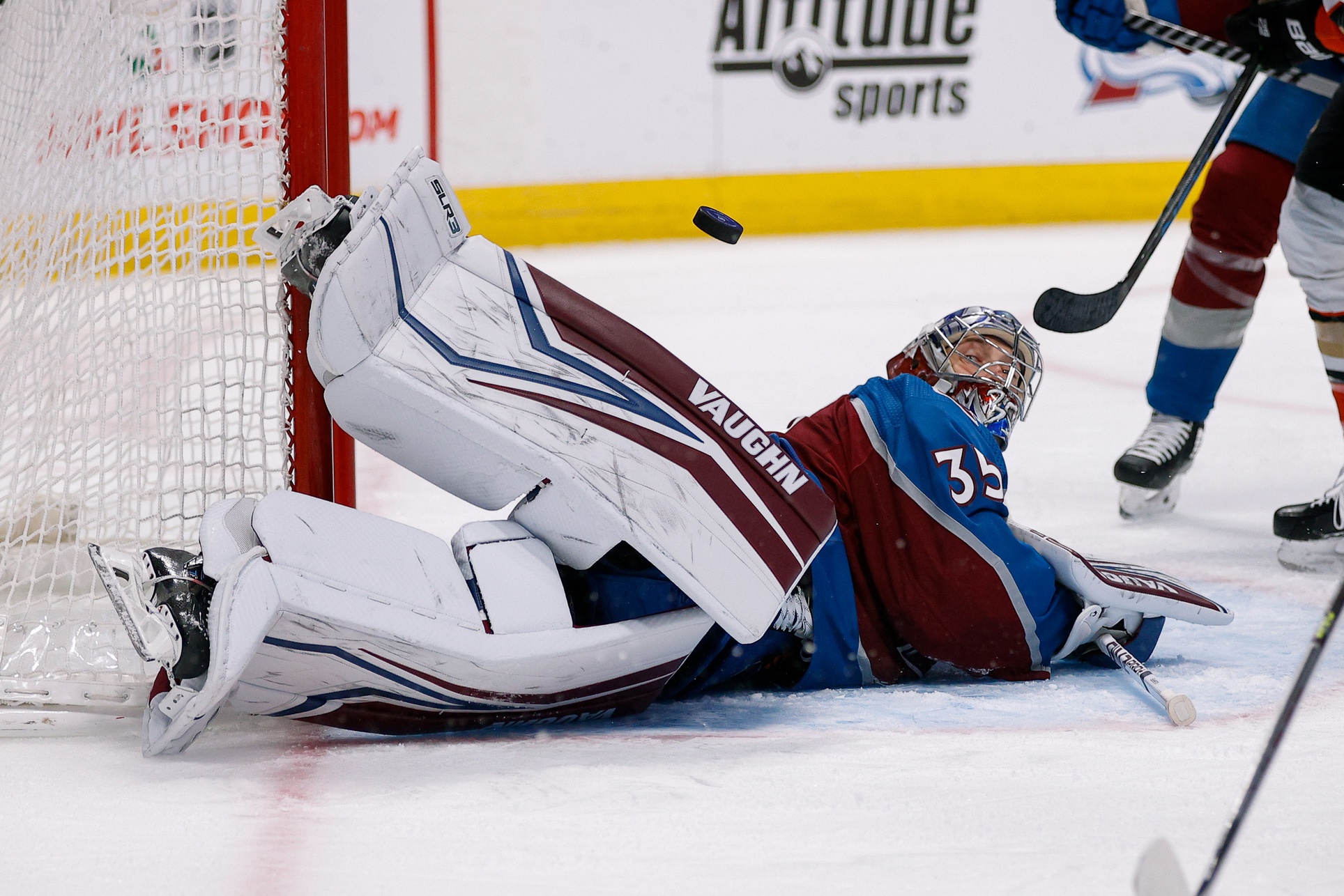 The Avalanche have overcome a bevy of injuries. But they're no match for Darcy Kuemper's skate blade.
For the second straight game, Kuemper had to leave the ice because of a skate-blade malfunction. But it was far more costly against the Anaheim Ducks on Wednesday. Not only was he unable to get to his feet at an inopportune time, surrendering a goal while hobbling on one skate, but the reoccurring issue kept him from completing the game. His backup Jonas Johansson came in and the Avs scored five unanswered goals on their way to a 5-2 victory.
"I said it on the bench I was like, again," Avs coach Jared Bednar said of the strange turn of events. "Like you rarely see it happen even once. I've seen players lose it you see the odd goalie every once in a while but I've never seen it this often and certainly not in back to back games and then twice."
Johansson had to replace Kuemper for a few minutes in the first period and then once again to start the second period. Bednar decided to stick with Johansson and let him finish the game. After all, he had earned it after having to play in odd circumstances in consecutive games.
"He told me in the tunnel while I was on my way out that I was going to finish," Johansson said after earning his first victory of the season.
Johansson only faced seven shots in his first 25 minutes in goal before stopping 12-of-13 in the third period to seal the victory for the Avs. Albeit Colorado had a 3-1 lead and an extended 5-on-3 power play to start the final frame. Nazem Kadri scored to make it 4-1 in short order.
Colorado has now won six straight games — the first of which was not recorded as a victory for Kuemper. They'll likely need to rely on Johansson again this week with an upcoming back-to-back starting in Dallas following Thanksgiving.
Only time will tell if they've found an answer to the enemy that is Kuemper's malfunctioning skate blade.
"The solution is he's gonna change holders to a different brand and put him on the skates he has so he'll be ready to go for Dallas," Bednar said.
Listen to "The Big Game" on Spreaker.

Deen's List
21 in 10
Kadri extended his point streak to a career-high 10 games, where he's scored six goals and recorded 21 points. He also had multiple points for the fifth straight game (14 points).
Kadri's 25 points are fourth-most in the NHL, trailing only Edmonton's dynamic duo of Leon Draisaitl and Connor McDavid, and Washington's ageless wonder Alex Ovechkin. The most points he'd ever had through the first 16 games before this was 14 — and he did it nine years ago. He also drew two penalties against the Ducks.
He's certainly feeling it right now.
Red hot Cale
The Avalanche's gifted defenseman continued his torrid pace since returning from his latest injury six games ago. He scored his sixth goal in four games to match his eight goals from a season ago in just 14 games (8 goals in 44 games). During this six-game stretch, Makar has six goals and 11 points.
His 16 points are also inching closer to the best in the NHL (Adam Fox, 19) as he continues to be the only defenseman scoring over a point per game (1.14 per game).
Powerful power play
The Avs power play continued to be a shining light after a dim start to the year. Throughout the winning streak, Colorado has scored with the man advantage in each of the six games. The 10 goals during this stretch have elevated them to a top-10 team with the man advantage.
They've also scored 36 goals in six games. They're coming from every line, in all situations and at all times. And they're still doing it without superstar center Nathan MacKinnon.
MacDermid strikes
When the Avalanche acquired Kurtis MacDermid in the offseason, it was to serve as a deterrent from teams that attempt to push them around. Bednar inserted the towering enforcer into a fourth-line role on Wednesday to deter Anaheim's Nicolas Deslauriers from trying to get after any of the Avs' big names.
"It gives us security for our team," Bednar said of MacDermid, who dropped the gloves for the first time this season. "Great teammate, will do anything for the group and he did a nice job."
MacDermid's opponent was Deslauriers — one of the last remaining true enforcers in the game.
"A lot of the time he can't find anybody to dance with because he's just that tough," captain Gabriel Landeskog said. "But it was a good fight and set us off on the right foot."
Winner from Aube-Kubel
Nicolas Aube-Kubel has only played four games since being acquired off the waiver wire from the Philadelphia Flyers and he's already fitting in. Although the speed of the Avs will definitely take some getting used to.
"The team is really fast," Aube-Kubel said. "Something I have to adapt to and the D like jump in the rush."
Aube-Kubel scored his second goal, this time it was the game-winner. Colorado has scored 23 goals since claiming the winger.
__
Aarif Deen is our Colorado Avalanche beat reporter. He covers Avs games live from Ball Arena and attends practices, media availabilities and other events pertaining to the Avs on the daily beat. He is also a co-host of Hockey Mountain High: Your go-to Avalanche Podcast. Deen joined Mile High Sports upon completion of his bachelor's degree in journalism and master's in business administration from the University of Michigan – Dearborn. Before Mile High Sports, Deen worked for the Michigan Wolverines Athletics Department as the assistant sports information director.
Follow him on Twitter @runwriteAarif
Listen to "The Big Game" on Spreaker.