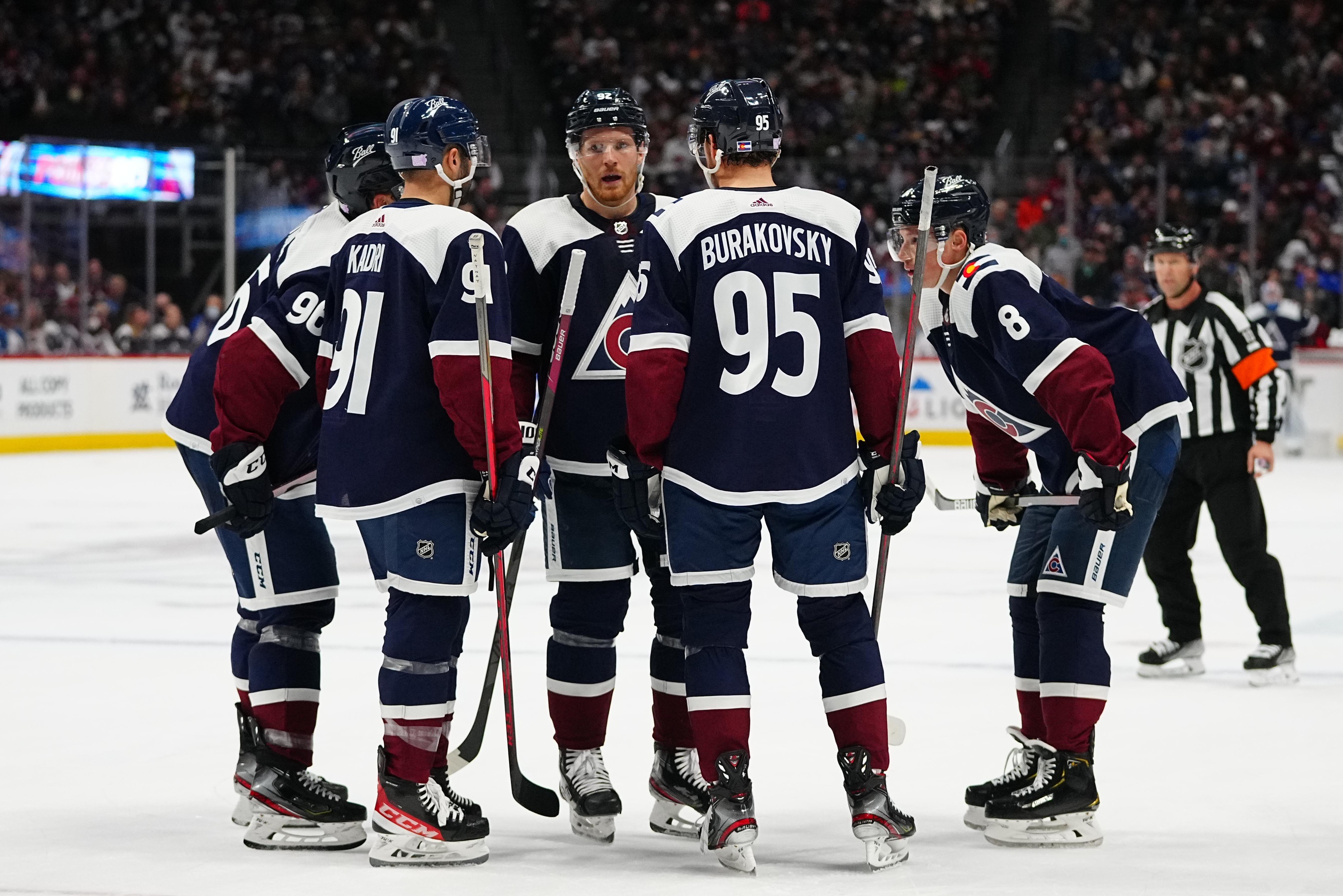 When the Avalanche traveled to Dallas for the first of two games on consecutive nights, they were riding high. Colorado had just dismantled the Anaheim Ducks on home ice and was in the midst of a six-game winning streak where it had outscored the opposition 36-15.
But that all changed. The Avs' hot goaltender Darcy Kuemper was suddenly struggling — and it bled into the 3-1 loss against the Stars on Friday. Also of note, center Nazem Kadri's 10-game point streak came to an end despite him being on the ice for the only goal the Avalanche had scored. That tally came from defenseman Cale Makar, who passed last season's eight goals in just his 15th game.
Colorado returned home for a matchup against a division rival in the Nashville Predators that it had not faced since before the March 2020 COVID pause. Former Av Matt Duchene has been hot, leading Nashville to a better start than many had envisioned. He even scored for the Preds at Ball Arena on Saturday.
But the Avs were the better team all night.
Mikko Rantanen scored a hat trick and backup goalie Jonas Johansson won his first start of the season (he also won against Anaheim in relief) to get Colorado back on track. The Avalanche defeated Nashville 6-2 to finish the month of November with a 7-2-1 record heading into a five-game road trip that starts Wednesday in Toronto.
I wasn't in Denver for the game Saturday as I was in Ann Arbor, Mich., watching my alma mater defeat its arch-nemesis for the first time since I was a junior in my Journalism program at the University of Michigan 10 years ago. This Wolverine had about as good a Saturday as the Avalanche did from over a thousand miles away.
Coincidentally, both former Wolverines on the Avs roster — J.T. Compher (injury) and Jack Johnson (healthy scratch) — did not dress against Nashville.
But let's break down how it all shook out for the Avs in their first back-to-back of the season.
Deen's List
Kadri shuns the critics
Any thoughts of Kadri's point streak being just a heater for the 31-year-old was put to rest Saturday. Less than 24 hours after being kept off the scoresheet for the first time in a month, Kadri had two assists against Nashville to continue his torrid pace. He climbed back into fourth in the NHL scoring race with 27 points (tied with Evgeny Kuznetsov).
Kadri is just five points away from the 32 points he had in 2020-21, which came in 56 games. He also did not reach 40 points in his two shortened seasons in Denver. The pending unrestricted free agent is on pace to obliterate his career-best of 68 points and it's coming at an opportune time.
Colorado needed Kadri to bounce back and he has quietly done so. The many critics he has have taken a back seat to Kadri and his glorious early-season production.
Listen to "The Big Game" on Spreaker.

Makar grows
At what point do we start to say that Makar has reached his potential? We all thought over the summer that he had become the best version of himself but he's taken another gigantic step this year after what looked like a sluggish start to the season. And all it took was for the star defenseman to shoot the puck more.
Makar has missed two games but still leads NHL defensemen in goals (nine) and points per game (1.25). His nine goals are two more than the guy he played on Saturday (Roman Josi) despite playing five games less. Makar's 20 points are also just one back of the reigning Norris Trophy winner Adam Fox even though Fox has played four more games. He already passed last season's eight goals and is well on his way to reaching 80 — or even 90 points — in what will be his first full uninterrupted NHL season.
Trust in Johansson
We've learned a lot about the Avalanche's goaltending over the past few weeks. First, Kuemper has what it takes to be a consistent starter. Also, the return of Pavel Francouz could finally become a reality. And most importantly: It's time to start trusting Jonas Johansson. He's earned it.
Johansson played just two of the first 15 games before making a cameo appearance in the 16th game when Kuemper was pulled momentarily because of a skate issue. He returned in Game 17 because of another Kuemper skate mishap and finished the game and did it with confidence. Johansson was solid against Anaheim and even better against Nashville in his first start in weeks.
In order for the Avs to be able to rely on Kuemper down the stretch, they need to start to trust Johansson a lot more than they have. Johansson can carry some of the load off an overworked Kuemper and conserve his energy for when the team needs him most in the spring. Kuemper has struggled mightily in recent games and could use some rest.
Even when Francouz returns, head coach Jared Bednar should continue to use Johansson sporadically (assuming he clears waivers) to ease Francouz into play and keep Kuemper fresh for the playoffs. Johansson has earned it.
Mikko finds his groove
Like many of the Avs' top stars, Rantanen did not seem to be his dominant self early in the season. But he slowly started to find his stride and he reached the pinnacle of all of that on Saturday.
Rantanen's hat trick was the third of his career and it bumped him up to a team-best 10 goals in 15 games — most of which have been played without his usual set-up man Nathan MacKinnon.
If Rantanen can continue his scoring until MacKinnon returns — which could possibly be Wednesday — then it'll only boost his confidence and MacKinnon's when the duo is reunited. Rantanen is a large part of Colorado's dominant offensive game and his goal-scoring is one of those untapped skills that had a coming-out party in the shortened 2021 regular season.
It's only going to get better from here.
Toews flys under the radar
We've beaten this subject into the ground for most of the early struggles the Avs had. The fact that without Devon Toews, Colorado's blueline seemed out of sorts.
But what's quietly become a large part of Toews' game is his offensive upside. He had career highs in goals (nine), assists (22) and points (31) in just 53 games last year — which was a 48-point pace over 82 games. But even those numbers don't show what he's truly capable of and has provided for the Avs offensively so far.
Toews made his debut nine games ago and has been a large part of the Avs' 7-2 run. Defensively, he's allowed Makar to settle into his usual role as an offensive weapon. But offensively, Toews has three goals and 10 points in nine games, including a four-game point streak where he has six points.
With the return of rookie defenseman Bowen Byram on Saturday, the Avs had their first game of Makar, Toews, Byram and Samuel Girard leading the charge as the top-four this season. And it was glorious in many ways.
Largely because of the upside Toews has as an all-around defenseman, which flies under the radar when compared to the other three more electric names of the bunch.
__
Aarif Deen is our Colorado Avalanche beat reporter. He covers Avs games live from Ball Arena and attends practices, media availabilities and other events pertaining to the Avs on the daily beat. He is also a co-host of Hockey Mountain High: Your go-to Avalanche Podcast. Deen joined Mile High Sports upon completion of his bachelor's degree in journalism and master's in business administration from the University of Michigan – Dearborn. Before Mile High Sports, Deen worked for the Michigan Wolverines Athletics Department as the assistant sports information director.
Follow him on Twitter @runwriteAarif
Listen to "The Big Game" on Spreaker.