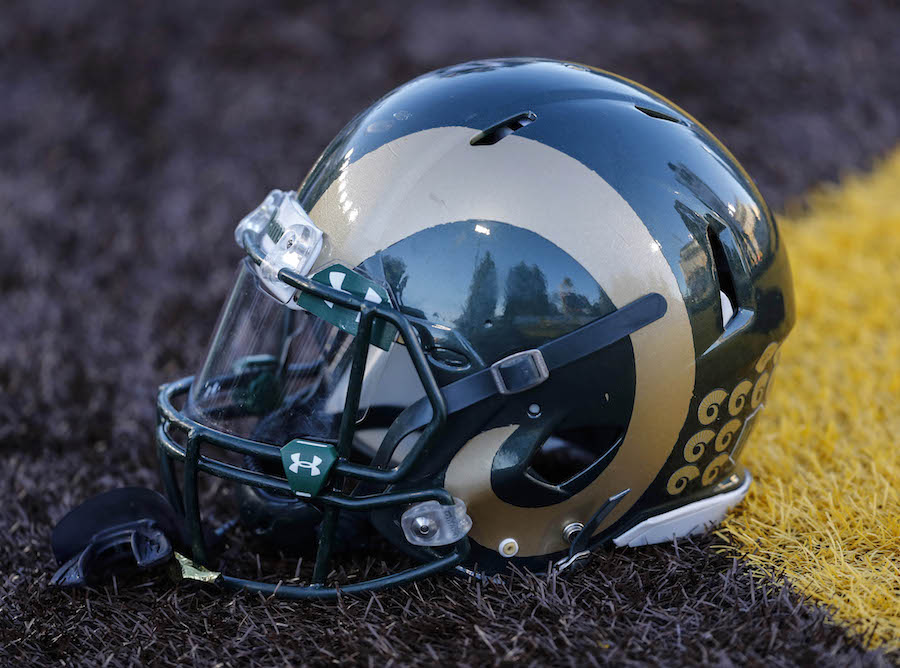 The Colorado State defense — clad in the Rams' alternate all-gray uniforms — claimed victory in the annual Green & Gold Spring Football Game at the on-campus stadium on Saturday afternoon.
The game marked the final day of spring practice for the Rams, and head coach Mike Bobo felt like his group had a productive scrimmage.
"I really appreciate the fans that came out to watch, appreciate the weather holding off… I thought it was a great day," Bobo said. "I thought we got some good work in. It was half practice, half scrimmage, and I thought we got a little bit better. But like I told the team after practice, we're not a finished product—we have a long way to go."
HIGHLIGHTS: Plenty of action at the annual Green & Gold Spring Game! #EDGE | #CSURams pic.twitter.com/6CSSCHBTvf

— CSU Rams Football (@CSUFootball) April 21, 2018
The defense, under first-year defensive coordinator John Jancek, has made positive strides all spring, despite having limited personnel after graduation, and until the Class of 2018 arrives on campus in June. That progress showed on Saturday, with the defense again coming up with several big plays.
"That's just great teaching for our defense, (to realize) 'this is how you have to play because you never know when that play is going to happen. If you're not busting your tail, you're not going to have an opportunity to make that play," Bobo commented. "It's a mindset that we have to get that we can't take a play off. We have to play extremely hard every play and that's what we're trying to get. I like the way the defense is going right now."
Senior linebacker Tre Thomas filled up the stat sheet, registering five tackles and a fumble recovery. Thomas was one of several Rams on the defensive side to apply pressure to the quarterbacks, with a sack and a hurry.
Fellow linebacker Anthony Giusti also provided a key moment for the defense, picking off a deflected pass in the end zone to eliminate the first scoring threat of the day for the offense.
Darius Campbell, Livingston Paogofie, Josh Watson, Arjay Jean and Landon Schmidt all added sacks of their own. Junior cornerback Anthony Hawkins blocked a lengthy field goal attempt from Braxton Davis late in the scrimmage.
Sophomore safety Jadon Walker had five tackles to tie Thomas for the team lead, while Campbell, Paogofie and Watson all tallied four.
The run game was again a positive for the offense, but overall, Bobo sees the offense as an unfinished product right now.
"Offensively, we have a long way to go," Bobo said. "We don't execute at a very high level right now. We can't throw and catch; we screwed up some protections from time to time. I did think we ran the ball pretty decent today… but mainly, I wanted to give those three quarterbacks a chance to throw the ball and give them a chance to operate and execute with a little bit of pressure with the fans being out there."
"If we were playing a game, I probably would have been leaning to the run game a little bit more because I believe that's our strength. Offensively, we have to get the quarterback situation figured out, get the offensive line figured out. There's a lot of guys that didn't practice today, and some newcomers that are coming in that will be given an opportunity to get in that starting five."
Senior Izzy Matthews was CSU's top ball carrier on the day, rushing for 67 yards on eight carries and a touchdown. Sophomore running back Darius May also reached the end zone.
Through the air, junior wide receiver Brenden Fulton was productive, hauling in five passes for 66 yards and the lone passing touchdown. J.C. Robles connected on the 15-yard touchdown pass to Fulton, and finished 8-for-16 for 107 yards on the day.
Redshirt freshman Justice McCoy was 9-of-16 for 113 yards with an additional 29 yards rushing, while fellow freshman Judd Erickson was 2-for-8 for 25 yards.
With CSU's spring season now concluded, the team will have to lean on its senior leaders to keep the team moving in the right direction heading into the fall.
"We have to finish strong in school because we're going to need everybody out there and we've got to have a great summer," Bobo said. "We have to have a great summer with the guys that are here, and we have to have a great summer with the leaders on the team helping the young guys and teaching them. There's a lot of guys that didn't practice today, with injury or newcomers or guys you're going to see in the fall. We've got a big summer ahead of us to get ready to play, but the overall spring was good."
CSU's 2018 schedule begins with an Aug. 26 home matchup against league foe Hawaii. The Rams will also host Arkansas, Illinois State, New Mexico, Wyoming and Utah State.