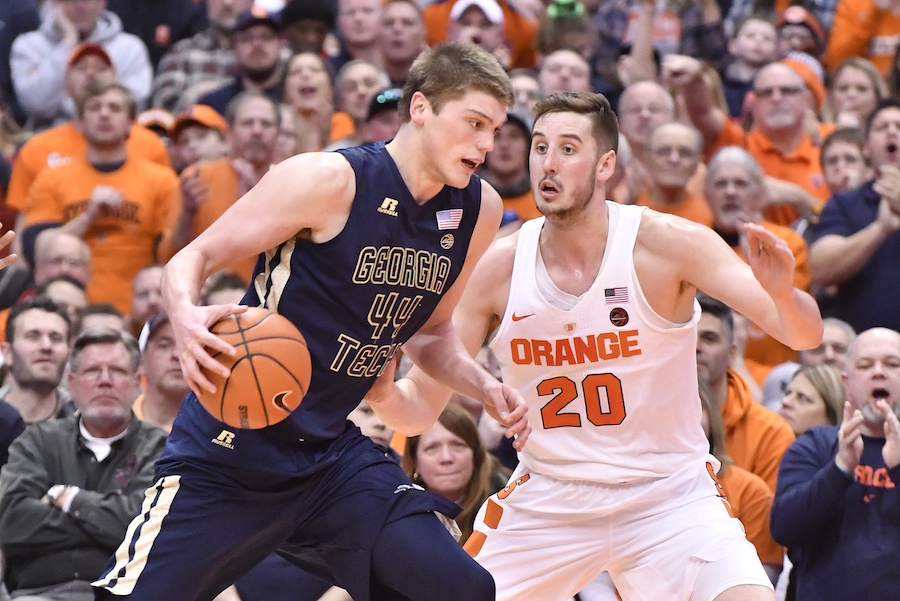 Nuggets rookie forward Tyler Lydon can shoot the basketball. His .398 3-point shooting percentage in two years at Syracuse is evidence of that. But Lydon knows that defense will be a priority now that he's in Denver.
Ronnie Kohrt and Aniello Piro caught up with Lydon following a recent Summer League practice to chat about how he's adjusting to the professional game and the defensive demands of playing in Denver.
Lydon, drafted 24th overall to the Utah Jazz, landed in the hands of the Denver Nuggets after they made a deal with the Jazz in exchange for Trey Lyles and the rights to Donovan Mitchell during the 2017 NBA Draft. Lydon averaged 13.2 points and 8.6 rebounds during his sophomore season at Syracuse.
With his arrival in Denver, many fans are wondering how Lydon will do defensively making a switch from the famous "Syracuse Zone" to man-to-man.
Lydon is not worried a bit.
"We practice man-to-man every single day at Syracuse, so it's not like I just stopped playing man-to-man for two years."
With a 7-foot wingspan, Lydon has the potential to be a solid defender for the Nuggets on the perimeter. He knows that defense is very important to his new head coach, Michael Malone, and the Denver staff.
"A lot of the focus is [on defense], I mean, that's for everybody though," Lydon said. "It's something that the Nuggets pride ourselves on and something I obviously have to work on."
Lydon and the Nuggets are preparing for their first Las Vegas Summer League game Friday, July 7 against the Houston Rockets. Lydon is excited to get the ball rolling with some of his new teammates.

"Everybody has brought a lot to the table. Everybody plays different and has different aspects of their game that make us a team and can help us win. I think it helps when everyone is so competitive you know, it makes everything fun and it's good. I'm very excited now, obviously this is what you work for, to play in the games and everything so I'm ready."
After Summer League, Lydon, a 6-foot-10 forward, will be up against six, potentially seven, other big men for playing time. The Nuggets now have Lydon, Lyles, Paul Millsap, Wilson Chandler Juancho Hernangomez, Darrell Arthur, and Kenneth Faried playing the forward position. Also, Nikola Jokic may be added to that list if the Nuggets decide to try to stretch Jokic out of the paint a little to make room for Millsap to go to work. However, none of the names listed shoot the ball from behind the arc as well as Lydon does. If he can be consistent from deep, that may be his ticket to valuable minutes in Denver.
Denver will play three games in Vegas against Houston, Minnesota and Toronto before Summer League tournament play begins on Wednesday, July 12.
Listen to the full interview with Lydon, including how he's adjusting to the altitude in Denver, in the podcast below.
Catch The Morning Blitz with Ronnie K and Aniello Piro every Sunday from 8a-10a on Mile High Sports AM 1340 | FM 104.7 or stream live any time for the best local coverage of Colorado sports from Denver's biggest sports talk lineup.