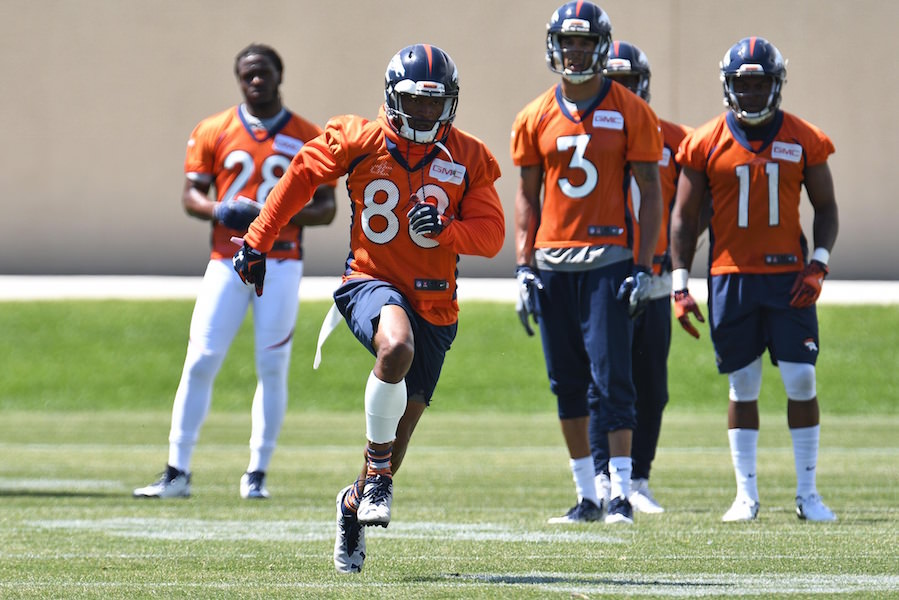 The Denver Broncos defense has been causing problems for NFL offenses for two years running. This time of year however, the No Fly Zone is only causing problems in practice for the Denver offense.
Wide receiver Demaryius Thomas spoke with Eric Goodman and Les Shapiro on AM 1340 | FM 104.7 on Wednesday to explain what it's like practicing against the league's best pass defense every day.
"It's tough every day. We have to bring it on the practice field and practice every day like it's a game. That's what we do. Once we get into a game hopefully it's going to be easy for us and [the defense] too," Thomas explained. "Of course the front seven is going to have to deal with that, but on the back end going against [the No Fly Zone] is going to help our whole receiving corps out too come game time. They're either going to be around or not going to be around cause we have two of the best in the game."
While it is just friendly competition in training camp, that doesn't prevent trash-talking. Chris Harris went on record saying he and the rest of the defense wanted to 'drown the quarterbacks' in practice.
"There's nothing really to say in response to that. What we have to do is go out onto the field and try to get open against Chris [Harris] and Aqib [Talib] to give our quarterbacks an opportunity not to get drowned," the wide receiver told Goodman and Shapiro. "We have to help them out and give them options so they don't have to sit back and make tough decisions."
The Broncos are just one week away from their first preseason game against the Chicago Bears, and that means just one more week until the fans can see this new offense live in action.
Listen to the full interview, including DT's opinion on the quarterbacks' learning curves, in the podcast below.
Catch Afternoon Drive with Goodman and Shapiro every weekday from 4p-6p on Mile High Sports AM 1340 | FM 104.7 or stream live any time for the best local coverage of Colorado sports from Denver's biggest sports talk lineup.