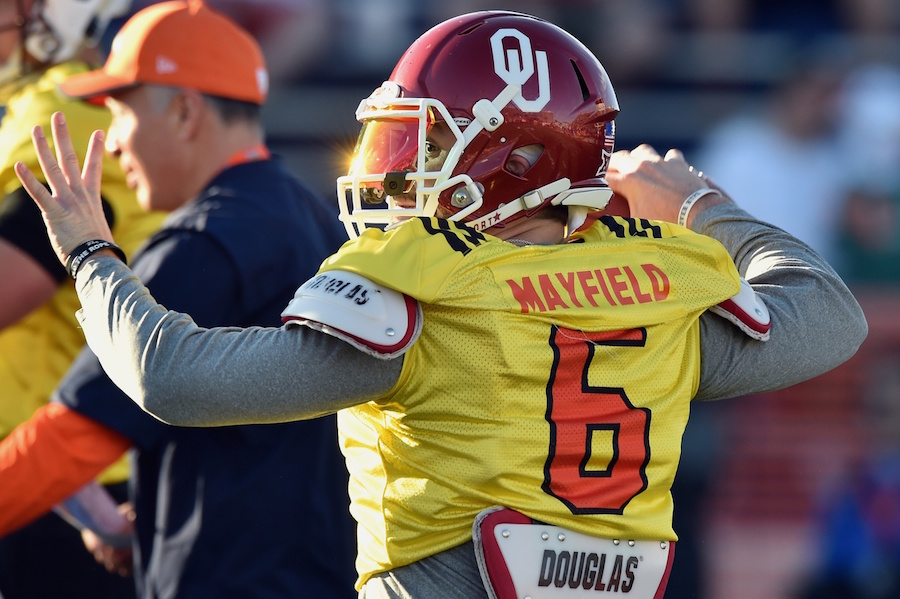 The chaotic opening couple days of free agency have come and gone, resulting in the Denver Broncos shoring up one of their biggest weaknesses on the team — bringing in quarterback Case Keenum on a two-year deal.
Now what?
The Broncos still hold the No. 5 pick overall with added flexibility after the Keenum signing. No longer are they demanded to pick a quarterback at five. Or are they?
Here are a few options the Broncos could be looking at once the NFL Draft comes arrives in April.
Stay put and select Notre Dame OL Quenton Nelson
Call this the safest and potentially smartest move the Broncos could pull on draft day. Nelson is expected to be a bonafide star in the NFL. He's a massive road grader at 6-foot-5, 329 pounds. Lance Zierlein, NFL.com draft analyst, describes his build as "like a bank safe," and he possesses such a rare combination of raw talent, size and power that he can start day one.
With Nelson on the offensive line, the Broncos' one-time weakness, could very well become a strength of the team as it's expected that Ron Leary will mov back to his original position of left guard.
Stay put and select (INSERT QUARTERBACK HERE)
Drafting a quarterback to be groomed under Keenum could prove to be a very valuable move, especially considering most quarterbacks coming out in this year's NFL Draft all have holes in their game and all could benefit greatly from sitting for a year.
The quarterback they draft could be a number of guys, so insert your favorite here. It's no secret general manager John Elway loves raw talent and measurables, and Josh Allen out of Wyoming has one of the biggest arms the NFL will see right out of the gate.
Baker Mayfield is a rising name as the draft gets closer, resembling the type of quarterback senior personnel advisor Gary Kubiak would prefer. With Josh Rosen and Sam Darnold also in the mix, so long as the Broncos get 'a' guy out of the draft, you can't say they went wrong.
Trade down and stockpile assets
The Broncos may not hold the sexiest position for a trade down, but the opportunities may come with the Buffalo Bills, Arizona Cardinals and other  teams looking to move up for a quarterback of the future.
A deal with Buffalo is particularly appealing for the Broncos because Buffalo holds two first-round picks this year, No. 12 and No. 22 overall.
Stay put and select Saquon Barkley
It's not guaranteed C.J. Anderson returns as a Bronco next year. If he becomes a casualty of the cap and is cut to save money, the Broncos could look at drafting the explosive Penn State product Saquon Barkley (assuming he's still on the board).
Barkley possesses a rare combo of size, speed, acceleration and agility that will make him a high first-round pick in the 2018 draft. The NFL as a whole has moved away from using top picks on the running back position; however, recent drafts have delivered impact rookies like Ezekiel Elliott and Leonard Fournette giving major boosts to the offenses in Dallas and Jacksonville, respectively.