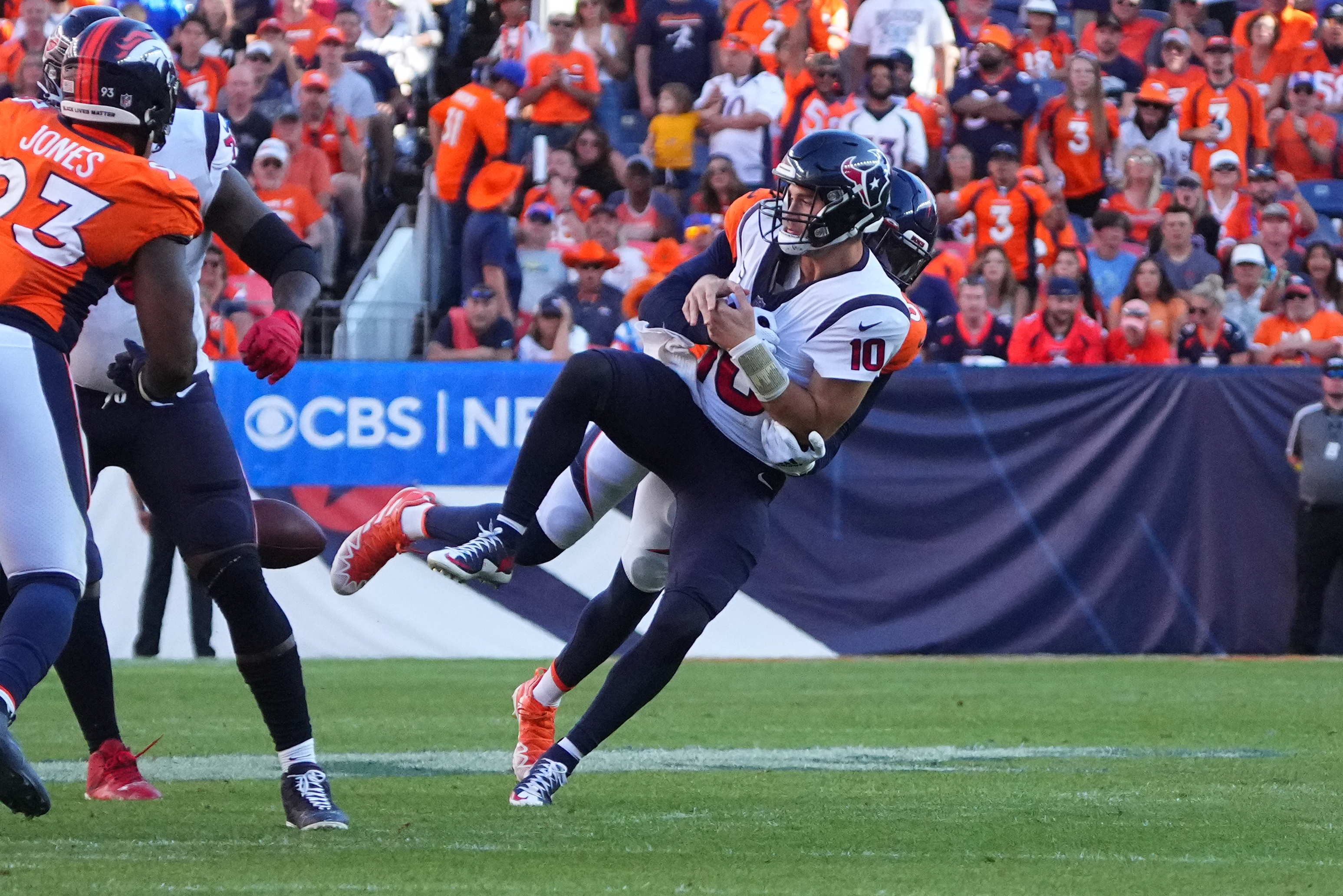 The Denver Broncos are off to a 1-1 start on the season, not ideally how Broncos fans originally anticipated. With the primitive focus on penalties, game management, and an up-and-down offense, the Broncos defense deserves some praise.
Broncos defense has sharpened its play the last six quarters
Through the last six quarters of play in just two games, the Broncos defense tightened up their approach after a rough first half against the Seattle Seahawks in Week 1.
Going into their Week 2 matchup against the Houston Texans, Denver's defense maintained that same standard despite missing key players like Justin Simmons and Josey Jewell.
After second-year cornerback Patrick Surtain left Sunday's game with a shoulder injury, other players had no choice but to step up including rookie cornerback Damarri Mathis.
"I think he played well," Broncos veteran safety Kareem Jackson said following the game. "I talked to the guys after, I just told them that regardless of if you're a starter, you need to prepare like you're starting because you never know what can happen. You have to go in and play. [CB] Pat [Surtain II] going down and him stepping in, I think he played well."
The moment wasn't too big for Mathis as Broncos head coach Nathaniel Hackett pointed out in his post-game press conference.
"The thing about [CB] Damarri [Mathis] is it's not too big for him," Hackett said. "So I think you saw that here today. Being a rookie, going out there, just executing at a high level. So it will be good to see the tape and see him execute."
For the Broncos rookie cornerback, Sunday's fill-in was a confidence booster for him.
"It just feels good getting in and getting my feet wet, and just being able to adjust to the game," Mathis said. "It's a different level of football, and I think it's good that I came in and was able to do that today."
Now, Denver awaits further word on the extent of Surtain's shoulder injury.
Denver Broncos pass rush was consistent and relentless in Sunday's win
During Sunday's win, the Broncos defense allowed 234 total yards of offense including 80 yards rushing, 154 yards through the air, and an average of 4.0 yards per gain.
Even more impressive, Denver limited the Texans to 2-13 (15.3%) on third down.
One reason for the output came from the Broncos defensive line and edge rush led by Dre'Mont Jones and Randy Gregory.
Jones had a huge game for Denver, coming up with two sacks and forcing a fumble and registering 6 tackles on the day.
Late in the fourth quarter with a lead, the Broncos defense knew they needed to help secure the win.
"The mentality was to shut things down," Jones said. "We knew we couldn't be comfortable; we were only up seven, there was a lot of football to be played and they seem to move the ball pretty well. The Texans are a really good team regardless of their record right now being 0-1-1."
Gregory came up big for the Broncos in the fourth quarter, sacking Texans quarterback Davis Mills and forcing a fumble.
One thing the film shows is a relentless effort and pursuit by Denver's front seven to get to the quarterback despite Mills embracing the quick passing game.
Other players like D.J. Jones, Bradley Chubb, and DeShawn Williams also showcased discipline with a high motor, wearing down the Texans offensive line.
Not only has the Denver defense played stingy defense through the last six quarters of play, they haven't allowed a touchdown through six quarters either, holding the Texans to three field goals in Sunday's win.
Through the first two games, the Broncos have sacked opposing quarterbacks five times.
"We just believe in ourselves and I think we really understand what each person does well," Gregory said post-game. "We are excited to play for each other and play hard for one another, which makes it more competitive. You cannot worry about what the offense is doing, that will come around. Like you said, six quarters [of] good play. Hopefully we can keep that going."
Alex Singleton has been bright spot despite Josey Jewell's absence
The Broncos defense has missed starting linebacker Josey Jewell, but have found relief with Alex Singleton stepping up and taking on a more prominent role.
The first year Bronco has been a bright spot on defense in Jewell's absence.
In Sunday's win, Singleton was aggressive, filling his gap assignment against the run against the Texans, flowing sideline to sideline on outside run plays, and coming up big in the pass defense department.
During the second quarter, Singleton dropped back to protect the underneath against an empty formation that saw the Texans run three different routes in the middle of the field with one play extending vertically on a post route.
Singleton read Mills' eyes and made an incredible play knocking the ball down, preventing what could have been a touchdown.
Jewell could return this week despite being inactive vs. the Texans on Sunday, but even in that event, Singleton will likely still undertake a key rotational role on defense going forward.
As the Broncos offense continues to work out its kinks, the defense embraces having their back.
"We're a team," veteran safety Kareem Jackson said after the Broncos win. "Offense is struggling, we got to step up. That is just the way it goes. When they're rolling, we still have to step up. But for us, it's all about getting as many opportunities as possible. For us to get some stops today—we've been struggling, I can say it's a team effort. That's how it goes sometimes."
The Denver Broncos now shift their focus on cleaning up some issues they ran into on tape and carrying it over into their game preparation for a showdown with the San Francisco 49ers on Sunday Night Football.