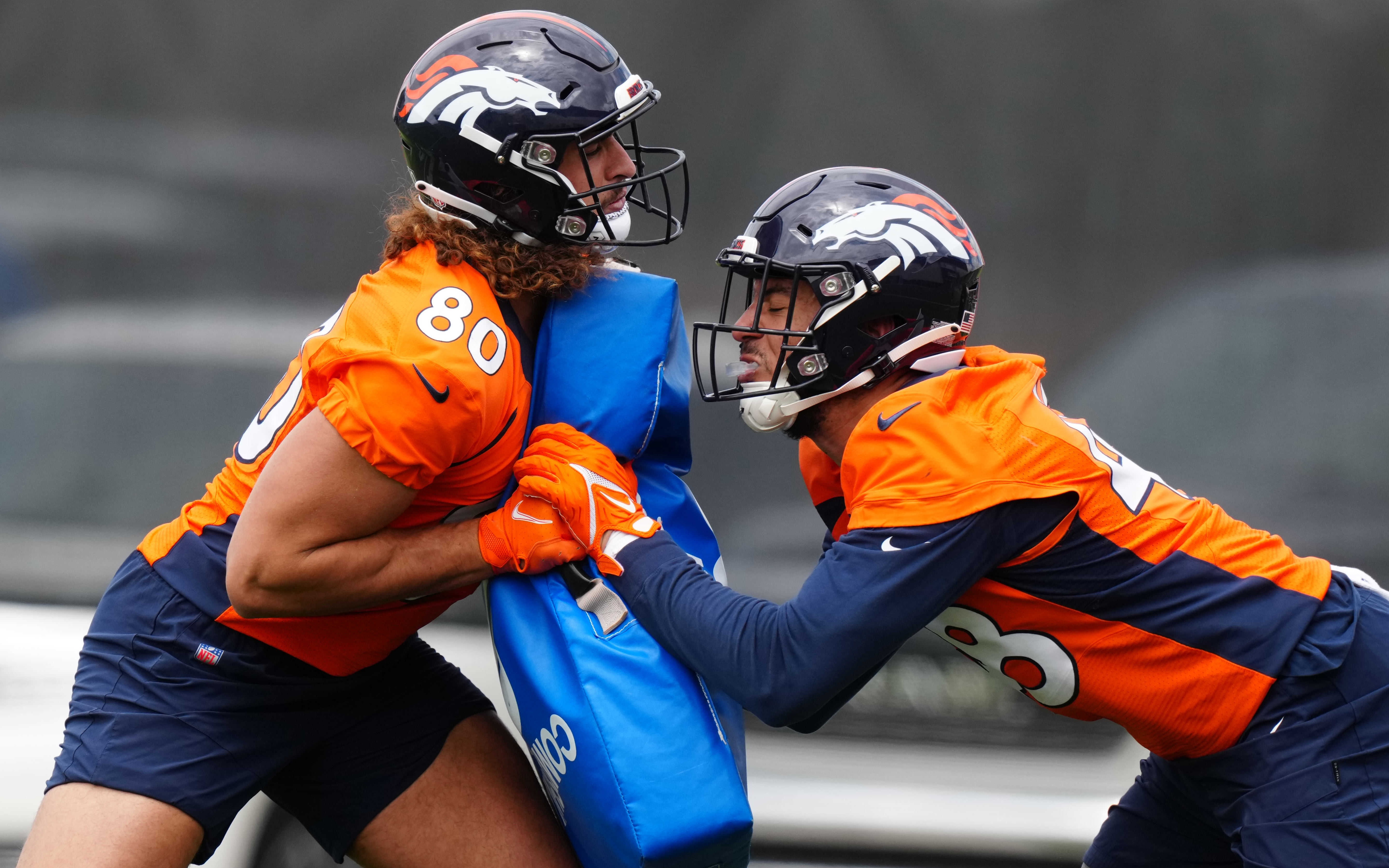 As the Denver Broncos prepare for training camp on July 27, new head coach Nathaniel Hackett will have the tough task of deciding how many tight ends the Broncos keep in 2022. Which Broncos tight end is projected to be the starter and what players are competing for a final roster spot?
Denver Broncos Tight End Room
Entering training camp, the Broncos will carry a total of seven tight ends on their roster. Players returning to Broncos Camp in 2022 feature Albert Okwuegbunam, Andrew Beck, and Eric Saubert. New additions to the position room feature 2022 third-round draft pick Greg Dulcich, free-agent acquisition Eric Tomlinson, and undrafted rookie free agents Dylan Parham and Rodney Williams.
As the Broncos install a brand new offensive scheme, players like Okwuegbunam, Beck, and Saubert will scrape away everything they learned last year under former offensive coordinator Pat Shurmur. How quickly they learn and master Hackett's offense will help determine who makes the active roster.
Who starts for the Broncos at tight end?
After the Broncos traded former starting tight end Noah Fant to the Seattle Seahawks as part of the package to acquire Russell Wilson, the team will have a new starter this upcoming season.
Albert Okwuegbunam approaches 2022 as one of the favorites to win the starting job, but he'll face strong competition from third-round rookie draft selection Greg Dulcich, who the Broncos snagged during the 2022 NFL Draft.
Simply, the starting job will come down to both Dulcich and Okwuegbunam. While learning a brand new offense, the tight end position room also features a brand new position coach with Jake Moreland coming over from the New York Jets.
"It's been good, he's a great coach," Okwuegbunam said during offseason team workouts. "He brings a lot of energy, which I really like. A lot of energy and enthusiasm. He holds us to a really high standard as well, and I can really appreciate that out of a coach as a player. I love that coaching style when your coach sets a high bar for you and holds his players accountable. I really like that from [Tight Ends Coach] Jake [Moreland].
Despite there being a competition between the two in order to start, it's expected that Denver will play both players in significant roles on the field, even potentially together out of 12 personnel (1 running back, 2 tight ends)
Greg Dulcich picking things up fastly
For Dulcich, he's coming into a brand new offense with some familiarity coming from a pro-ready scheme at UCLA. His transition of picking up the new offense has come along strongly this offseason.
"Greg done an excellent job out here learning the small amount of gameplan that was presented to him," Broncos offensive coordinator said of Dulcich during Rookie Minicamp. "He's done a really good job with it. He's on his details. The athletic ability that we saw on video is carrying over to the field. The adjustment after this is going to be what we need to evaluate moving forward. Obviously with a bigger playbook and more responsibility, and just kind of handling—like everything else with a rookie coming, you have a lot more time on your hands and how you handle that, but he's been a really good pro so far with everything."
One thing to monitor is whether or not Dulcich is fully ready for training camp after sitting out mandatory minicamp towards the end of Phase 3 of the team's offseason program with an apparent leg injury. 
"Again, I hope so," Broncos head coach Nathaniel Hackett said during mandatory minicamp. "It's one of those things where we want to be smart with all of the guys and make sure that they're ready to rock."
Will Eric Saubert be the Denver Broncos' third tight end?
After the NFL Draft, the Broncos brought back Eric Saubert who spent last season with the team. Saubert returns after being an impact player on the Broncos special teams side of the ball, and as a reliable in-line blocker on offense.
For Saubert, he'll face competition from Eric Tomlinson who came over in free agency after spending 2021 with the Baltimore Ravens. Saubert offers the Broncos more value in the passing game and as a blocker, whereas Tomlinson better serves the Broncos primarily as a run-blocking tight end.
It's currently unclear how the Broncos will use Andrew Beck who has played more of a hybrid fullback/tight end role. Beck could be a roster lock with a fullback designation, even though the Broncos plan on using him more in the passing game this season.
For the remainder of the Broncos tight end room, both undrafted rookie free agents Dylan Parham and Rodney Williams could be competing for a spot on the Broncos' 16-man practice squad or auditioning for another NFL team after roster cuts.
Training camp kicks off on Wednesday, July 27 and runs through Aug. 11.