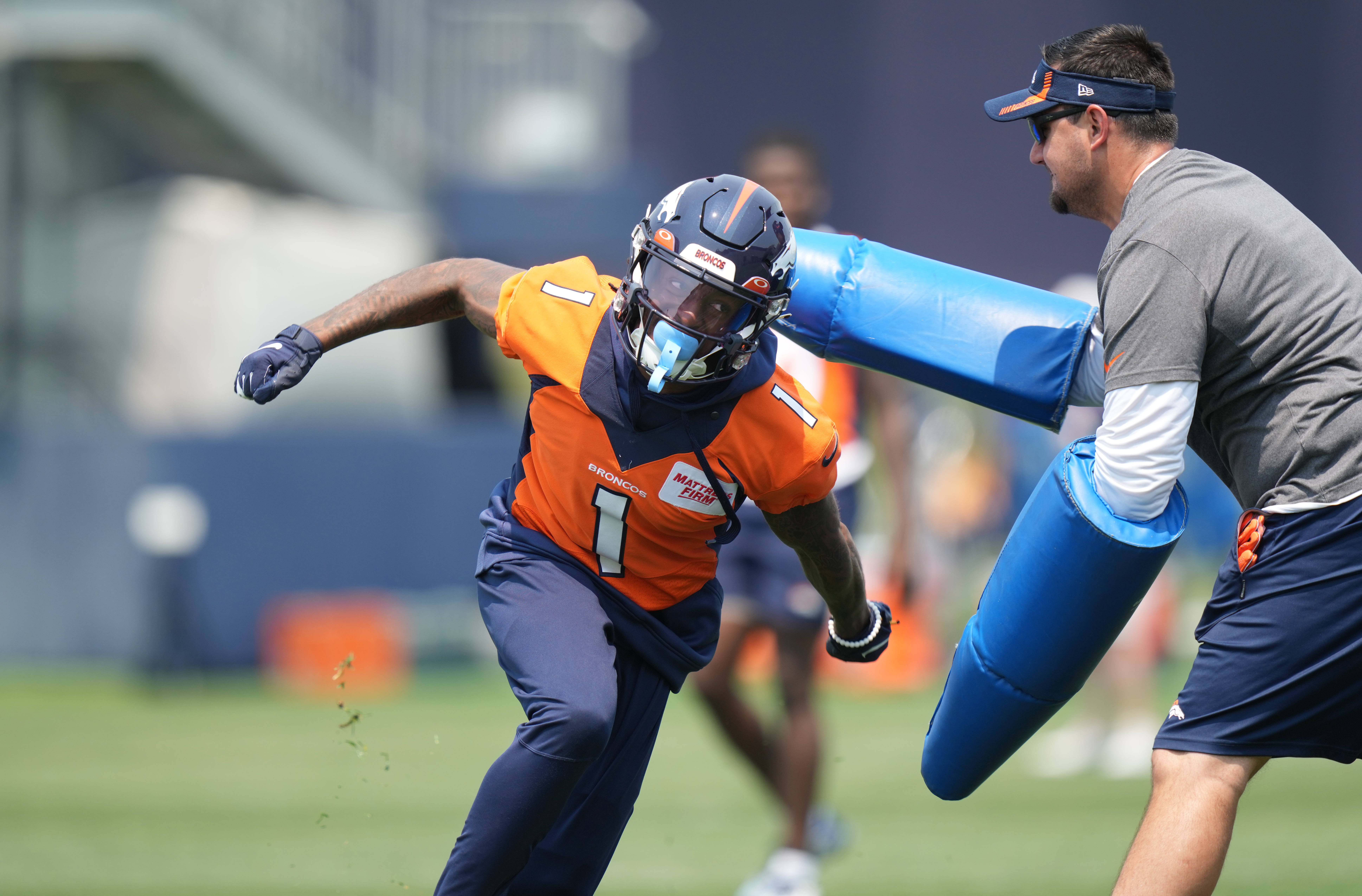 Preseason is winding down and the regular season is about to kick off.
First, though, the Denver Broncos will play their third and final preseason game on Saturday against the Minnesota Vikings.
One potential offensive weapon could see his first action on the field since last September.
Denver Broncos offense, KJ Hamler progressing forward each day
For Denver Broncos wide receiver KJ Hamler, he's progressing each day he steps onto the practice field.
After suffering a torn ACL and dislocated hip in Denver's 26-0 shutout victory against the New York Jets in 2021, Hamler could return in-game this Saturday against the Vikings.
Throughout training camp, the Broncos third-year wide receiver out of Penn State has been a sponge regarding the offensive playbook, even when taking in mental reps when he wasn't able to physically participate.
"Me being on the side, [I was] just watching and always had my white board on the side writing the plays down," Hamler said on Wednesday. "The plays come naturally, it's just the little things and the little details that I probably mess up on. Overall, I know everything in the playbook."
He returned to the practice field this week and saw his first action during the Broncos team period on Monday.
As he continues to build things up, Broncos head coach Nathaniel Hackett alluded to the possibility Hamler could get some on-field reps during Saturday's game.
"He's looked good," Hackett said prior to Wednesday's practice. "He's a guy that, again, we're trying to do it the right way. I think that as we continually talk to him—if he feels as though that he needs some reps to be able to get out there, we will definitely give those to him. If he's cleared and everything is good—I'd say on track—I'm hoping we see him out there a little bit."
As Saturday gets closer, it appears like Hamler could get a few snaps in game, in fact, he hopes he can.
"I don't mind playing," Hamler acknowledged on Wednesday. "Just to go out there and get a feel for it again. I've been doing team reps out here, as well. That would be my first game since the injury happened, so whatever Coach wants me to do, I'll do it. I'm going to be excited if he wants me to play a little bit. I don't know how long he would want me to play or if he would even want me to play, but if he does, it's fine."
One thing is for certain, the Broncos offense can be even more explosive with Hamler's speed and ability to get behind opposing defenses.