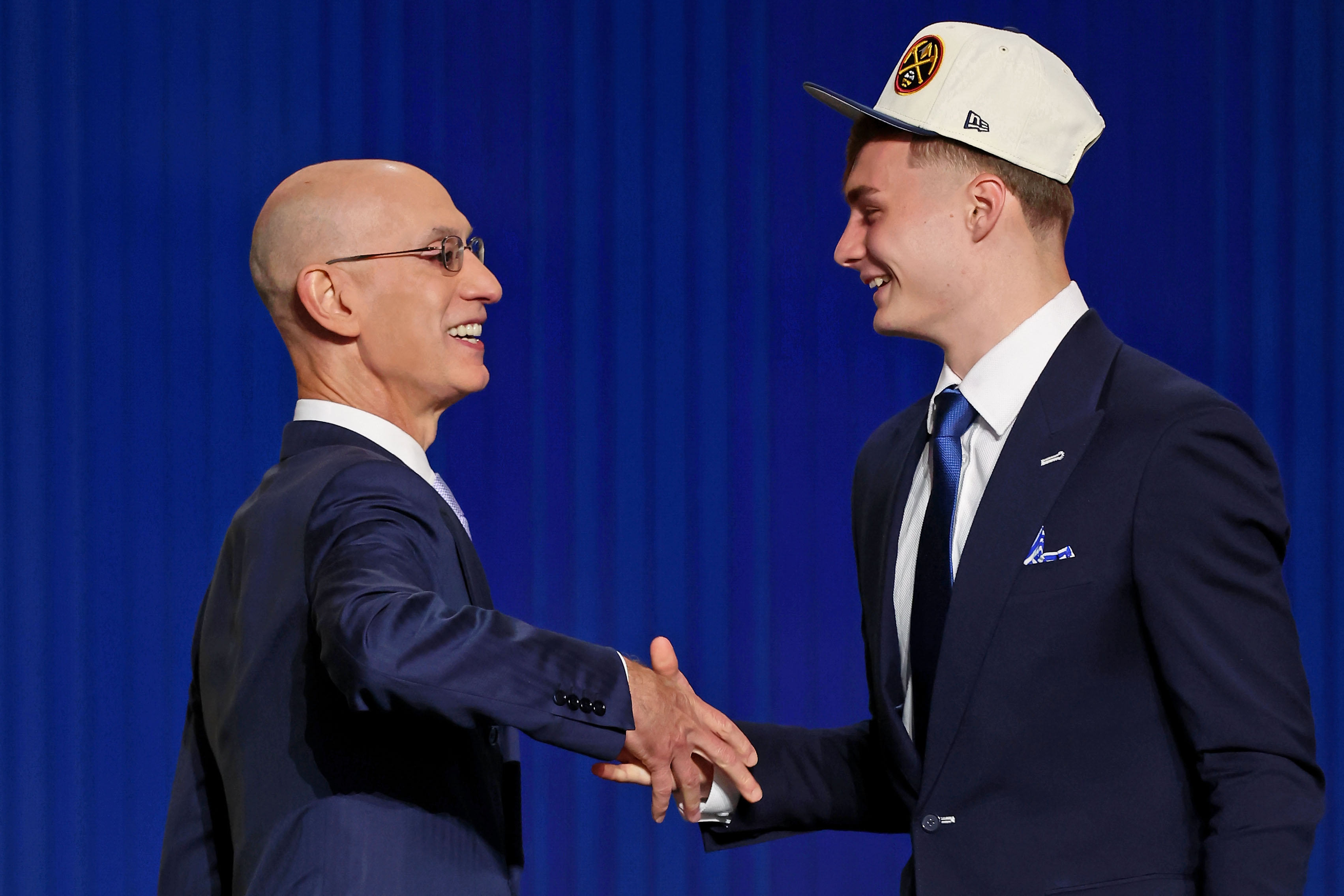 When preparing for the 2022 NBA Draft, I didn't give serious credence to the idea that the Denver Nuggets would end the draft with more draft picks than they started.
As the Nuggets worked to find ways to improve their roster heading into an important 2022-23 season with championship expectations, they were faced with a tall task tonight. With two late first round draft picks, the Nuggets were on the clock to maximize their contending window. After trading a 2027 protected first round pick to the Oklahoma City Thunder along with JaMychal Green for the 30th pick on Thursday, Denver's long term flexibility became almost nonexistent. The Nuggets are now legally unable to trade any first round picks until the 2029 first rounder becomes eligible to be traded during the next league year.
That left tonight's 21st and 30th overall picks as Denver's primary trade bait. Several NBA teams have called the Nuggets about the availability of Monte Morris. Almost every NBA team is asking for Bones Hyland when the Nuggets attempt to acquire a rotation upgrade. Very few teams see Will Barton as a neutral trade asset right now, let alone a positive one. The Nuggets were up a creek in trade negotiations from the jump. As it turns out, the 21st and 30th overall selections didn't particularly grease the wheels in talks either.
So, the Nuggets pivoted. Rather than moving draft picks for bad deals, the Nuggets decided to invest in their future a bit.
At 21st overall, the Nuggets selected Christian Braun, a 6'7″ wing out of Kansas known for his athleticism, tenacity, and 3&D skill set. Braun won a national title at Kansas back in April and showcased a little bit of everything during the run. He's a jack-of-all-trades player that often makes up the difference with his competitiveness and intensity. Don't undervalue his tools though: Braun shot 37.8% from three-point range for his Kansas career. He also showcased some passing and ability to read the floor at a high level as a playmaker, cutter, and defender. Oh, and he jumped 40 inches in the air at the NBA Draft Combine.
Braun is a player that's expected to contribute immediately.
"Christian Braun does stuff," said Nuggets general manager to Nuggets local media on Thursday night. "He rebounds, he cuts, he gets chasedown blocks. He does a lot of the little things that coaches appreciate, teammates appreciate. So in that sense, I think he's going to give himself a chance."
"Christian is a guy we identified pretty early in the process as a guy we might want to draft," Booth shared. "We felt like he had two-way potential, brought great energy. We think he's going to bring great size. He can guard, he can handle, play-make, rebound. We think the sky's the limit."
Booth had stated earlier in the off-season that the Nuggets were hoping to improve on the defensive end while getting bigger and more athletic, especially on the wing. Braun fits the bill, and while he has a negative wingspan (6'7″ height in shoes, 6'6.5″ wingspan) it's clear that he defends really well with his feet. He crowds the airspace of offensive players making them uncomfortable, and it's that skill that might get him on the court as soon as next season.
The Nuggets weren't done drafting though. At the 30th and final pick of the first round, the Nuggets threw a bit of a curveball and selecting UCLA freshman Peyton Watson. The 6'8″ forward was a five-star recruit coming out of high school, but he struggled in college, averaging just 3.3 points in 12.7 minutes per game for a college program with title aspirations. Watson also posted a 39.4% true shooting efficiency, which was the 18th lowest mark in the entire NCAA last year among players to play at least 400 minutes.
The numbers are fairly alarming, but it's clear that the Nuggets are relying more on what they scouted at the high school level as well as his defensive film. Watson measured at 6'8″ in shoes and with a 7'0.5″ wingspan at the combine, and there are several college possessions of Watson dominating defensively. His combination of length, athleticism, and footwork are certainly enticing, and it was that potential that Booth thought highly enough of to invest in Watson at 30th overall.
"He really committed to playing defense," Booth said on Watson when asked about what led him to the 19-year-old small forward. "It's noticeable when you do film study. He's guarding all different positions. He's blocking shots. He's rebounding."
Watson is expected to be more of a project than Braun, as alluded to by Booth on Thursday. The Nuggets believe Watson is worth the wait though, and watching the defensive highlights, it's easy to see why.
"With Peyton, he loves to play defense. He's a basketball junkie. He's really intelligent, which leads me to believe that he has All-NBA potential, All-Defensive potential…He's the kind of guy that it might take two years, or it might take two months."
With Braun, the Nuggets found their low risk, high floor option that can help the team immediately. Braun is ready to go, sees the game at a high level, and should be expected to compete for rotation spot as soon as this upcoming year.
With Watson, the Nuggets found their high risk, high ceiling option that can help the team in the future. Watson is going to take some time to develop, and he will likely spend significant time in the G League next season. The Nuggets believe in his defensive potential, and if the goal was to surround Denver's stars with defensive players tonight, then Booth was clearly successful.
Two other draft related moves that the Nuggets made: they traded a future second round pick to acquire the 46th overall pick and selected French center Ismael Kamagate, who won Best Defensive Player in his league last year. They also signed Villanova point guard Collin Gillespie to a two-way contract. Both players are expected to be on the Nuggets summer league roster in July, but Kamagate will reportedly be stashed overseas for at least another season, according to DNVR's Harrison Wind.
Source: Nuggets plan to stash 2nd round pick Ismael Kamagate in Europe next season.

— Harrison Wind (@HarrisonWind) June 24, 2022
So, the Nuggets (barring unforeseen changes) will have three rookies on their 17-man roster heading into the 2022-23 season. Right now, the Nuggets are at 11 full-time contracts, with Gillespie taking one of the two-way contract slots. That leaves four full-time roster spots and one two-way contract for the Nuggets to still improve their roster, and it doesn't sound like the Nuggets are done making changes.
"We definitely need to try to bolster our defense," Booth said after the draft festivities concluded. "I think there's some work to do in that regard."
The Nuggets weren't able to use their 2022 draft picks as trade assets to acquire the veterans they were looking for. As a result, finding a significant addition that moves the needle will be that much harder. The Nuggets were reportedly open to moving one or both of Monte Morris and Will Barton during the draft, and that's unlikely to change before or after free agency begins on July 1st. Very few players were traded on draft night outside of De'Anthony Melton, who I mentioned as a possible trade target on Monday.
As a result, more trades may occur in the next few days or even after free agency begins. The Nuggets will need to navigate those murky waters with a steady hand, identifying the right players that fit Denver's needs and capitalizing where they can.
Will Denver find what they're looking for? Who knows? It becomes more difficult without the use of 2022 draft picks, but perhaps the Nuggets are okay with that. They added three prospects to bolster the defense (one much sooner than the other two) and if all goes well, the Nuggets will reap the rewards of improved defense around Jamal Murray, Michael Porter Jr., and Nikola Jokić at some point.
Is it enough to win the 2022-23 title? Who knows?