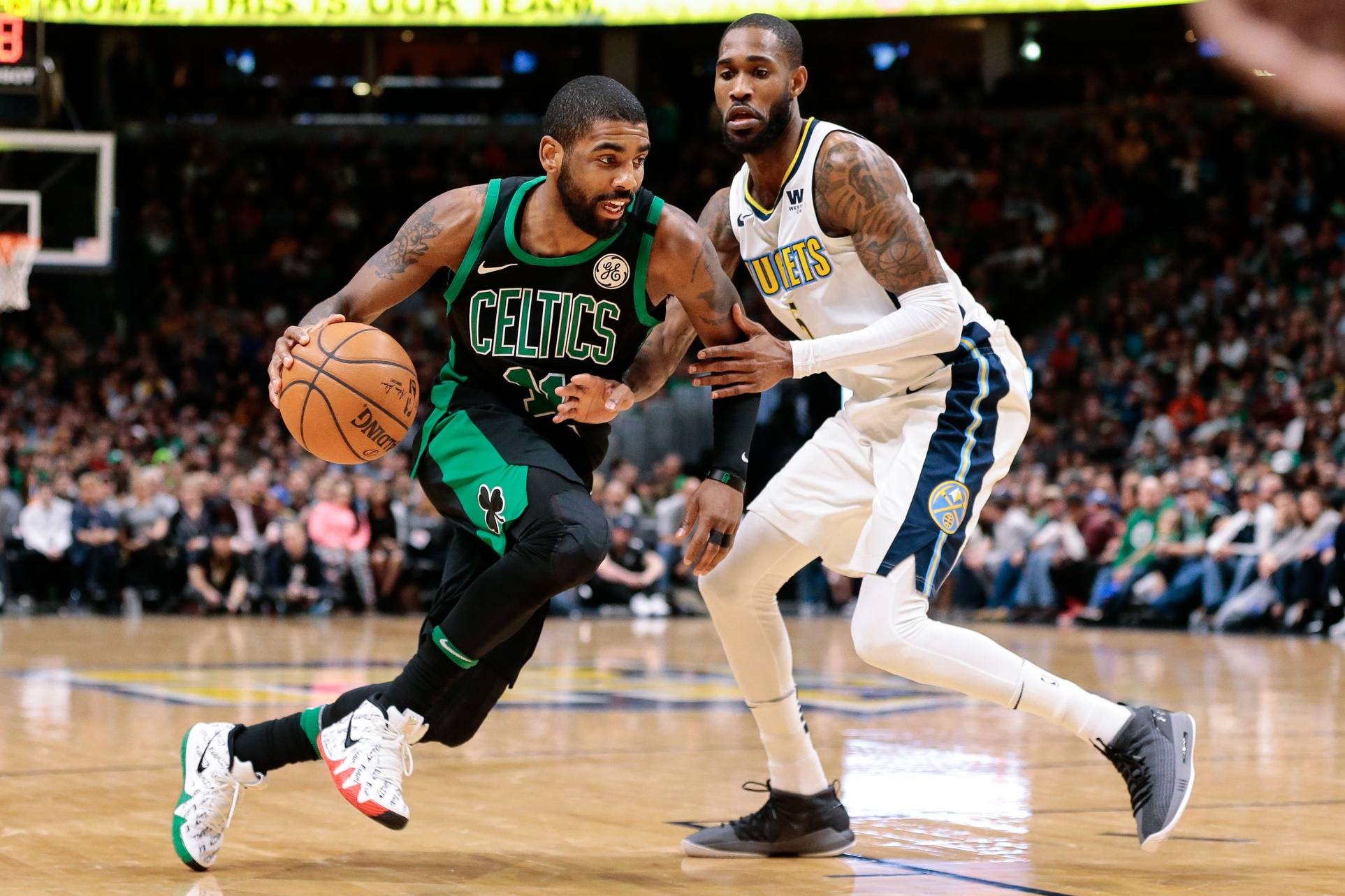 The national media was in town on Monday night as the Denver Nuggets hosted the Boston Celtics in a game that was televised on NBA TV. Boston opened up — and blew — a 20-point lead in front of a Celtics heavy crowd, but they would ultimately sneak out of the Pepsi Center with a 111-110 victory over Denver.
The Nuggets looked confident early against a team that they've played quite well over the last two seasons. Will Barton hit the game's first shot with a three-pointer out of a dribble handoff and Jamal Murray sunk two free throws to help the Nuggets jump out to a 5-0 lead before sixty seconds of game time had passed. That would be Denver's biggest lead of the quarter though as turnovers and three-point shooting dictated the remaining 11 minutes.
Boston shot a ridiculous 7-11 from three while Denver connected on just two of their 10 attempts. To make matters worse, the Nuggets failed to make things easier on themselves by turning it over five times in the quarter — which resulted in nine points for Boston.
Kyrie Irving has been Boston's most dynamic scorer all season long. It's well documented that when he's off the floor, Boston's offense plummets in a big way. But on Monday night, when Irving checked out for the first time with just over four minutes remaining in the first, the Celtics scored 11 more points before the quarter came to a close. Boston led 32-21.
Virtually nothing went right for Denver to start the second. A funky rotation of Murray, Emmanuel Mudiay, Barton, Trey Lyles and Kenneth Faried struggled mightily as Boston pushed their lead to 14. That lead would grow larger as Denver went ice cold from the field and Boston remained thermonuclear from beyond the arc. With 6:24 remaining, Irving found Daniel Theis for a 25-footer that pushed the lead to 20.
A 20-point deficit against Boston is daunting to say the very least, and Micahel Malone's team recognized that they had to play with a sense of urgency. Denver engineered a furious rally, thanks to some big-time defense from their young guards, and was able to cut the lead back down to 11, which Boston carried into the half.
The Nuggets flipped a switch in the second half. Denver was finally able to generate some stops as they held the Celtics to just 10-25 from the field — despite Jayson Tatum tearing poor Torrey Craig to pieces — and were able to whittle the lead down to single digits.
From there, Denver's stars got hot—particularly Jamal Murray and Nikola Jokic, who willed Denver's offense into existence. The two young stars ratcheted up the intensity and aggressiveness as the team continued to generate stops on the other end. The Nuggets outscored the Celtics 37-24 to grab an improbable 82-80 lead after three quarters.
Mason Plumlee played the third quarter — and really the entire game — with a tremendous energy. He was everywhere on defense and a real threat down in the paint on offense. His effort was key in a monster quarter for Denver, but he was helped off the court by the training staff after straining his right calf roughly five minutes into the fourth. He would not return.
The fourth quarter had the feel of a playoff game—albeit one on the road—as chants of, "Let's go Celtics", rained down while the two teams exchanged blows. Kyrie Irving, who was the most talented player on the floor, certainly played like it in the fourth. Uncle Drew dropped 11 points and did his best to help the Celtics pull away, but Denver battled to the very end.
With 2:46 remaining, Irving sunk a layup to push Boston's lead to five. Lyles would respond with a layup of his own to make it a one-possession game once more, but Al Horford drilled a three to push it back up to six.
Harris scored on the ensuing possession and Barton stole the ball from Irving before driving for a layup. He missed, but Trey Lyles was there for the tip-in to make it a one-point game.
Denver got one of their biggest stops of the game on the next possession. They forced Irving to commit a shot clock violation and Jamal Murray tied the game up with a clutch nine-footer on the other end.
With 34 seconds remaining, Horford found young Jaylen Brown for a go-ahead three in the left corner. Denver needed a bucket and once more Murray stepped up by scoring on a quick layup. Boston head coach Brad Stevens used a full timeout with 17 seconds remaining and Malone made a defensive substitution, switching Craig in for Jokic.
It worked and Denver got another stop. Lyles corralled the board with four seconds remaining and, per the instructions of head coach Michael Malone, did not call a timeout. Instead, Lyles gave it up to Barton who tried a desperation heave at the buzzer. It fell short.
Following the loss, the Nuggets fall to 26-24 on the year and 19-7 at home. Denver will travel to San Antonio tomorrow night to take on the Spurs on the second night of a back to back. That game tips off at 6:30 pm MT.