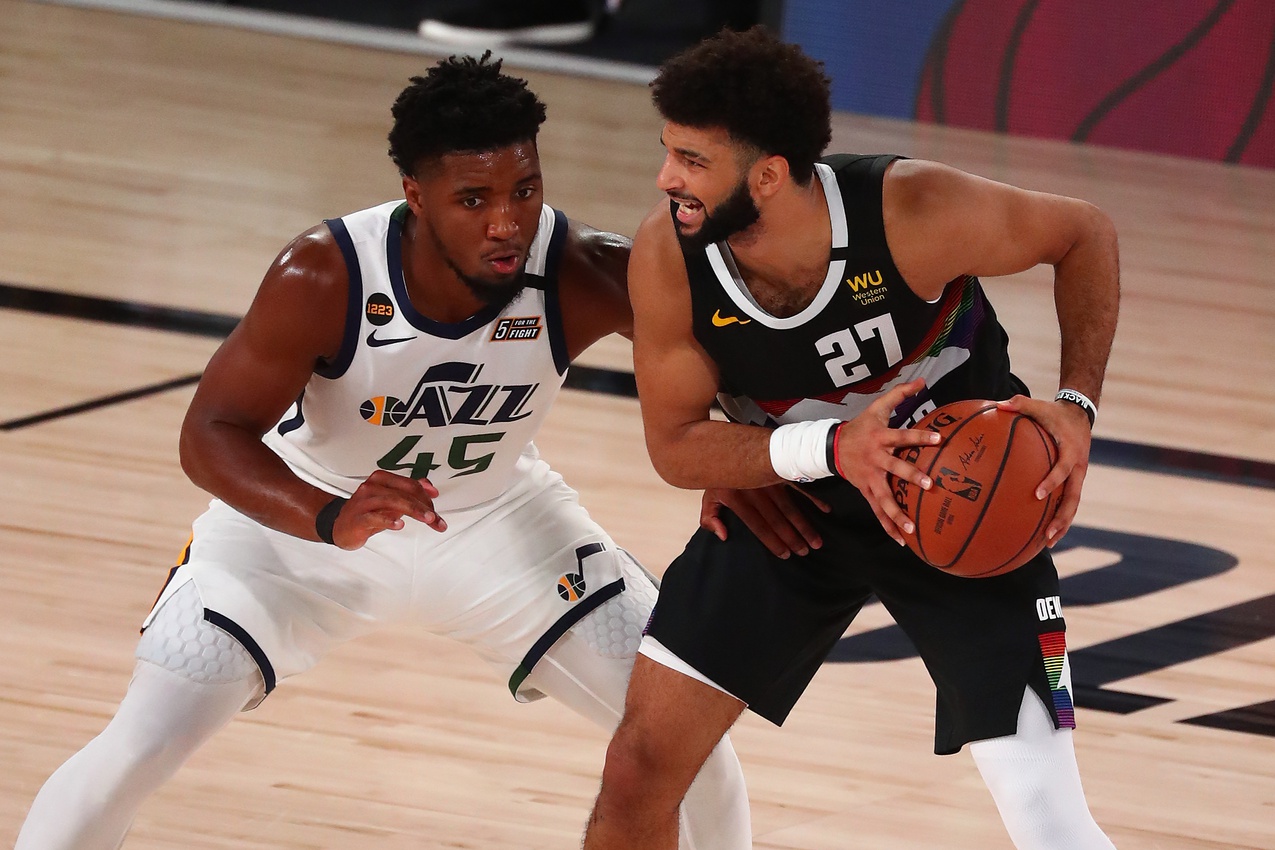 After a grueling series against the Utah Jazz, the Nuggets have to roll directly into a series against the 2nd seed in the West as the heavy underdog. Major national outlets are already picking Denver to be swept.
If there's one thing that this season has shown, however, is that the Nuggets shine especially when their backs are against the wall. That being said, there are a few important facets to focus on looking ahead to this series.
1: Guarding the wings
The Los Angeles Clippers are one of the most wing-heavy rosters in the league. They deploy a starting lineup of Paul George, Kawhi Leonard, and Marcus Morris. This creates some odd matchups with the roster of the Nuggets.
This is a series where Denver fans will really feel the absence of Will Barton. With the 6'9″ Paul George taking up minutes at shooting guard, the Monte Morris/Jamal Murray backcourt may not hold up defensively. Coach Malone may deploy a lot of Torrey Craig to try and equalize the size on the perimeter. While Gary Harris is an incredible defender in his own right, Paul George still has five inches on him and it may be tough to contest his pull up jump shots. Though, if Gary can blow up Dribble Hand-offs like he's accustomed to, it will certainly mitigate George's effectiveness from range.
In addition to this, George hasn't been "Playoff P" so far. He's only shooting 27% from deep and sporting an abysmal 41.8% effective Field Goal percentage. If he continues his slump, this would be a beneficial break for the Nuggets.
The regular season indicated that the Nuggets could benefit from using Jerami Grant as the primary defender on Kawhi Leonard. If Malone shares this idea, which film from the matchups so far against the Clippers indicates he does, then Grant will likely continue to slot in as the starting small forward. Per NBA stats, Grant guarded Kawhi for 10 minutes and 40 possessions in the regular season. In this matchup, Grant held Kawhi to 0.7 Points per Possession and a field goal percentage of 28.6%. This defensive matchup is absolutely critical for this series.
Marcus Morris is the final starting wing for the Clippers. While it's likely that Denver rolls with Millsap as the starting 4, this may not be the best option. Millsap has been a defensive anchor all season and has arguably been the most defensive player over the stretch of the entire season. Against Utah, however, Millsap looked much slower guarding on the perimeter. With Morris bumping up his 3 point shooting numbers to nearly 54% on over 4 attempts per game, either Millsap's minutes could afford to be reduced, or he could take more minutes as a backup center to guard Montrezl Harrell in bench units, where Millsap's strength would be an asset.
2: The MPJ X-Factor
The Los Angeles Clippers, in the 2018 NBA draft, passed on Michael Porter Jr twice, one of those times in favor of Jerome Robinson.
Michael Porter Jr, as a rookie, was Second-Team All-Bubble in the 8 seeding games prior to the playoffs. Averaging 22 points per game and 8.6 rebounds, MPJ was a strong offensive force.  In the first round though, Porter's defense was enough for Coach Malone to reduce his minutes significantly. This was largely because of Utah's frequent running of the Pick & Roll.
However in this series, both the size and shot-making of Porter can create huge advantages for Denver. Aside from Ivica Zubac & Joakim Noah, Michael Porter at 6'10" would be taller than any rotation player for L.A.
Michael Porter is already a high-level rebounder on both ends of the court. His defense is undoubtedly suspect, but he can be effective as a weakside help defender in the paint and has been good closing out on the perimeter as well. Playing him alongside of Jeremi Grant could maximize both of their skillsets to give Denver enough of a boost on the wings to keep up with the wing-heavy Clippers.
3: Star Power
Kawhi Leonard was the Finals MVP only last season, also last season, Paul George finished 3rd in MVP voting. The NBA is a star-driven league. On paper, the Clippers might have the advantage here, especially with limited matchups to hinder them on the wings.
However, it is worth noting that Jamal Murray plays at a star level in the playoffs. Last year, he even outperformed the likes of Damian Lillard, but the first round this year solidified him as a playoff player. Admittedly, he'll have to go up against one of the premier guard defenders in Patrick Beverly, and it wouldn't be a surprise to see Paul George and Kawhi Leonard take some assignments on him either.
Nikola Jokic just put up a slashline of 26.3/8.1/5.4 on the 2-time defensive player of the year. While Zubac is actually a really solid interior defender, and likely underrated in that aspect, he's really no match for Nikola Jokic in either the post or on the perimeter. The Nuggets need to exploit this matchup as much as they possibly can.
In theory, the Clippers have the star power, but in reality, the gap may not be that large.