The first game of the Denver Nuggets title defending schedule is officially on the calendar.
According to Shams Charania of The Athletic, the 2022-23 champion Nuggets will face the Los Angeles Lakers on October 24th, the official opener of the 2023-24 NBA regular season.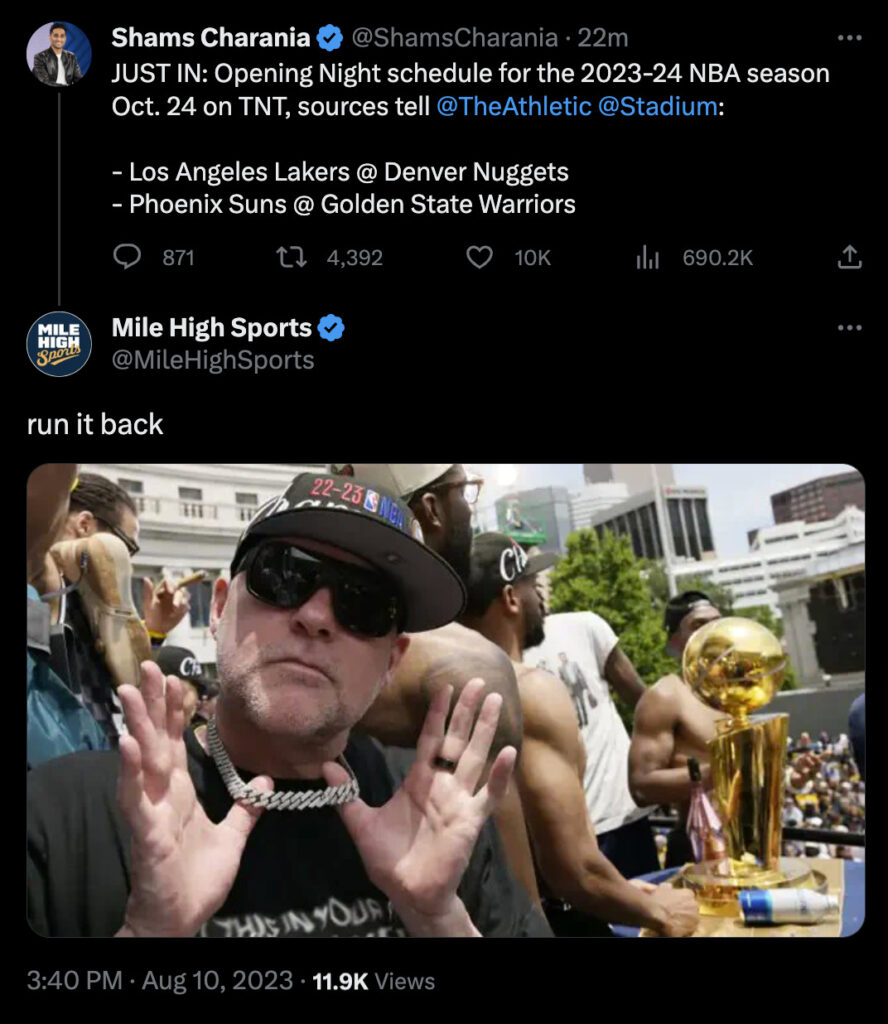 The Nuggets will receive their 2022-23 championship rings on October 24th in front of the home crowd as well.
On their way to winning last year's championship, the Nuggets defeated the Lakers in the Western Conference Finals in a 4-0 sweep. Nikola Jokić and Jamal Murray were at the peak of their powers, Aaron Gordon and Michael Porter Jr. were elite supporting players, and Kentavious Caldwell-Pope and Bruce Brown rounded out a core of six players that played as well as any Nuggets group ever has in that series. The Lakers challenged the Nuggets throughout the Conference Finals, but the efforts of LeBron James, Anthony Davis, Austin Reaves, and Rui Hachimura weren't enough to slow down the Nuggets.
Now, without Bruce Brown, and after the Lakers secured role players players like Gabe Vincent and Taurean Prince in free agency, the two teams appear more evenly matched on paper. It will take improved efforts from young Nuggets players like Christian Braun, Peyton Watson, Zeke Nnaji, and others to match up with the Lakers this season. James may be entering his 21st NBA season, but the all-time great can still put together incredible performances, even at 38 years old. The veteran James spoke about the possibility of retirement the night the Nuggets swept his team out of the playoffs last year, only for James to announce his return to the NBA at the ESPYS last month. The Lakers superstar will surely be out for revenge in a couple of months.
Whatever happens, October 24th should be an incredible show for NBA fans. Getting to see the best duo in the world, along with LeBron James and Anthony Davis, should be a sight to behold.