The Denver Nuggets wrapped up their second day of training camp on Wednesday with similar vibes as the first day: good work, but we have to be better.
After a long summer and with a lot of new faces, it's unsurprising to hear those sentiments.
Let's dive into Training Camp Chronicles for Day 2 and hear what the players and coaches had to say:
The Main Story: Finding team chemistry
There's no questioning the effort that the Nuggets have brought to training camp thus far. The execution, though? That still needs some work.
"Guys were working hard, but it was sloppy, too many turnovers," Malone shared. "We finished with a scrimmage. Need to do a much better job of taking care of the ball than that, but I do appreciate the work and the effort that's going into the first two days."
From Media Day until now, the Nuggets and Malone specifically have stressed the need for discipline, attention to detail, and execution. Many coaches will stress this, but for a Nuggets team hoping to win a title, these declarations should hold more weight than ever before.
Elite execution doesn't happen overnight though, and the Nuggets are already behind the eight ball there due to major roster changes.
"On the court, you just try and create chemistry, find guys, know guys' strengths and weaknesses," incoming veteran Ish Smith shared. "Just working out, playing together, and trying to find that camaraderie."
"Some of it is new guys creating that on-court chemistry. Some of it is just everybody playing at the same speed right now," Malone answered in response to why the turnovers were happening. "I always feel that the game is played at two speeds. Defensively, be frenetic. Offensively, slow down."
"I think we're just rushing into a lot of mistakes right now."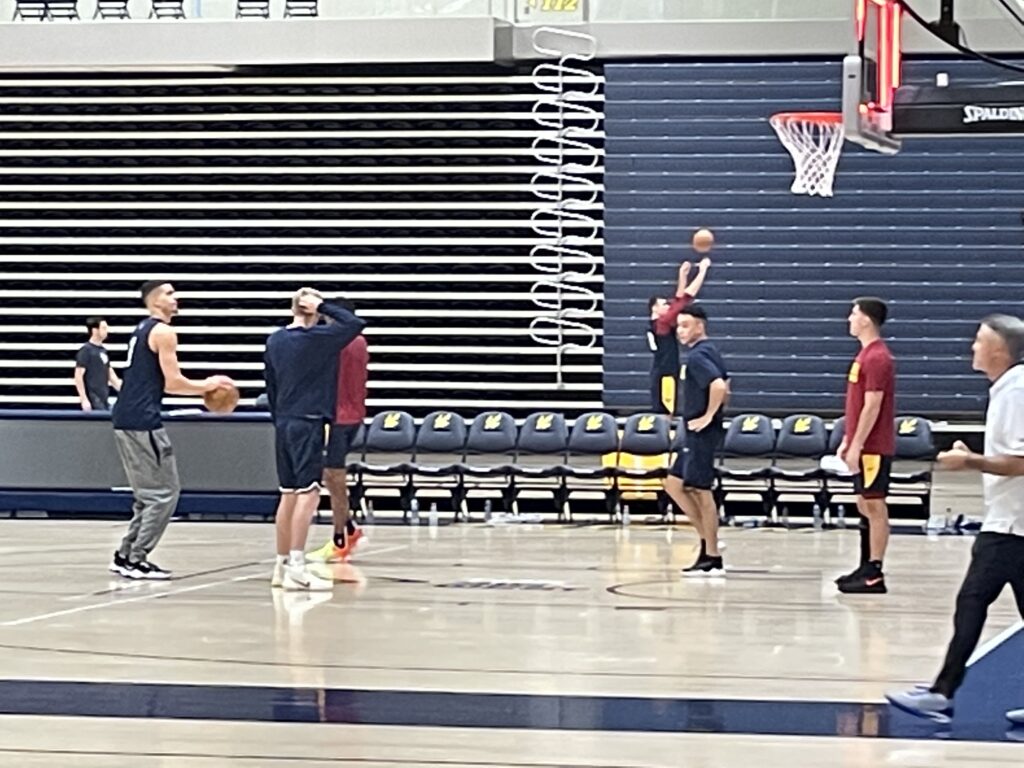 Chemistry can be easier to find when the team leaders set an example, though.
"It was fun. He's down to earth, real cool," said Smith of Jokić and how he operates off the court. "It's funny because he's just walking around like he's not the two-time MVP. He's just kinda chilling and hanging out, and that's how you kinda want it.
This is all part of the process and why training camp is so important. Learning and understanding new players, new plays, and new responsibilities. All of the Nuggets go through it, but it was nice to hear from Nikola Jokić that some aspects of building chemistry were easier than others.
The Fun Details: Nikola Jokić speaks
It was Jokić's turn to speak to the media today, and he had some interesting things to say about chemistry and the value of training camp.
"Just get used to the players, the guys," Jokić said. "Just because we don't play that much, practice that much."
"Getting used to playing with Jamal and Mike."
The last time all three of Jokić, Jamal Murray, and Michael Porter Jr. were all on the floor together was that fateful game against the Golden State Warriors on April 12th, 2021. Between then and October 19th, Denver's first game of the season in Utah, 555 days will have passed. Just over 18 months.
So, how did it feel to be on the court together again?
"It feels really natural," shared Jokić. "It feels easy. I think we're going to be back really soon."
As the team looks to get back into the swing of things quickly, Jokić knows how important it is for everybody to be on the same page. Having veteran voices and veteran examples goes a long way in that goal.
"It's good to have veterans, just so the young guys see how it's supposed to be," Jokić shared. "Especially the players that have been in the league a long time. Like Ish [Smith], like Jeff [Green]. And it's different positions. It's just good for young guys to see what you're supposed to to and how you're supposed to do it."
Joker also commented on the baseball game he attended between the Padres and Dodgers on Tuesday night, saying that he enjoyed the experience but that it wasn't his first time. Jameer Nelson, maybe Nikola's favorite veteran ever, brought him to his first baseball game.
Thanks for stopping by, @nuggets! 👋 pic.twitter.com/3zO0I7lgny

— San Diego Padres (@Padres) September 28, 2022
Rotation Watch
Malone shared today that Kentavious Caldwell-Pope had a sore calf and was held out of the scrimmage portion of practice.
As a result, Bruce Brown was elevated to the starting unit alongside Jokić, Murray, Porter, and Gordon. That's a strong group and may be one of Denver's best two-way lineups heading into the regular season.
In Brown's place, Christian Braun played on the second unit alongside Bones Hyland, Davon Reed, Jeff Green, and DeAndre Jordan.
Malone noted once again that these rotations aren't final, but it was interesting to see Zeke Nnaji on the third team once again rather than on the second team.
"I know it's been only two days, but I think Zeke's done a lot of really good things out there," Malone shared. "He's a tremendous kid, tremendous person, great work ethic, and he's playing well. His impact on the game, he's on the offensive glass, he's finishing, he's one of our more vocal defenders out there."
"Really happy and proud of Zeke Nnaji after the first two days."
Nnaji hasn't been nominated to play with the primary bench yet in practice, but expect that to change some time soon. He's still just 21 years old and has some growth left to his game, but he's put in the work requisite to get some opportunities at either power forward, center, or both in the near future.