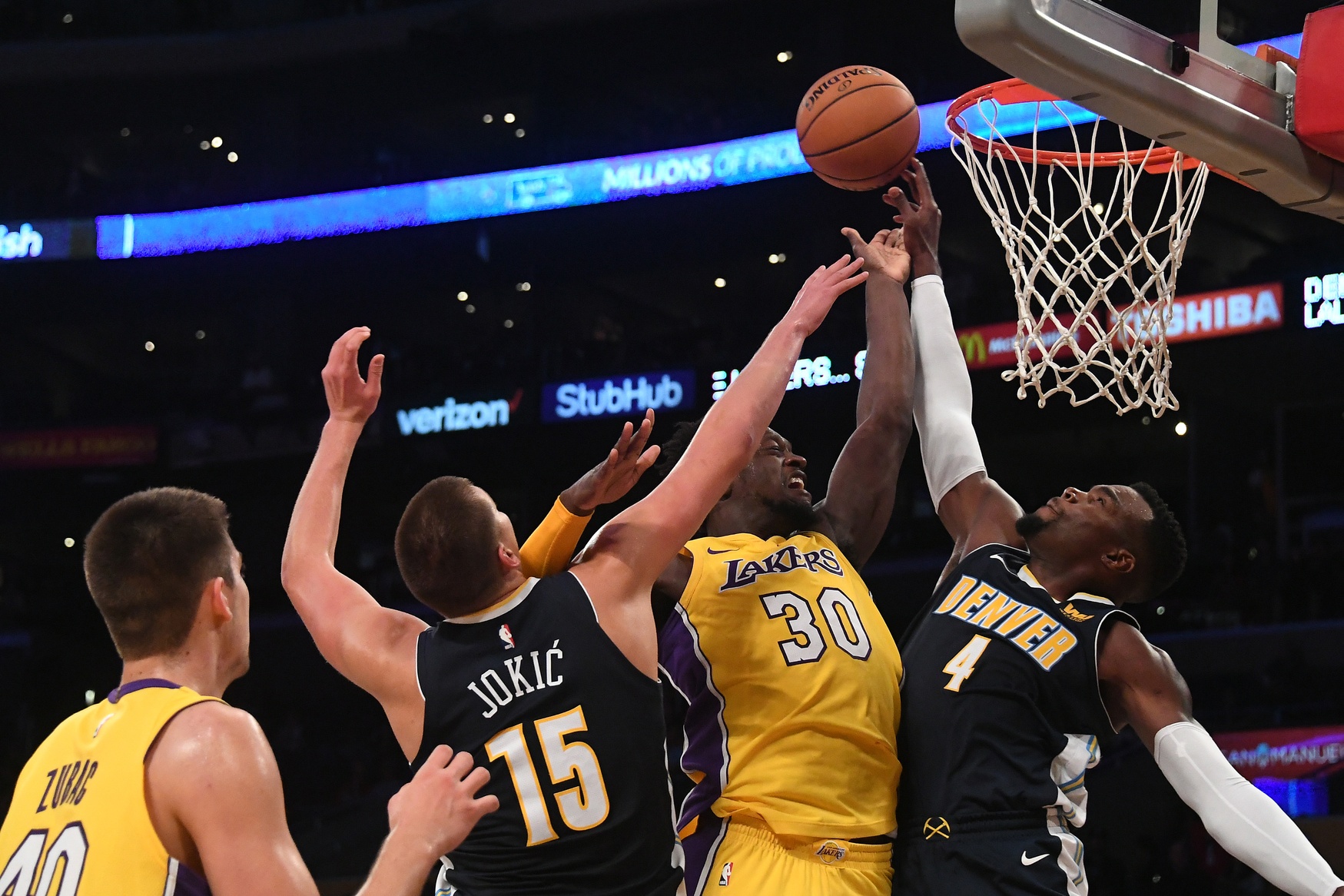 When the Denver Nuggets' President of Basketball Operations Tim Connelly and General Manager Arturas Karnisovas signed four-time All-Star Paul Millsap this summer to a three-year deal worth $90 million, they did more than just upgrade at the power forward position; they made a conscious decision to bring in a free agent that could revolutionize the Nuggets' abysmal defense from the ground up.
Considering Millsap's elite on-court intelligence, defensive prowess, and ability to read the floor; Denver had — in theory — found the perfect complimentary big man for Nikola Jokic. The signing was praised and deservedly so. Millsap is — without a doubt — an elite defender and that was where Denver needed the most improvement.
For the first time in years, the expectations for the Nuggets were sky high. With the addition of Millsap, Denver was potentially sitting on one of the most explosive offenses in all of the NBA — in the same tier as the Golden State Warriors and the Houston Rockets — while also actively improving their defense.
That's not exactly how things shook out to start the season. Denver jumped out to a much better start than in either of their previous two seasons under head coach Michael Malone, but the offense was stalling far too often. Jokic and Millsap showed flashes of brilliance together, but the spacing was still a work in progress. The Nuggets appeared far too eager to adapt to Millsap — rather than allow Millsap to adapt to his new teammates.
With a heavy focus on the offense, some fans grew impatient and upset with Millsap's play — as well as the approach the coaching staff used to integrate Millsap into the Nuggets' roster — but that frustration seems misguided. With all the focus on the offense, a trend continued to grow game by game that was overlooked by many. The Nuggets had improved significantly on what was the biggest concern of the summer; their porous defense.
In that regard, Millsap made an instant impact and was already earning every penny of his team-friendly contract. That is now clearer than ever now that the Nuggets are without his services after having surgery on his left wrist.
Millsap injured his left wrist on the 19th of November against the Los Angeles Lakers. That was the last game that Millsap participated in and, at that point in the season, Denver had a defensive rating of 105.8, which is a nearly five points better from the Nuggets awful defensive rating of 110.5 from the 2016-17 season. That means the 4.7-point improvement the Nuggets made jumped them up from 29th in the league in 2016-17 all the way to 17th in 2017-18 when Paul Millsap plays. Being the 17th best defense in terms of defensive rating is nothing spectacular, but anyone who has watched the Nuggets should know what a dramatic improvement this season had been in comparison to the season before.
In the time since Millsap went down with the wrist injury, Denver's developing defensive numbers have dissipated. In the seven games without Millsap — including his last game against the Lakers in which he played 18 minutes — Denver is ranked 22nd in defensive rating at 109.3, 18th in second-chance points allowed at 12.3, and an astounding 29th in opponents' points in the paint at an obscene 52.6 points allowed in the paint. This isn't surprising, but it is obviously significant.
Denver has adapted a new and aggressive pick and roll scheme on defense this year. Often, the bigs are asked to come way out and help trap the ball handler on the wings or to impede paint penetration if possible.
This is a risky approach. A smart point guard will snuff out any holes if this style of defense is poorly executed. Also, if the opposing roll man is a dynamic scorer they could have tons of room to work with should their ball handler escape the pressure.
This style of defense works well when Millsap is defending the roller. Millsap is listed as a power forward, but — if it weren't for his linebacker-esque physique — he could easily pass for a big wing player. He has the foot speed to defend out on the perimeter and he is also capable of recovering from this precarious defensive positioning.
Check out this play in a home game against New Orleans when Jameer Nelson calls for a pick from Millsap's man: Cheick Diallo.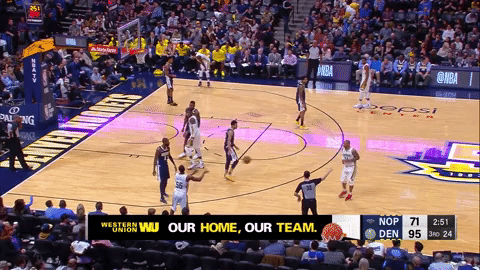 Millsap comes way out to meet Nelson, but Jamal Murray gets absolutely stuffed by Diallo's pick. Millsap is prepared to switch but he knows where the defense is exposed here; if Denver simply switches, then Murray is trailing a much larger roll man as he barrels to the rim.
Thankfully, New Orleans was not running any other action on this play. The look to Diallo is the only one available and a lob pass might allow too much time for the other defenders to help. Jameer has two choices here and Paul knows it. He steps up to contest a potential three and when Nelson tries to thread the needle with a bounce pass instead, Millsap snuffs it out.
This sequence from OKC is a little bit more complicated. Millsap is guarding Patrick Patterson as Patterson lumbers out to the perimeter to set a screen for Raymond Felton. Again, Millsap comes way out to the perimeter to pressure Felton, but Emmanuel Mudiay decides to switch onto Patterson. Almost immediately, Paul George leaves the corner to receive a dribble hand off. Barton fights through to help Millsap seal off the action, but Jerian Grant is already setting a screen on Millsap. Barton backs off, Millsap fights through and Mason Plumlee steps up to seal off George's drive.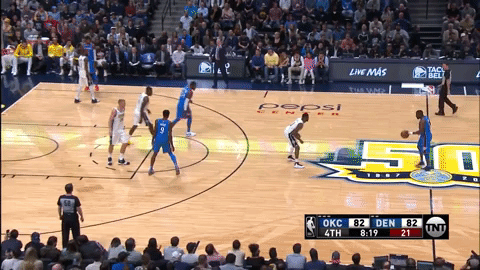 One of two things should happen here: either Grant should be open as the roll man, or, in the case that Barton helps on the roll, Felton should be wide open for a three, but Millsap fights over the screen effectively and recovers quickly on the much faster George. He eliminates the passing lane, helps creates a loose ball, and fights for control. That is Millsap's intelligence, athleticism, and hustle all on display in a span of nine seconds.
The Nuggets are lucky to have such a versatile and capable defender on these types of plays, but that does not tell the whole story. Denver struck gold when they selected Jokic with the 42nd pick in 2014. They found a foundational superstar and a player who instantaneously transformed their offensive identity, but building a winning team around Jokic carries its own set of difficulties.
Jokic's defense has been much maligned — perhaps to an unfair degree — but he is hardly a rim protecter. Without true defensive stoppers on the perimeter, it can be an uphill battle to build a contender around a defensively limited center.
In a vacuum, Jokic is not a terrible defender. He is smart, has active hands, generates steals and inhales defensive rebounds. The defensive metrics are kind to him for those reasons, but when he's asked to maneuver his way around multiple screens — or if he's tasked with guarding a more athletic player one-on-one — he can become a liability.
This is where Paul Millsap becomes a true game-changer for Denver. Few players can cheat towards the help defense without losing track of their own assignment the way Millsap does.
It's not just with Jokic either. Millsap operates as an infallible machine on defensive rotations; always scanning the court, never miscalculating — there for the help invariably — but constantly aware of his own man's positioning.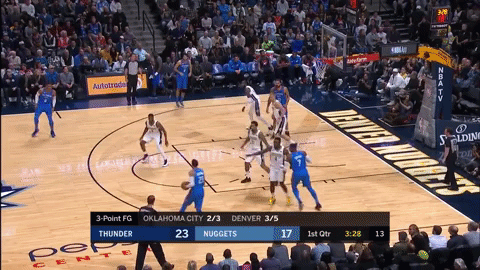 Denver's defense has remained porous, but this time they had their own walking 'flex seal' fix in Millsap — ready to plug any leaks in the Nuggets; half-court defense.
It's a privilege for Denver to have a player who elevates everyone around him on the defensive end, but — much like the offense — there are moments where it all comes down to individual play. One team needs a bucket, another needs a stop. Millsap can get both but he truly revolutionizes Denver's defense. Denver has depth and talent on their team. With the rest of the Western Conference either unhealthy or underperforming, the Nuggets will have a small cushion while they try to survive Millsap's absence.
Millsap has been worth every penny of his contract just on the defensive end of the floor alone. The Nuggets playoff chances rest mostly on their ability to stay competent defensively — an arduous task without their defensive stud. Now, Denver will find out the hard way just how important Millsap is to this team.