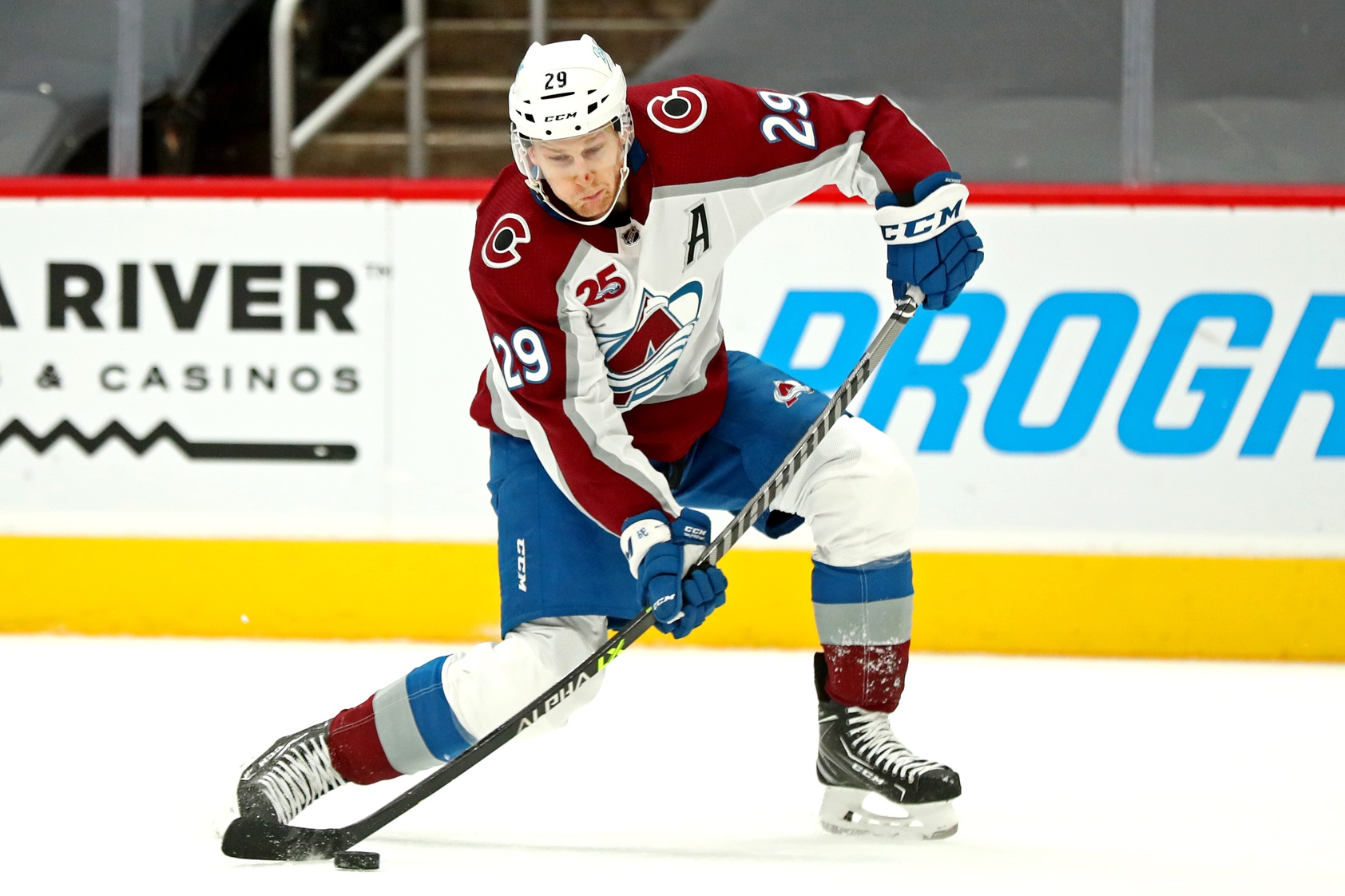 EDITOR'S NOTE: Mile High Sports Magazine contributing writer and author Terry Frei has covered the Avalanche since its 1995 arrival in Denver. He will be writing commentaries during Colorado's 2021 playoff run for the MHS site.    
By Terry Frei
Through two games in the Avalanche's first-round series against the Blues, Nathan MacKinnon has five goals and two assists and is the NHL's leading playoff scorer going into Thursday night's games.
The Nuggets and Nikola Jokic open the postseason Saturday night at home against the Trail Blazers. If Jokic can be similarly effective out of the postseason gate, it will underscore something that became increasingly obvious as the pandemic-delayed seasons unfolded.
You can advance other defensible candidates beyond Jokic for the NBA's MVP award. (Yes, you can.)
You can certainly find reasonable choices other than MacKinnon for the NHL's Hart Trophy.
But put the two Colorado-based centers together, and I don't think this is even debatable.
Of the markets with both hockey and hoops franchises, Colorado has the top NHL/NBA individual tandem.
It's a slam-dunk, empty-net easy choice.
MacKinnon and Jokic.
Colorado's fandom is fortunate on that front. Now that the playoffs are underway, the Altitude-Comcast dispute that left Coloradans frozen out of telecasts or scrambling to find available streams no longer will be as maddening. (It's not even necessary to take sides to say that the dispute between billionaires and mega-companies has become both farcical and disgusting.)
The nearly 50-percent capacity crowds now allowed at both Avalanche and Nuggets games are, or will be, so into it, you might wonder if crowd augmenting noise is being pumped through the sound system.
At the end of this, I'll run down my rankings of tandems in the 16 markets that qualify. I granted myself flexibility to define "markets," most notably dividing Los Angeles-area franchises into two distinct markets to get the Clippers and Lakers, and Ducks and Kings; and Knicks and Rangers, and Nets and Islanders all into separate groupings (while leaving out the Devils).
But for now, let's marvel at MacKinnon's continued eye-popping play.
Granted, in line with the game's protocol — the deeply rooted "aw shucks" protocol, not the extraordinary and short-term reactions to a pandemic — MacKinnon sometimes protests too much.
That again was the case Wednesday night, after his hat trick in the Avalanche's 6-3 win over the Blues at Ball Arena in Game 2 of the first-round series.
Considering the franchise's glory-years playoff runs, and even the odds, it's almost hard to believe — as in, "is that right?" — that it was the Avalanche's first playoff hat trick since Valeri Kamensky's in 1997 against the Blackhawks. MacKinnon brought up his linemates, wingers Gabe Landskog and Mikko Rantanen.
"I don't know if I'm at another level," MacKinnon said in the late-night Zoom availability. "Pucks are going in right now, I guess. All my goals are through great screens in front. Landy (and) Mikko are beasts. Honestly, without those guys battling and mucking when I'm up high, those pucks don't go in."
The MacKinnon-centered line was dominant as the Avs claimed a 2-0 lead in the series heading into Game 3 at St. Louis Friday night. They're 1-2-3 in NHL playoff scoring going into Thursday night's games, with Landeskog at one goal and four assists and Rantanen with four assists, leaving him tied at four points with Tampa Bay's Nikita Kucherov.
This still sometimes is underplayed, and this is where the historical context adds to the magnitude of MacKinnon's accomplishments: It wasn't that long ago — four years — that he seemed in danger of going down as an underachieving No. 1 overall NHL 2013 draft choice, even after winning the Calder Trophy as rookie of the year in that magical 112-point 2013-14 season under Patrick Roy. Although never billed as one of the occasional "generational" talents — e.g., Connor McDavid and Auston Matthews — it wasn't out of line to except more from him than he delivered, especially when he had 16 goals in the Avs' horrific 2016-17 season.
I wrote about 20 columns raising the issue of MacKinnon's obligation to be better, especially after signing the seven-year, $44.1-million deal that locks him up through 2022-23. That deal, in a hard cap system that doesn't allow for renegotiation, now seems grossly inadequate. But his next deal will be a stunner.
And MacKinnon never dodged the issue or tried to rationalize his relatiue struggles when he talked about it all with me or anyone else. He held himself accountable, and it wasn't lip service. Then the switch flipped, and I'm convinced that holding himself accountable was crucial in the process. I've seen and heard legions of athletes making excuses for or even shrugging off their underachievement amid a flurry of excuses. ("I've hit the post 653 times…")
OK, it wasn't as sudden as that, but pretty close, when he had 80 goals in the NHL's two most recent full seasons and also 35 more in the slightly truncated 2019-20. His goal-scoring was down a bit this season, when he missed eight of the 56 games and had 20 goals. But he's now he's the best in the game — actually exceeding expectations. The chemistry with his complementary linemates, Rantanen and Landeskog, certainly has helped, but MacKinnon is the catalyst.
In hoops, so is Jokic.
So here are those "tandem" rankings.
1, DENVER
Nuggets: Nikola Jokic
Avalanche: Nathan MacKinnon
2, LOS ANGELES
Lakers: LeBron James
Kings: Drew Doughty
3, CHICAGO
Bulls: Zach LaVine
Blackhawks: Patrick Kane
4, WASHINGTON
Wizards: Bradley Beal
Capitals: Alex Ovechkin
5, DALLAS
Mavericks: Luka Doncic
Stars: Joe Pavelski
6, BOSTON
Celtics: Jayson Tatum
Bruins: David Pastrnak
7, SAN FRANCISCO BAY AREA
Warriors: Steph Curry
Sharks: Brent Burns
8, TORONTO
Raptors: Pascal Siakam
Maple Leafs: Auston Matthews
9, PHILADELPHIA
76ers: Joel Embiid
Flyers: James van Riemsdyk
10, MIAMI 
Heat: Jimmy Butler
Panthers: Aleksander Barkov
11, NEW YORK
Knicks: Julius Randle
Rangers: Artemi Panarin
12, LONG ISLAND
Nets: James Harden
Islanders: Matthew Barzal
13, SOUTHERN CALIFORNIA
Clippers: Kawhi Leonard
Ducks: Rickard Rakell
14, MINNEAPOLIS/ST. PAUL
Timberwolves: Karl-Anthony Towns
Wild: Ryan Suter
15, PHOENIX
Suns: Devin Booker
Coyotes: Conor Garland
16, DETROIT
Pistons: Jerami Grant
Red Wings: Dylan Larkin
Terry Frei is a seven-time winner of a state's sportswriter of the year award. Amongh his seven books are "Horns, Hogs, and Nixon Coming," "Third Down and a War to Go," "'77: Denver, the Broncos, and a Coming of Age," and "Olympic Affair." Info is available on his web site.