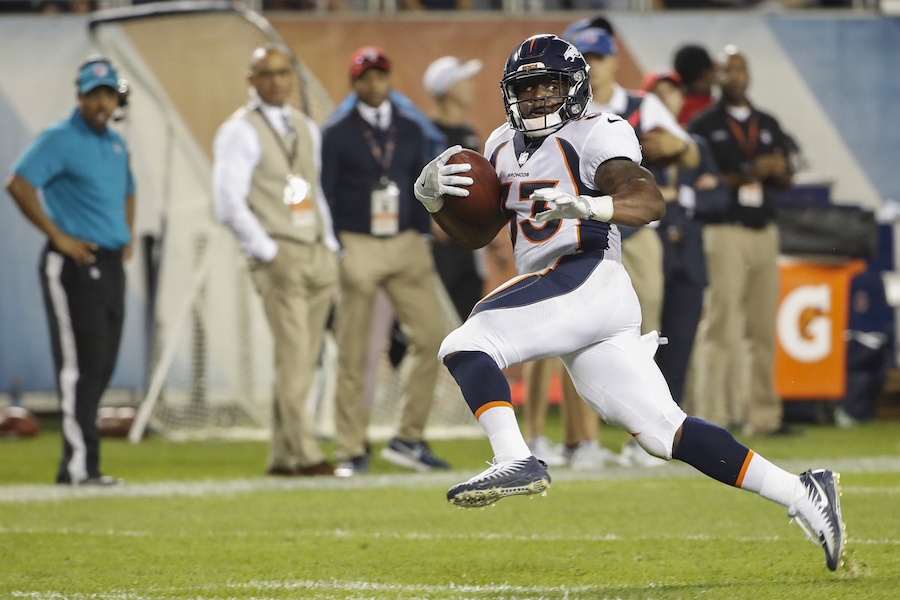 Preseason games always make it hard to judge a team's overall performance, as starting units for both teams don't often stay in the game for longer than the first quarter. While the Denver Broncos had pulled just about all of their starters by the middle of the second quarter of their preseason opener with Chicago, the backups and depth players gave a glimpse of the talent they possess on the roster, particularly on the offensive side of the ball.
The depth the Broncos have at their skill positions will bode well in case of injury, but also to give the Broncos the "juice" the teams needs to put points on the board quickly.
The dynamic rookie duo, De'Angelo Henderson and Isaiah McKenzie, was on full display in Chicago.
McKenzie had been getting a lot of hype during training camp for his electric playmaking ability and certainly lived up to it in Thursday night's game. McKenzie torched the Bears' secondary, easily catching a perfectly thrown pass by fellow rookie Kyle Sloter for a 47-yard touchdown to tie the game.
Henderson had a highlight to add as well, taking a handoff 41 yards to the end zone, displaying his breakneck speed while running away from the entire Bears defense. He  finished the evening with 54 yards on seven carries.
Two plays, two touchdowns and 14 points (including the PAT) added to the Broncos score. These two dynamic playmakers possess the scoring potential that the Broncos have been missing as the offense continues to struggle, as a unit, to put points on the board.
Another player who had a solid night for the Broncos was wide receiver Cody Latimer, who is currently fighting for playing time on a crowded Broncos depth chart.
Latimer has received a fair amount of criticism throughout his career, not living up to the potential of a second-round pick, while also facing criticism for an offseason incident in which he was pepper-sprayed by a nightclub bouncer.
Despite the noise around him, Latimer had himself a solid preseason opener, catching seven passes for 54 yards.
He didn't put up eye-popping stats, but it was refreshing to see Latimer step into the No. 1 receiver role with Demaryius Thomas and Emmanuel Sanders resting during the second half of the game.
With promising young talent like McKenzie on the roster, Latimer will need to continue these types of performances as the Broncos progress through the preseason if he wants to stay relevant in the wide receiver rotation.
As the Broncos prepare for the San Francisco 49ers, they will do so looking to continue to improve their play on the offensive side of the ball. Contributions from depth players like Latimer, McKenzie and Henderson will be paramount to that effort.