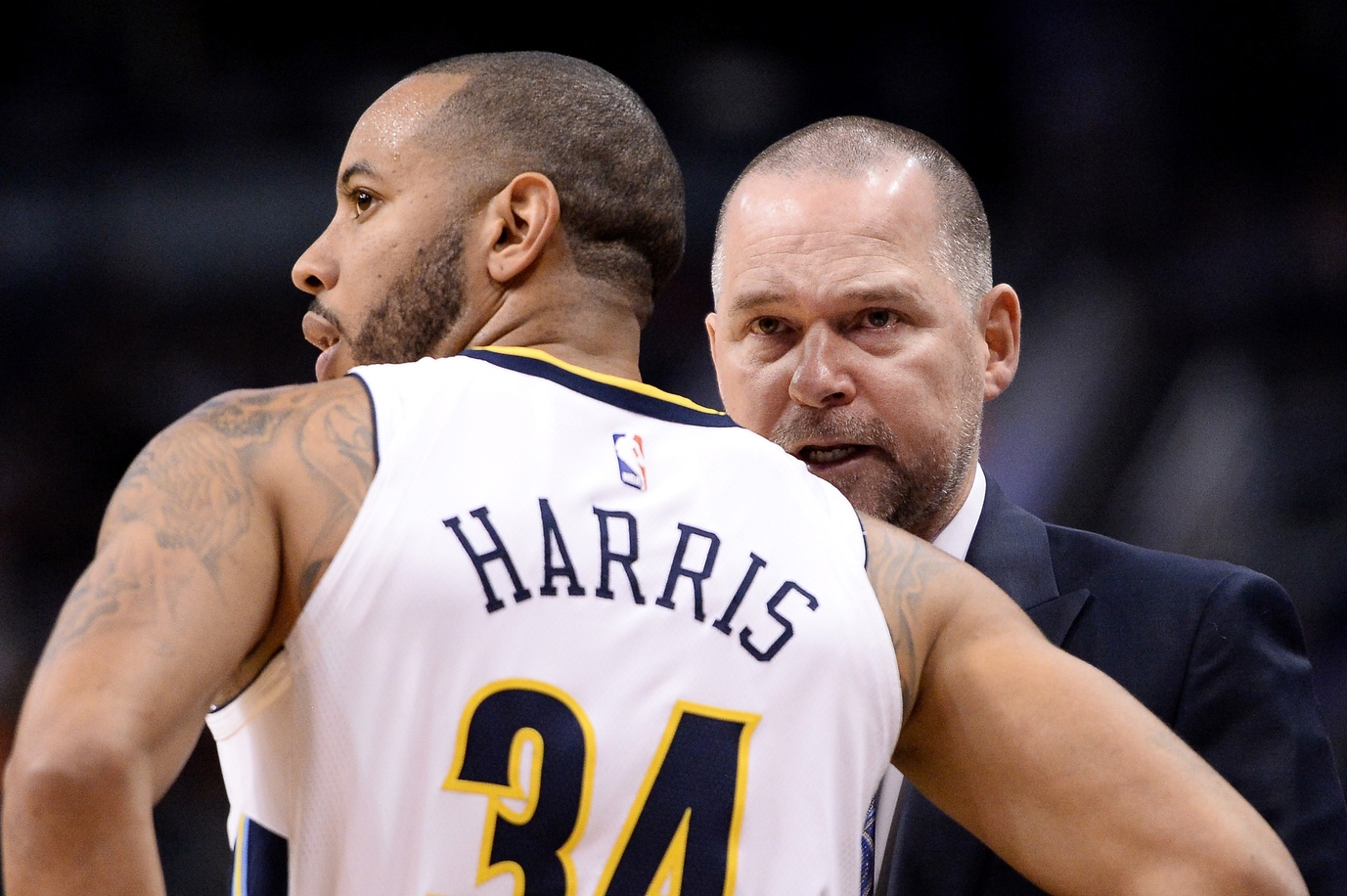 It was a sad day in the Dallas Mavericks organization when it became official that veteran guard Devin Harris had been traded to the Denver Nuggets in a three-team deal that netted the New York Knicks and sent Doug McDermott back to Dallas. Harris, who was drafted fourth overall back in 2004, is in his 14th season in the NBA. Nine of those seasons included games played in Dallas — the team that drafted him — where he earned the reputation as a top-tier locker room guy.
One team's loss is another team's gain, and in this case, the Nuggets are the beneficiaries. Prior to the trade, Denver boasted one of the youngest cores in the league. In fact, the average overall age of Denver's roster was below the league average, per RealGM.
The early season addition of NBA journeyman Richard Jefferson was perceived as having been done to increase the veteran presence in such a young locker room. Jefferson has been in the league for well over a decade and he has some championship experience. Now, following the acquisition of Devin Harris — Jefferson's former teammate in Dallas and New Jersey — he's not the only player in Denver to boast such a resume.
"Yeah, it was pretty dope," Malik Beasly told Mile High Sports when asked how he reacted to the news that the veteran guard would be joining the team. "He works hard, he brings chemistry and he brings playoff experience. Another veteran on the team to help us out."
Beasley is far too young to have experienced what feeds into Harris' reputation first hand. The former Seminole was just 10-years-old when Harris reached the Finals with the Mavericks in 2006, but he knows the importance of having more experienced guys around.
"It's dope to know that I have a lot of veterans to ask a lot of questions," Beasley told Mile High Sports. "He's like RJ, Paul — especially because he plays my position so that helps a lot."
Harris replaces the 21-year old Emmanuel Mudiay, who was shipped to New York in the three-team deal that brought Harris to Denver and is now integrating himself into the young Nuggets' locker room and there will be a learning curve for Devin Harris to overcome.
"We were pretty close," Beasley told Mile High Sports, referring to Mudiay.
Mudiay was well-liked by folks in-and-around the team. Yet, seemingly every party involved felt the Mudiay experiment had reached its logical conclusion in Denver. Mudiay wasn't contributing on the court and he didn't have the same off-the-court value as a Jefferson, or Harris. The Nuggets needed a new point guard and Mudiay needed a fresh start.
"I'm happy for him," said Beasley. "And that first game — he had 14 and 10, that's huge man."
Mudiay wasn't the only player involved in that deal who looked good during their first game with their new team. Harris suited up for the Nuggets' matchup with the Suns on Saturday and he led the squad with a +17 after scoring nine points in just over twenty minutes of action. His teammates liked what they saw and pointed out that his impact went well beyond the box score.
"That first game, he was a presence," Will Barton told Mile High Sports. "He was talking to us on the court and trying to get us set up in the right position. He's just a veteran point guard. He brings defense, toughness, leadership — he can score, he can pass, he can do a lot of things. I just like playing with him."
Harris' presence on this roster should take some of the ball-handling duties — and the relative pressure that comes with them — off of Barton's shoulders. The Nuggets were hesitant to hand the keys to Mudiay in the past when Murray rested, and Barton was asked to play out of position instead. Now, with a more traditional and competent point guard coming off the bench, Barton can slide back to his natural role.
"It gives me more of a break to play off the ball and be a scorer and stay in attack mode," Barton said. "Either way, we can play off each other. I can give him a break, and he can score also."
The two may be asked to play extended minutes alongside each other in tonight's game with San Antonio. Starting guard Jamal Murray was pulled from shootaround after experiencing some chest soreness. The team's description of the soreness was vague, and it's unclear whether this is a physical injury or something related to an illness. Either way, Devin Harris may be called upon to make an even bigger impact on his new team tonight.