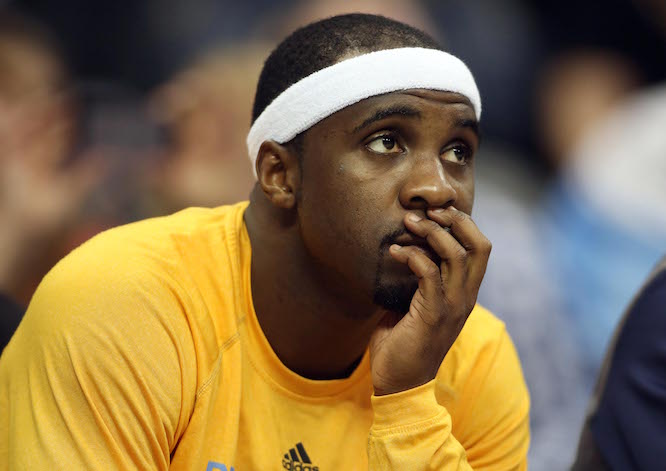 Somehow, someway, it looks as if the Denver Nuggets actually came out on the right side of the Ty Lawson trade.
Back in July, the Houston Rockets gave Denver a lottery protected first-round pick in 2016, Nick Johnson, Kostas Papanikolaou, Pablo Prigioni and Joey Dorsey. Today, Papanikolaou is the only one of those players still on the roster, and to be fair, he was cut at one point, too.
For one of the best distributing point guards in the NBA, that's not exactly a king's ransom. And yet, even with just Papanikolau and that protected pick, the Nuggets apparently feel more comfortable with their side of the bargain than the Rockets do.
According to Steve Kyler of basketballinsiders.com, the Rockets are already looking to offload their offseason haul.
"The Rockets have been sniffing around the league for deals and there is a belief among other teams that Lawson could be had in trade, and had cheaply," Kyler writes.
How cheap? Well, you'd have to imagine that they're not getting back any more than they gave up to get him in the first place. Lawson's stock was all but gone when Daryl Morey traded for him during the offseason. Given that Lawson is playing some of the worst basketball of his career — he was a healthy scratch in the Rocket's 116-111 victory over the Knicks last Sunday — Morey is going to have a tough time finding anyone willing to take on the troubled point guard.
Once considered a championship contender, the Rockets have gotten off to a rocky start on nearly all accounts. They've already cut ties with their head coach, Kevin McHale, and Kyler believes Lawson is the next domino to fall; interim head coach J.B. Bickerstaff is giving off the same vibe, too.
"We want to simplify our rotation," Bickerstaff said, via the Houston Chronicle. "We want to make sure we have guys in comfortable positions. With Pat (Beverley) coming back, that gave us another body in the mix. Obviously, we're going to play Pat. We want to see him out on the floor, giving us what he brings.
"We're trying to find out (players) that complement one another and we're trying to find guys that help us win first and foremost."
Lawson is a very good player; unfortunately, he hasn't made basketball priority, and that's proving itself on and off the court. Whether you're a fan of him or not, it's definitely a sad chain of events.