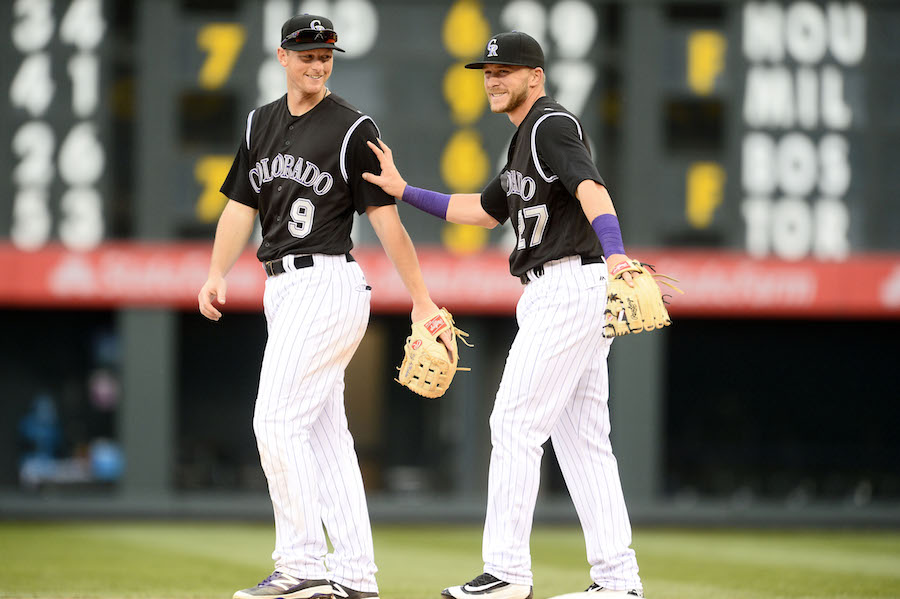 The Colorado Rockies have one of the best offenses in all of baseball, but, contrary to popular opinion, it's not all thanks to Trevor Story.
In reality, DJ LeMahieu may be the best player on the Rockies, and the numbers back it up: He's hitting .462, which is good for third best in the National League, and has a OPS of 1.269.
He's had a remarkable start to his season and is secretly continuing to establish himself as one of the best hitters on the Rockies, if not the MLB.
His impressive all around play led manager Walt Weiss to commend the 27 year old for his intangibles.
"He's just a good player that keeps getting better and better." said Weiss. "I've always felt that even when he first got to the big leagues I thought the offense was going to come because he worked so hard. He's got a great feel for the game, makes adjustments well, just a good player — tough out, good hitter, great defender, good all around."
Aside from the freakish start of Story, LeMahieu has been the most effective Rockies hitter thus far, owning a higher batting average than anyone on the squad.
In addition, he's had offensive success hitting in numerous spots in the lineup, including leadoff, 7th, 8th and 9th. Normally, that could throw a hitter out of rhythm, but it's something LeMahieu has become comfortable with.
"No I don't, I've bounced around my whole career, all over the lineup," LeMahieu said. "That's just kind of what iIm use to."
DJ is a quiet star for the Rockies and is truly one of their best all-around talents.
Aside from his skills offensively, he is gifted defensively, too.
In an interview with Mile High Sports' Les Shapiro DJ talked about how he wants to continue to improve defensively to help complete his game:
"I'll just try to be a tough out and try to be as good as I can defensively. I'll also try to be a really good teammate. I think if I can focus on those things, everything else will fall into place."
DJ's game defensively has been solid, with no errors to his name thus far. Not to mention, he does already have a Gold Glove and an All-Star appearance.
DJ has really put it together to start the season, playing at a high level on all aspects of the game.
"I just feel good, I feel good at the plate. I feel comfortable, just seeing it well right now." DJ said in reference to his solid offensive production.
LeMahieu will most likely continue to fly under the radar, thanks to the offensive firepower the Rockies posses; however, don't be shocked if by the end of the year, he's the guy you want up to the plate when it matters most.