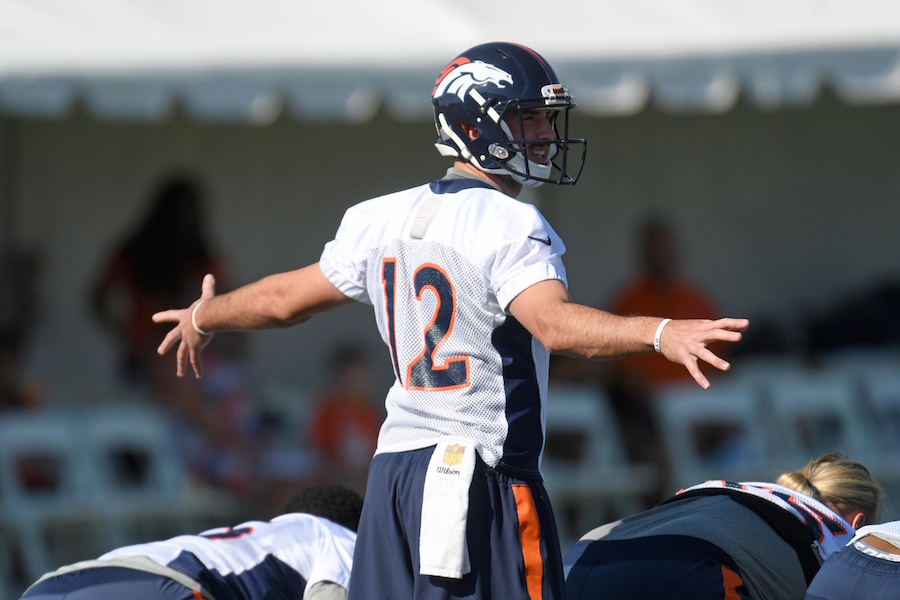 It has become apparent that there are two training camps going on at Dove Valley. There is the Broncos Training camp, which features all of the real players and two quarterbacks in Trevor Siemian and Mark Sanchez who are battling for the top spot, and then there's the Paxton Lynch training camp, which is happening on a field right next to the real training camp.
The Broncos training camp features things like, well, players who are actually going to play in the NFL. The Paxton Lynch camp features guys who may want to grab an application at the Arby's being built on Arapahoe Road as they head home to the team hotel.
There is a concentrated push to get Lynch up to speed. While Sanchez and Siemian split reps with the ones and twos on one field in seven-on-seven drills, Lynch is getting double the reps on the field next door. The ONLY drive-the-ball-down-the-field series of training camp actually saw the threes taking over with the Pirate at the helm. It was a 70-yard, nine-play drive that ended with Lynch throwing a beautiful 39-yard fade to Kalif Raymond over cornerback and future drive-thru worker BJ Lowery.
It was a cool moment for the Pirate and for the fans. I'm not sure if the fans realize they are actually seeing two different training camps. I suppose it doesn't matter; it's all for the same price of admission.
The truth is that Lynch is FAR, FAR away from being the starter on this team. But you know what? That's okay.
It's funny to think of how hard the fans were pushing Tim Tebow to immeadiately take over the team. There is NONE of that out here at Dove Valley. There aren't a ton of 12 shirts in the crowd. There isn't chanting or feinting women sitting on the hill. There is as little pressure as you can possible imagine on Lynch.
How is he responding? Well, he's a rookie. He's playing like a rookie. He doesn't physically LOOK like a rookie, but the truth is he's more than a bit lost out here. So who forms the bridge to the inevitble?
Mark Sanchez
Why?
Well, because Sanchez knows when to run down the field and high five his receivers.  Sanchez knows how to listen and poke fun at his running backs. Sanchez has been through the grind, and Siemian hasn't. And guess what? The other players know it.
Is Sanchez ahead of Siemian in terms of talent. Unfortunately, no is the answer. Nobody here in camp can complete a long pass. In fact, Sanchez, who has a strong arm, has the weakest gun in camp.
But it doesn't matter. You can't measure leadership; you can only feel it. The spotlight is already too bright for Trevor. Head coach Gary Kubiak had to stop practice to have an offensive only players meeting, and the only thing I can think is it was to give them a breather and try to boost their confidence against a really good defense.
"I tell them every day that this is as good as it's gonna be," Kubiak said after practice, referring to the challenge of the offense versus the defense.
Hopefully, this sentiment resonates, because it could be a complete confidence killer. Sanchez will be able to handle it, while Siemian, most likely, will not.
The shame in all this is that the Broncos have a garage full of Ferraris and the offense looks like it's more comfortable driving a Corolla — small and efficient, but certainly nothing fancy.
Teams are gonna dare the Broncos to beat them over the top, which will lead to some really boring and dreadful football, but that doesn't mean the Broncos aren't going to win.  In fact, the 11 wins by seven or less points is likely to be challenged this year. There aren't high expectations, except for the defense, and that actually fits like a Peyton Manning glove.
So, as you contemplate coming out to camp this year, be assured that you are getting a two-for-one deal. That being said, if you own a small business, just look for Paxton Lynch, because surrounding him will be a few guys looking for work in three weeks.