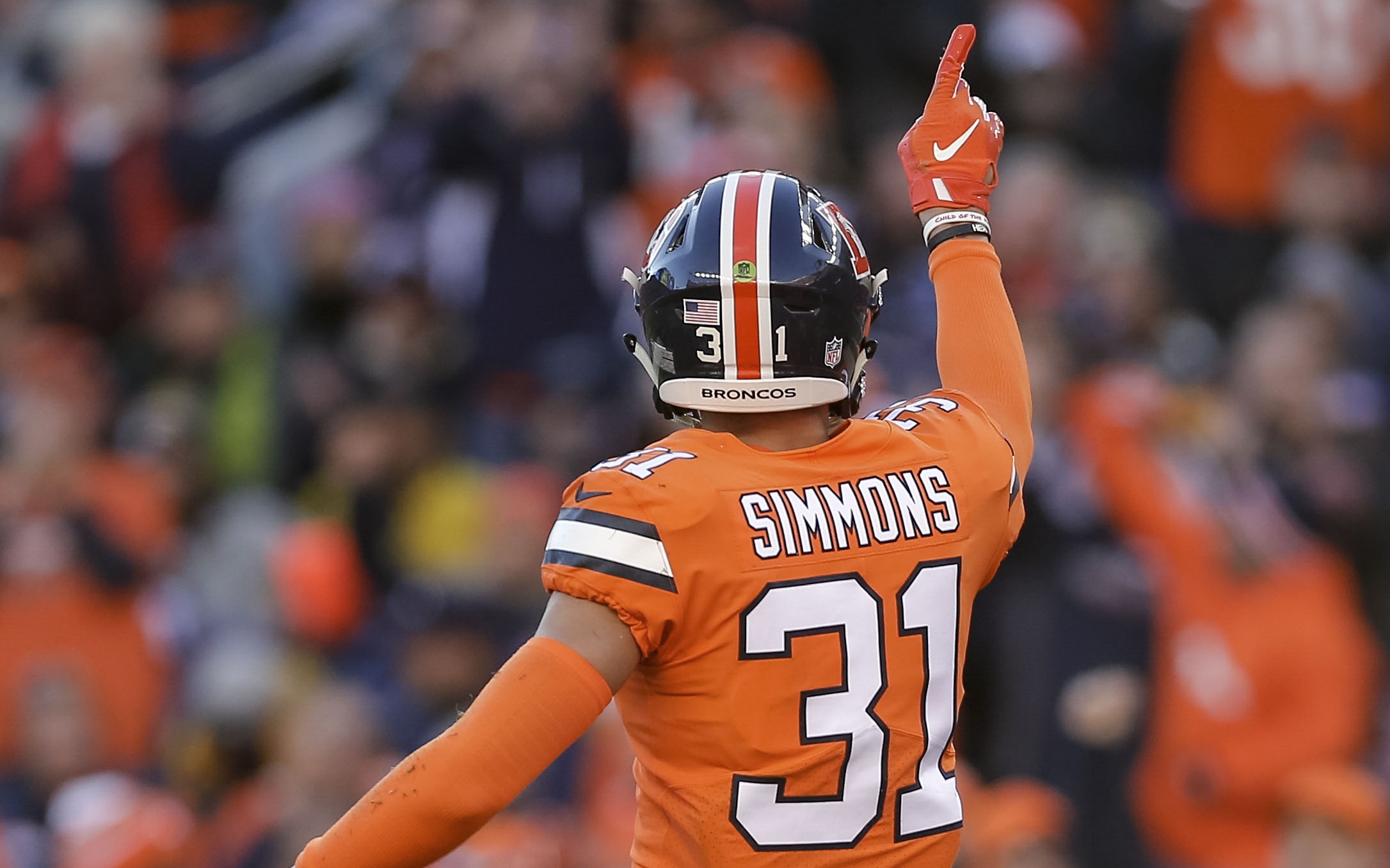 The Denver Broncos are elite at almost every position on the defensive side of the football and safety is no different with Justin Simmons and Kareem Jackson forming a deadly duo.
Is that duo still the best in the league though, now that Jackson is a year older? Also, can Simmons live up to being the highest-paid safety in NFL history? Let's take a look.
Starters
Justin Simmons
After back-to-back elite seasons, Simmons enters the 2021 campaign looking like the best all-around safety in football. Vic Fangio's scheme is demanding of its safeties, especially in terms of versatility, which is where Simmons thrives.
He's a very effective run defender from the safety position and is in the conversation for being the best coverage safety in the entire league. As a result, it's hard to think of a safety that's better overall.
Minkah Fitzpatrick creates more interceptions and might be better in coverage, but he actively hurts the Pittsburgh Steelers in run defense. Derwin James could steal the throne from Simmons, but his inability to stay healthy the last two years is a major hurdle he still has to overcome. Jamal Adams is easily a better run defender and can rush the passer like an edge rusher, but struggles in coverage, and in the modern NFL you'd definitely rather have a coverage ace like Simmons.
Simmons' incredible on-field play is one thing, but he's also a vital member of the Broncos locker room as a leader and is a pillar of the community.
The only thing he has left to prove is whether or not he can live up to being the highest-paid safety in the history of football. He might be up to the task, and an improved cornerback room and overall defense should help, but Jackson being another year older could put even more responsibility on his plate than he's had the past two seasons.
As of now, there's no reason to doubt that he won't be up to the task. If anything, 2021 figures to be Simmons' best year yet considering how talented the supporting cast is and his familiarity with the scheme.
Kareem Jackson
The lime to Simmons' lemon, the Garfunkel to his Simon, the Jerry to his Ben — Jackson has been the perfect co-star and complimentary piece to Simmons over the past two seasons.
Just like Simmons, Jackson offers impressive versatility.
When you think of Denver's elite safety duo, you surely think of Jackson as the hard-hitting enforcer. He might even own that title for the entire defense. That's impressive for a player who's spent the large majority of his career as a cornerback. That cornerback background is where his excellent coverage instincts and ability come from, making him a dangerously versatile piece.
Now at age 33, Jackson isn't the same athlete that Simmons is, but he's been more than able to hold his own up until this point and shows no real signs of slowing down. With that said, at 33 it could go quickly.
Odds are Jackson will retain the starting role this season and continue to play at a near-Pro Bowl level, but the concern is certainly rational. That's especially true considering safeties tend to age well, relatively speaking.
Whether or not Jackson plays well though, 2021 will likely be his swan song in Denver, with his contract expiring after the season and two freshly-drafted replacements waiting in the wings.
Here's hoping things end on a positive note.
Backups
Jamar Johnson
The Broncos have a ready-made replacement for Kareem Jackson in Jamar Johnson.
Johnson has already been turning heads in camp, which shouldn't be surprising considering the remarkably high football IQ he showcased throughout his college career at Indiana. To play the mind games he played against Justin Fields in 2020, you have to be operating at a different level.
As a result, Johnson should be able to fill that No. 3 safety role, formerly occupied by Will Parks, for Fangio. That role will likely be reduced in the new Denver defense due to how absurdly deep the cornerback room now is, but Johnson should still see playing time as a rookie.
The one gap in Johnson's game right now that should lead to some hesitency about him replacing Jackson in 2022 is his run defense. The drop of from Jackson to Johnson in that facet of the game is presently massive, and it'll be hard for Johnson to make a massive leap there between now and next season.
He both lacks the technical prowess of someone like Simmons when making a tackle, and the sheer force someone like Jackson brings when making a tackle. It's something he will be able to improve with experience, but it's still likely to be a problem early in his career.
Caden Sterns
If everything goes right, it will be Caden Sterns replacing Jackson moving forward instead of Johnson, but the former Longhorn has a much greater risk factor.
Sterns looked the part of a player destined to go in the top half of the first round after an elite freshman season. He showcased top-shelf athleticism for the possesion and had exceptionally developed instincts for a player of his experience level. However, he then proceeded to regress in each of the next two seasons, while questions surrounding work ethic, drive and character surfaced.
According to the reporting of Dane Brugler, lead NFL Draft analyst for The Athletic, Sterns was still walking around with press clippings from his freshman season in 2020, as a junior.
That's certainly troubling, especially for a fan base like Broncos Country, still haunted by the Paxton Lynch Experience.
Sterns has everything necessary to be an elite safety in the NFL except maybe the desire to be an elite safety — which is why he fell to the fifth round. If he can put all the pieces together, the backend of Denver's secondary is guaranteed to terrorize quarterbacks for the next five years at least.
If not, his athleticism should hopefully make him a solid special teams contributor.
Time will tell.
Roster Bubble
Trey Marshall
Trey Marshall is probably the toughest safety on the roster to project moving forward.
The previous regime under Elway was rumored to be a big fan of his and there's likely still important members of the coaching staff that are big advocates for Marshall seeing the field more. However, his path to the field just got much more difficult as both Johnson and Sterns could quickly surpass him.
The Broncos — and their new regime under George Paton in particular — have next-to-nothing invested in Marshall, while they just invested two quality picks in Sterns and Johnson.
Plus, Johnson and Sterns feature the appeal of having untapped potential. If Marshall had the upside to be more than a special teamer, one would think we might've seen some of it by now.
P.J. Locke
P.J. Locke will have to compete with Marshall for a spot on the final roster as a special teams player, but the road to even being a special teamer will be difficult for both.
To the Broncos really want to roster a fifth safety purely for special teams? Especially when they already have so much invested at the safety position and in the secondary. Keeping five safeties also makes rostering seven cornerbacks more difficult, which is something Paton might want to do considering the amount of talent there.
Locke played well last year and is more of an unknown commodity than Marshall, but he's also $180,000 more expensive. That's not a game-changing difference, but is still worth mentioning.
One advantage Locke does have is that he is still eligible for the practice squad, which Marshall is not.