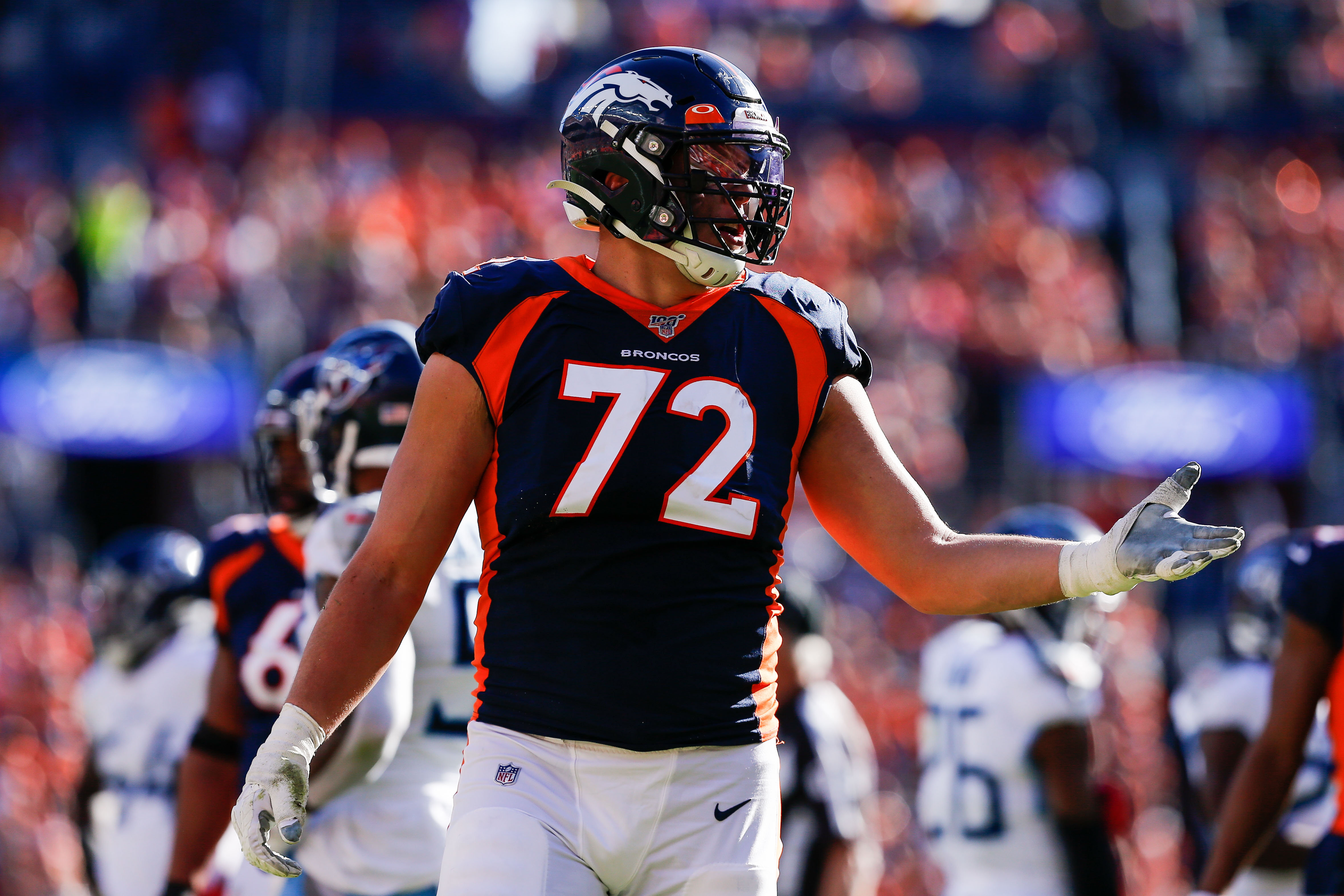 There's no denying the fact that Garett Bolles was one of the most improved players in all of football last season.
He went from being one of Broncos Country's foremost punching bags, to being the undeniable star of the offense and a second-team All-Pro.
His latest accolade was being ranked as the NFL's fourth-best tackle by the NFL editor for USA Today, Doug Farrar.
Farrar praised Bolles' stellar play from the 2020 season, but he also talked about his early struggles.
"Bolles, the Broncos' first-round pick in 2017, didn't come into 2020 looking like a guy who would somehow become one of the NFL's better left tackles. He allowed 16 sacks and 77 total pressures in his first three seasons, and those metrics weren't vapor — Bolles looked overwhelmed on the field more often than not," Farrar wrote. "And then, the proverbial light went on, and Bolles became the player the Broncos hoped he would be," Farrar wrote. "In 622 pass-blocking reps last season, Bolles gave up no sacks, eight quarterback hits, and five quarterback hurries — and that was with a quarterback in Drew Lock whose field awareness often made protecting him tougher than it should have been."
The metrics we have to measure offensive line play are neolithic, at best, but they still reflect Bolles' remarkable play last season.
In Pro Football Focus' player grades, Bolles ranked third in overall play and pass blocking, and fourth in run blocking, among all tackles with at least 400 snaps on the season.
Only one tackle played more snaps without allowing a sack, Dennis Kelly, but Bolles allowed half as many pressures as Kelly did.
Speaking of pressures, Bolles led all tackles in snaps per pressured allowed (78.1), and is the only tackle with over 1,000 snaps played in 2020, to have allowed fewer than 18 pressures (13).
Bolles clearly deserves to be ranked as one of the league's top tackles, and likely would've won even more accolades for his 2020 campaign — like a Pro Bowl invitation or a first-team All-Pro selection — if not for the stigma he earned throughout his first three seasons in the league.
Bolles is ranked only behind David Bakhtiari (who attended the University of Colorado at Boulder), Trent Williams and Ronnie Stanley — which means he has a terrific opportunity to climb even higher in the ranks of the NFL's elite tackles.
Trent Williams was remarkable last season, but he will be 33 before the 2021 season starts and has suffered a litony of injuries and serious medical concerns throughout his career.
David Bakhtiari and Ronnie Stanley also have injury concerns following an ACL tear and ankle injury, respectively, though Bakhtiari's is more troublesome. He suffered his torn ACL during the Packers' playoff run, likely won't be at 100 percent for the start of the season, and could potentially miss time.
If Bolles can dodge the injury bug, and attacks the 2021 season in the same way he did 2020, there's a clear path for him to cement himself as one of the league's franchise left tackles.