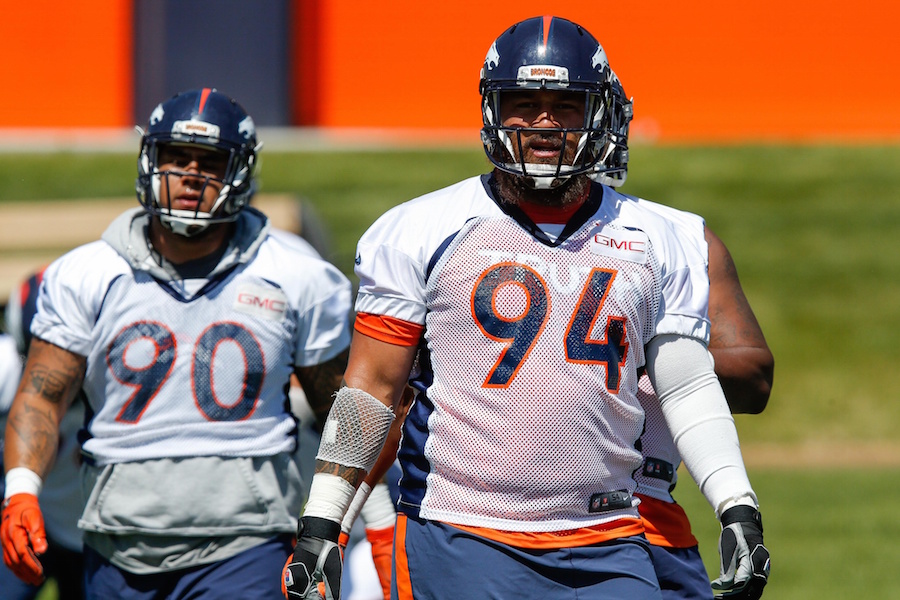 In an attempt to bolster the team's defensive line and add experience to a youthful front seven, the Denver Broncos brought in 11-year veteran Domata Peko this offseason. Peko has spent the entirety of his career with the Cincinnati Bengals while establishing himself as one of the most dependable players in the league, having played in every game since 2009.
Despite having not yet played a snap in a Broncos uniform, Peko understands the pride that Denver takes in its football. The Broncos missed the playoffs for the first time last year since 2010, and Peko realizes the urgency throughout the organization.
"Everyone is out here just trying to get better. We had kind of a bad taste in our mouths last year, not making it to the playoffs," Peko said. "This year, we're back and we're coming back here trying to get better, improve ourselves and try to get back to the Super Bowl. It starts now. Sharpening each other up, getting better and competing."
The Broncos will have plenty of opportunities during training camp to compete against one another. Not only do the offensive linemen have a chance to improve their play by going against some of the best pass-rushers in the league, the defense is able to benefit from enhanced competition against each other.
Peko is expected to compete with fellow free agent signing Zach Kerr for a starting spot at nose tackle. While Peko may have an edge early in camp, his experience in the NFL allows him to embrace the fact that competition only makes him better. On the first day of training camp, that was the focus for the entire defensive line.
"Any time you're on the field, you're not really looking at the clock. You're just trying to improve on your craft and that's what we did today," Peko said. "D-line was getting better, and it felt really good out here. It's a great day out here in Denver and it's good to get back to football."