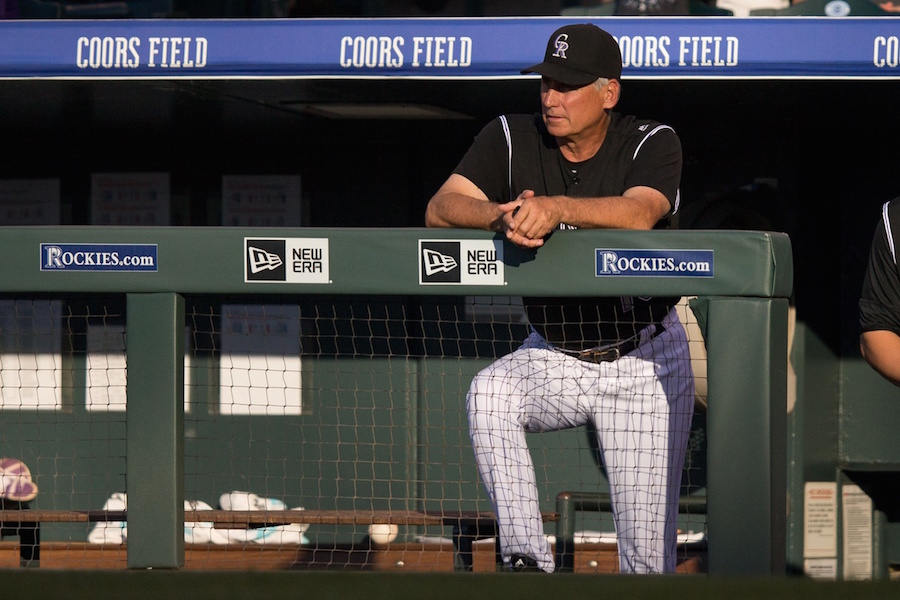 Where is Aaron Rodgers when you need him?
Five letters.
R-E-L-A-X.
So the Rockies have lost 12 of their last 16. So the Rockies have slid from first to third in the NL West in a matter of just 24 days. So the Local 9 went from a two-and-a-half game division lead to looking up at the Dodgers – with eight games sitting mysteriously between the them.
So. What.
If you believe these slumping Rockies of late are the real Rockies…
If you believed that the Rockies that had previously (before last week, that is) slapped the Giants around to the tune of a 10-1 record were the real Rockies…
If you believed that the Rockies that went 5-2 against the Cubs, including a near-sweep at Wrigley were the real Rockies…
If you believed that the Rockies, a team that had benefited from four pitchers whose average age is 22 years and 9 months and combined for 29 wins and only 14 losses, were the real Rockies…
Or that Carlos Gonzalez can't hit. Or that Jon Gray won't make a huge difference. Or that Bud Black possessed a magic formula but has suddenly lost it…
Then you don't know baseball.
It's like Bud Black says.
This. Is. Baseball.
In the universe of sports, baseball and its 162-game season reveals one thing: The truth.
The Rockies who were on fire through May and early June? That probably wasn't the truth. The Rockies who have been dreadful of late? Probably not the truth either. Mix those two extremes, and everything in between, and you've got what you've got – a team with a record of 50-38, a team with an excellent closer and a better than "normal" starting rotation, a team that has a 1-through-8 lineup most pitchers don't want to face.
A team that's pretty damn good and – barring a slide that's more like the last two weeks – headed to the playoffs. This is a good team; believe that.
Yes, they haven't played well. They've had 40 strikeouts in their last four games. That's not good, not by any measure.
But again, it's baseball. The same team that sweeps the Giants with the help of a walkoff, "for-the-cycle" home run, is the same team that loses to the Giants in 14 innings, largely because a catchable fly ball was hit directly into a flock of seagulls (not the band) and lost by outfielder Ian Desmond. It all comes out in the wash.
The Rockies have been terrible over the last three weeks; you'll get no argument here. But you can't push the panic button. You can't discount what they did earlier in the season. After 88 games, we have a large enough sample size to see what this team, or any other, is capable of. Both good and bad.
I'll except the argument that starting pitchers and relief pitchers can experience fatigue, especially in Colorado. But if one looks closely, that really hasn't been the biggest problem of late. The issue, really and truly, has been the hitting. Even in games that began with a solid starting pitching performance, the run support hasn't been there. In the Rockies' last 11 losses, they've only mustered 29 runs – that's a very poor 2.6 runs per game.
Does anyone believe this lineup can't do better than that?
Of course they can. The pitching of late hasn't been as great as it was early in the season, but the it shouldn't have to be. And it will get better – just look at who's hitting.
Are the Rockies as good as what we once thought they were? Of course not.
But are they as bad as we've seen lately? Not even close.
Had anyone offered a deal to anyone tied to the Rockies – from Dick Monfort all the way down to Joe Schmo Fan – that the Rockies could enter the All-Star break with 50 (maybe 51? Maybe 53?) wins, everyone would have taken that deal.
So here we are, Colorado, sitting pretty with a record that would have made us grin from ear to ear on April 1.
Losing 12 of the last 16 isn't fun, but it's kind of like the cops eventually breaking up the party on the first weekend back at college – there's a lot more fun to be had.
Relax, Rockies fans (and players, for that matter). It's a long season, and this is a good team.
A playoff team.
Still.