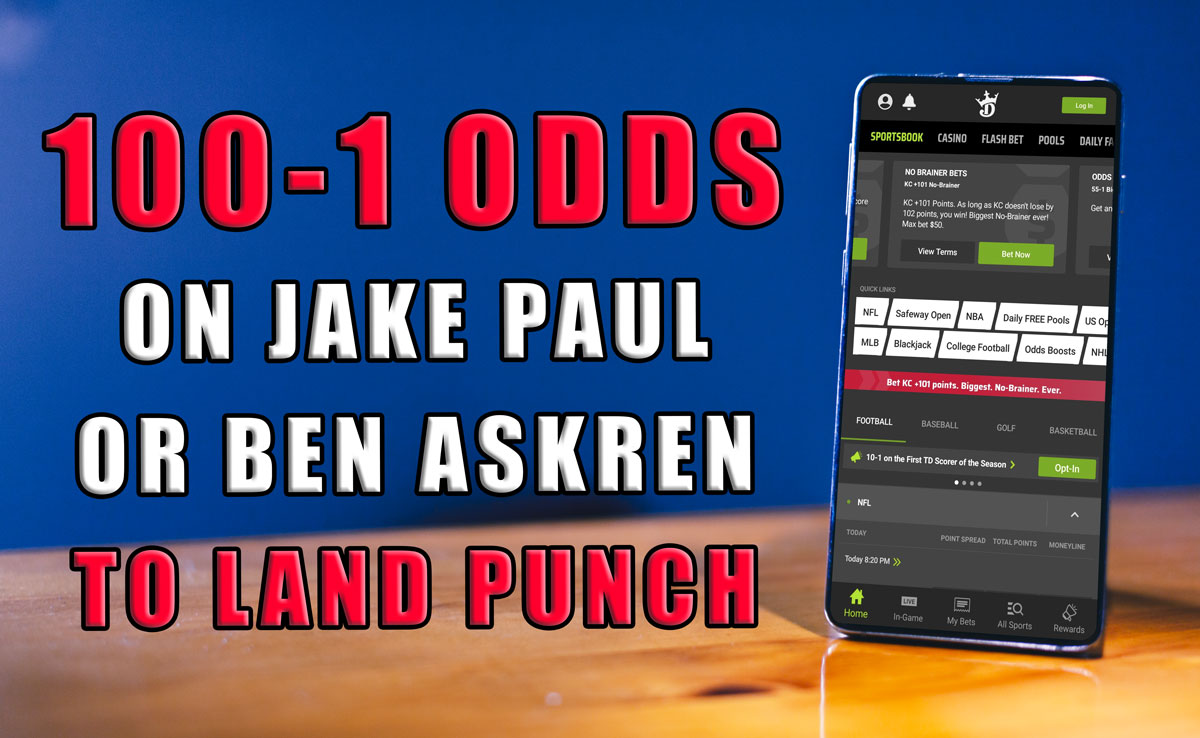 Handicapping the boxing match between UFC fighter Ben Askren and YouTuber Jake Paul is nearly impossible, but DraftKings Sportsbook is making it easy to win on this fight.
This new DraftKings Sportsbook Jake Paul vs. Ben Askren promo giveesusers who sign up and make a deposit 100-1 odds on either to land a punch in Saturday's fight. By placing a $1 wager on Paul or Askren, bettors will win a $100 payout if at least one punch lands.

DraftKings Sportsbook
States: CO, PA, NJ, IN, IL, IA, MI, MI, VA, TN, and WV
GET THE APP
This is a no-brainer bet. If this was MMA and Askren could take Paul to the ground, this would be a bit more interesting. But this is boxing and someone has to land a punch.
This Paul-Askren promo is an easy way to win $100 in site credit and start off with a win on DraftKings Sportsbook.
We don't know what to expect out of this fight, but this bet can add some more excitement to the night.
Click here to sign up with DraftKings Sportsbook and grab 100-1 odds on Paul or Askren to land a punch.
How To Claim DraftKings Sportsbook's 100-1 Paul-Askren Odds
Remember, this promo is only available to new users who register an account with DraftKings Sportsbook ahead of the main event and make an initial deposit of at least $5.
First things first, create an account by clicking right here.
Next, deposit at least $5 via any of the secure and convenient banking methods. DraftKings Sportsbook accepts bank transfers, PayPal, debit, and credit cards, among other common forms of payment.
Now that you have a fully funded account, place a $1 wager on the Paul-Askren fight. If either fighter lands a punch (which they will), you will be credited with $100 in free bets.
Users must be 21 years of age or older to play on online sportsbooks.
This offer is available to players in Colorado, Pennsylvania, New Jersey, Iowa, Illinois, Indiana, Michigan, Tennessee, and Virginia.
DraftKings Sportsbook 100-1 Jake Paul vs. Ben Askren Details
This is the very definition of a "no-brainer" bet.
There are sign-up bonuses that offer bigger rewards, but most come with more risk than this Paul-Askren promo.
This is the easiest way to win on a fight where anything can happen. All bets must be placed prior to the start of the fight to qualify for these 100-1 odds. This offer cannot be combined with any live bets, parlays, cash out, or voided bets.
Once the fight is done, players will be issued $100 in bonus money. This will be distributed in the form of four separate $25 bets. Users will have one week to use these bonus bets.
Odds On Jake Paul vs. Ben Askren
Surprisingly, the YouTuber Jake Paul is the favorite at -200 over the professional fighter. Former Bellator champion Ben Askren is sitting at +150.
Earlier in the week, Paul settled in around -167 before bettors drove up the number into the -200 range.
Paul is 2-0 in his boxing career with two KOs on his resumé. His last fight came against former NBA dunk contest champion Nate Robinson. Paul dropped him with a vicious knockout. But Askren is not a retired basketball player. He is a professional MMA fighter and former collegiate wrestler who has far more experience with fighting.
Click here to sign up with DraftKings Sportsbook and grab 100-1 odds on Paul or Askren to land a punch.

DraftKings Sportsbook
States: CO, PA, NJ, IN, IL, IA, MI, MI, VA, TN, and WV
GET THE APP