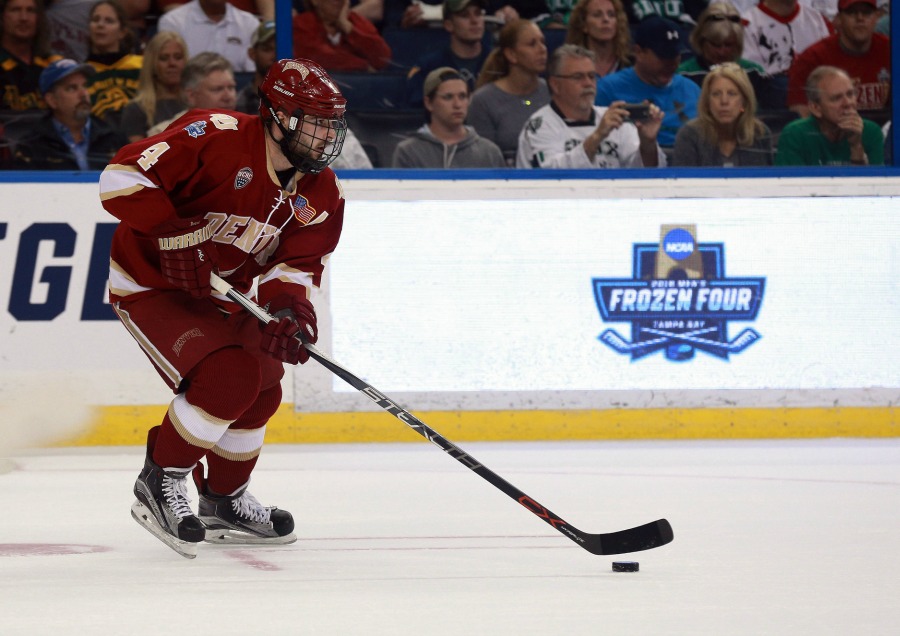 Captain of the University of Denver hockey team Will Butcher has emerged as not only one of the top blueliners in college hockey, but one of the top players. On Wednesday, he was recognized as such.
The 10 finalists for the Hobey Baker Memorial Award, which is given annually to the top collegiate hockey player, were announced on Wednesday. Butcher was the only defenseman amongst those named.
Being the captain for the NCAA's top team probably doesn't hurt his chances, but Butcher has the stats to merit consideration as well. The senior's 35 points rank second in the nation amongst defenseman, while his plus-23 rating is seventh. He was named First Team NCHC for the second straight year and is a finalist for the NCHC Player of the Year award as well.
Butcher has showed great poise with the puck and has developed into a very effective two-way defenseman. As the Hobey Baker release stated, he has "proved to be a 200-foot player."
A fifth-round selection (123rd overall) by the Colorado Avalanche in the 2013 NHL Entry Draft, Butcher attended the team's development camp over the summer. The Avs will have a decision to make regarding the 22-year-old once his season ends, but have the roster space to sign him, if they so choose.
The other nine finalists for the Hobey Baker are: Zach Aston-Reese (Northeastern), Michael Bitzer (Bemidji State), Anders Bjork (Notre Dame), Spencer Foo (Union), Tyler Kelleher (New Hampshire), Alexander Kerfoot (Harvard), Tyler Sheehy (Minnesota), Mike Vecchione (Union) and Charles Williams (Canisius).