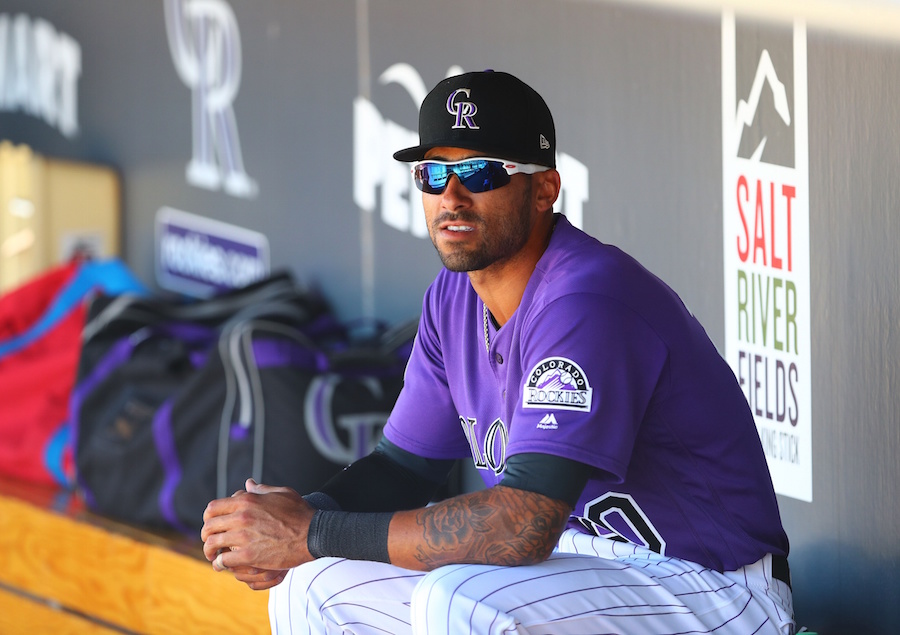 To anyone worried that the Rockies will struggle early because Ian Desmond, David Dahl and Chad Bettis are all starting the season on the disabled list: There's no need for panic.
Despite being without three major contributors to open the 2017 season, there's still plenty of reason to believe Colorado can have a strong start to the year. Even with the absence of lesser players like Chris Rusin, Jairo Diaz, Chad Qualls and Tom Murphy, this Rockies roster looks remarkably similar to the one that was only one game under .500 (11-12) at the end of April last year.
Position Players Remain Mostly Intact
Consider this… The Opening Day lineup that Bud Black rolled out on April 3, 2017 to beat the Brewers 7-5 featured only one new positional starter, Tony Wolters, from the lineup that defeated Arizona 10-5 on April 4, 2016.
Wolters was second among Rockies catchers last year with 59 appearances (58 starts) behind the plate. Only Nick Hundley (now with San Francisco) had more starts, 77, and not by a massive margin. Wolters proved to be a more than capable receiver last year, while offensively the two were virtually identical (Hundley hit .260, Wolters .259). Losing Murphy, who has more pop in his bat than Dustin Garneau, as the backup to Wolters will limit Black's pinch-hitting options off the bench but shouldn't have a long-term impact. Murphy is expected to return in early May from a hairline fracture in his right forearm.
Mark Reynolds reprised his role as the Opening Day starter at first base in place of Desmond, who is expected back in early-to-mid May after healing a broken hand. Reynolds was a key difference-maker in the opener, hitting a two-run home run and scoring twice. Sure, Reynolds is on the decline in his career while Desmond is just hitting hit peak, but the drop off from 2016 from 2017 won't be severe here in this first month of the season.
Gerardo Parra, one of 2016's major offseason acquisitions, eventually lost his everyday job in left field to Dahl, but that had just as much to do with Dahl's meteoric start as it did the injury that cost Parra 60 games last year. Dahl's great half-season certainly gave him a case to be the starter heading into Spring Training, but with only 63 major league games under his belt there was no guarantee the job was unquestionably his. Parra certainly didn't disappoint on Opening Day 2017, knocking two hits and recording an RBI. Dahl's timetable for return is around the same time as Desmond's, but the club has no real reason to rush him back with Parra being more than capable of holding down left field for as long as needed.
The remainder of the Rockies' starting eight remains 100 percent intact from 2016 to 2017. All-Stars Nolan Arenado, Carlos Gonzalez, DJ LeMahieu and Charlie Blackmon are all back for what was their fourth consecutive Opening Day as the core of the Colorado lineup. Second-year shortstop Trevor Story didn't set the baseball world on fire this Opening Day like he did last year, but the mere fact that he was on the field for game No. 1 was a victory considering he missed nearly 40 percent of the season last year with a thumb injury.
Off the bench, Cristhian Adames was on the Opening Day roster for his second year in a row while another offseason acquisition, Alexi Amarista, made a splash in his first appearance for Colorado. Amarista knocked in an insurance run pinch-hitting in the ninth inning in his first regular season at-bat for the Rockies. Stephen Cardullo, last year's Cinderella story of the second-half, earned the final roster spot for position players. That trio should be an upgrade over Ben Paulsen, Ryan Raburn and Brandon Barnes who were all on the roster this time last year.
Revamped Rotation Offers Promise
As is always the case in Colorado, the offense will be there. Maintaining so much consistency across the lineup, plus including Dahl and Desmond, should make 2016's No. 2 offense in baseball just as potent in 2017. Pitching, however, remains the major cause for concern.
Losing Bettis indefinitely as he battles cancer was without a doubt a major blow to the rotation. Bettis led Colorado in innings pitched and wins in 2016, while bringing a relentless work ethic to the mound each and every game. But consider that two of the five starters (including a 10-game winner last year) in 2017 weren't even on the roster this time last year.
Gone from the 2016 Opening Day starting rotation are Jorge De La Rosa and Jordan Lyles. (Lyles has been relegated to a bullpen role and would likely be the first one sent back down to Triple-A when Jairo Diaz, Chris Rusin or Chad Qualls is healthy). In their place are Jon Gray, who earned a no-decision in his first Opening Day start, and Tyler Anderson. Together those two accounted for 15 of Colorado's 75 wins last year. (De La Rosa and Lyles contributed 12.) Tyler Chatwood remains in place, and is looking to build off a 2016 campaign in which he was one of the most dominant road pitchers in baseball.
Rookies Kyle Freeland and Antonio Senzatela round out the final two spots in the rotation. And if you've been paying attention, you'll note that the Rockies have one extra starter on the Opening Day roster in 2017 than they did in 2016. That's because Colorado's pitching situation was an even bigger mess last year – so much to the point that they didn't even have five guys they had faith enough in to put on the roster.
Gray and Anderson are no doubt upgrades over De La Rosa and Lyles. The loss of Bettis is huge, on doubt, but to be completely honest, Bettis' 14 wins last season were a bit unexpected; his previous high was eight wins in 2015. The Rockies are in a much better place to absorb that loss than they were a year ago.
Bullpen Rebuild Remains the Big Question
Questions still abound in the bullpen, where there has been a massive overhaul compared to the 2016 Opening Day roster. Of the eight pitchers in the pen this time last year, only one was there for Monday's opener. Jake McGee may have lost his spot as the closer, but many other pitcher's from last year's squad lost their spots on the roster entirely. Rusin and Qualls were also on that list and start this year on the DL, but that still means five guys from 2016 are plying their trade elsewhere.
Colorado's two big offseason acquisitions paid dividends on day one. Greg Holland earned a save in his first opportunity and Mike Dunn pitched a 1-2-3 inning to earn a hold. Adam Ottavino, who opened the season on the DL last year, struck out three batters en route to a hold of his own. Carlos Estevez, who started last year in the minors, earned the win.
Scott Oberg, Jordan Lyles and German Marquez round out Bud Black's bullpen for now. All three logged time in the majors last year, although any one of them could be shipped down when Diaz, Rusin or Qualls return.
While massive turnover at a whole position group isn't usually a good thing, in this case it probably is. Colorado's bullpen had an ERA of 4.91 last year, tied for 27th in the league. The Coors Field effect played a big part in that, as the pen allowed a 5.40 ERA at home (second-worst in MLB), but Black has transitioned his bullpen accordingly. Gone are mid-velocity sinkerball pitchers like Boone Logan and Justin Miller; in their place are fireballers like Estevez and Holland. Diaz will add triple-digit speed to that unit when he returns.
Whether the rotation can go deep enough into games to save the bullpen some wear and tear will be a major determining factor in Colorado's success this year. (Gray didn't give much help on Monday, needing help to get out of the fifth inning.) After a tough April (5.36 ERA) last year the bullpen had a solid May, posting a 3.46 ERA for the month. But things exploded (or is it imploded?) in June when they ballooned to a league-worst 6.02 in June. It's no coincidence that Colorado's only month above .500 in the was July, when they posted an improved 4.14 bullpen ERA. If this year's pen is going to have anything left by the All-Star break, the starters will have to work into the sixth inning and later far more often than last year's crew did.
The Outlook is Good, Not Yet Great
Rewind to August of last year and everyone in Denver was ecstatic with the fact that the Rockies were even flirting with a .500 record so late in the year. A 15-12 record in July spurred plenty of hope, only to be met with the sting of losing Trevor Story for the year and a 12-16 August. That optimism in July came in part because the Rockies didn't stumble out of the gates. Yes, this year they're without three key figures early, but things aren't really that much different than they were in April last year.
The best parts of Colorado's roster remain mostly intact from Opening Day 2016, yet the optimism surrounding the team following Opening Day 2017 is immensely greater. Desmond and Dahl should boost a lineup that scored the second-most runs in baseball last season. Amarista should be a consistent utility man off the bench. Wolters proved last year that he's every bit as good as Nick Hundley is at this point in his career. In short, there's not much to worry about with this lineup.
The rotation and the bullpen each saw big changes in the offseason, but both were in need of significant attention. Both units are set up to be significantly better than last year, and if they can help Colorado get out to a strong start without too much wear and tear on the bullpen, the Rockies should enter May with just as much optimism as they carried into April.