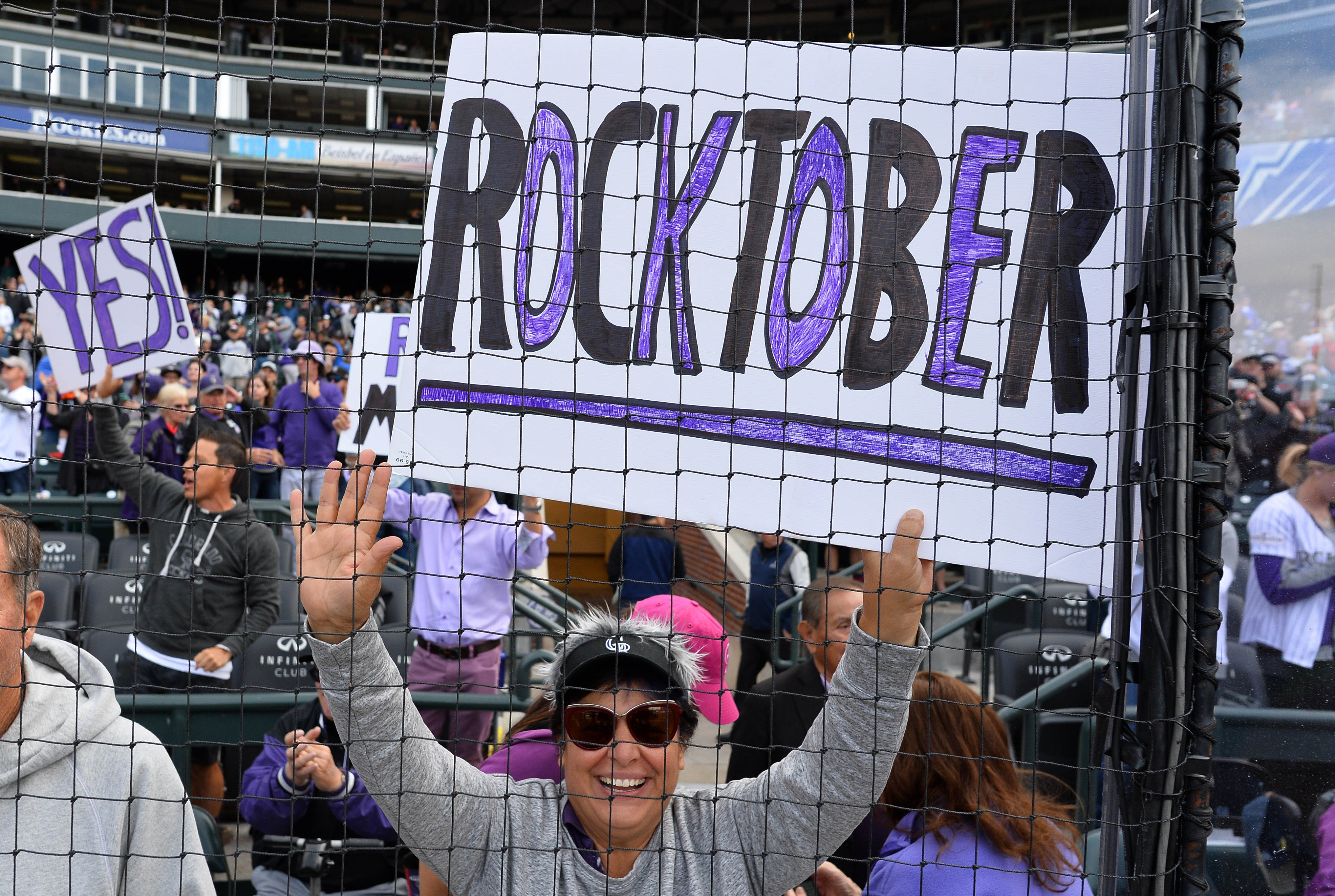 "Believe you can and you're halfway there."
– Theodore Roosevelt
Rockies manager Bud Black cited words of wisdom from the 25th President of the United States, Theodore Roosevelt, following his team's 91st win – not those words, but words. It was the final game of the regular season, and the Rockies' victory ensured that's Black's ball club would be playing game No. 163 – a tiebreaking affair with the hated Los Angeles Dodgers with the NL West title on the line.
"Nothing beats being a player in a big game," Black told the gathered media following the Rockies' 12-0 route of the Washington Nationals. "When you're in the fire…Theodore Roosevelt said it best…"
Whether Roosevelt played in, or spoke about, big games, is – with all due respect to the Rockies manager – somewhat up for debate. Then again, they didn't call him "Teddy Ballgame" for nothin'. Well, actually, wait; that might have been another Ted…
The smile on Black's face said he was teasing – about Roosevelt, anyway. The twinkle in his eye said he was dead serious. There is nothing better than being a player (or manager) in a big game. And Monday's for-all-the-marbles game in Los Angeles is as big as they get. Black, the manager who's had a Midas touch with the Rockies since the day he arrived, wouldn't want this one any other way.
A dozen days ago, Black's team was swept by the Dodgers in L.A. At that point, it was improbable that the Rockies would ever get to this point. The numbers just didn't pencil out so well. Departing that disheartening series, the Rockies would have to play at an excellent, if not unrealistic, clip. Conversely, the Dodgers would have slump substantially. They didn't, finishing their year at 6-3.
But what the Rockies did skewed more toward the "unrealistic." Finishing 9-1 and forcing a tie for the NL West? In retrospect, that was improbable at a minimum. And to think, it was Tyler Anderson, a pitcher whose downs outnumbered his ups this season, who threw 7.2 innings of shutout baseball in game No. 162, giving Colorado its share of the division lead? Unbelievable.
But back to Black and Roosevelt. Look bud, Bud's team lives for the big game. They don't need Bud or Teddy to tell them Monday's game is exactly where they want to be. In fact, they just came through in the biggest of ways in the biggest of games. In Sunday's must-win game – and it was a must-win from the start, as the only person who got more work than Anderson on Sunday was the person in charge of changing the score cards for the Dodgers-Giants game out in right; every time a new batter stepped into the box at Coors, the Dodgers were putting up a run or two more in San Francisco – the Rockies came through in a big way. Charlie Blackmon hit for the cycle. Nolan Arenado hit a pair of home runs. David Dahl hit another; he's gone deep in six out of the last seven games. Trevor Story went deep, too. Arenado (37) and Story (36) finish the season ranked No. 1 and 2 respectively on the NL home run list.
On Sunday, the Rockies, and their three million fans, had a blast. Remember, there's nothing better than being in a big game.
Big games are even better when – improbably – one of your best pitchers just so happens to be up in the rotation. When German Marquez takes the mound just after 2 p.m. on Monday, he'll do so as the Rockies record holder for strikeouts in a season. He'll do so after striking out 221 batters in 191 innings. He'll toe the rubber after striking out the first eight Phillies he faced in his last start. He enters Monday's game boasting a 2.55 ERA in the second half of the season.
When asked about Dodgers pitcher Walker Buehler, who will take the hill for L.A. and who started five times versus the Rockies this year, threw 31 innings and posted a 2.61 ERA and 33 strikeouts, Black was complimentary: "Big arm…we're going to have to be ready," he said.
But then he slyly added, "Our guy is pretty good too."
As improbable as this scenario was, is it really that improbable that the Rockies depart Chavez Ravine with the division in tow?
Not really.
Not according to Teddy Roosevelt, who wisely (and actually) once said, "Believe you can and you're halfway there."