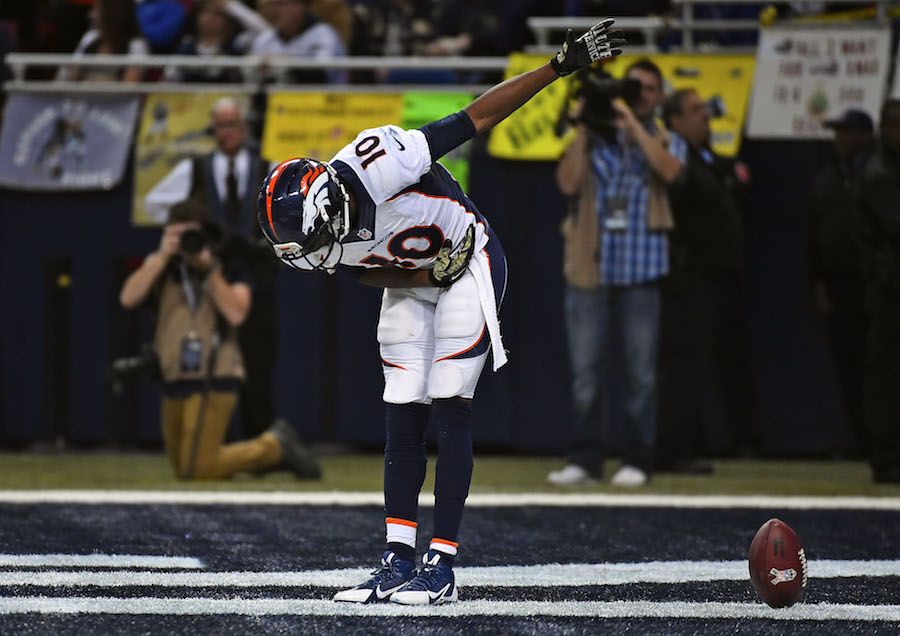 Emmanuel Sanders has come a long way and some may say it took longer than expected. But that matters little now as the Denver Broncos get a rematch with the Pittsburgh Steelers, the team that drafted the young talent from Bellville, Texas. Sanders spent his first four seasons in Pittsburgh, had a breakout 2014 season in Denver and now has fully come into his own.
The story on Sanders this week will again be his past affiliation with the Steelers, but the most telling story is about the best performance of his career, just over four weeks ago against his former team and how an encore may be needed Sunday on an even bigger stage.
On the night he returned to the place where he was drafted and learned to be a professional, Sanders put on a show the home crowd never saw while he was in black and yellow. He finished the evening with 10 catches for 181 receiving yards (a career best), a run of 24 yards and a touchdown. Unfortunately for Sanders and the Broncos, they fell short in the contest, losing late, 27-34. Sanders is more than ready for the rematch and hopes to start the game as he did just over three weeks ago.
"I was effective because I got a lot of targets. We came out firing. I got an opportunity on the second drive of the game. I had three catches," Sanders said Tuesday. "They got me started early and whenever you get started early you gain confidence."
Sanders caught eight of his 10 passes in the first half and he was undoubtedly the best weapon the Broncos had that evening. Despite his great performance, Sanders does not expect a change in the Steelers' approach.
"I don't think they can really change anything honestly. It is never about what they do, it's all about what I do. I just have to stay true to my technique. They are going to come out and play zone, play how they play. They are not going to roll the coverage to me because I have Demaryius Thomas on the other side. They aren't going to roll the coverage to D.T. because they got me, so we just have to go out and execute," he said confidently.
Sanders, like the Broncos, slowed down in the second half. He caught only two passes on seven targets for 42 yards while the team allowed the Steelers to score 24 unanswered points and escape with a win. Sanders is relishing the chance to play his old team again and get some redemption on a playoff stage.
"They beat us in the regular season so obviously we get another opportunity to go at it and right the wrong," he said.
Sanders has replaced several prominent pass-catchers for the Broncos and he has become a versatile weapon after putting up marginal numbers in his first four seasons in the NFL. Sanders came to the Broncos in 2014 via free agency and quickly made up for some lost time in the once heavy run-first offenses of the Steelers. For the first time in his career, he surpassed 100 receptions in a season and 1,000 receiving yards in a season, ranking fifth in the NFL in both categories while earning his first Pro Bowl nomination. He also caught nine touchdowns. In his four seasons in Pittsburgh, his season career highs came in 2013 with a total of 67 receptions for 740 yards. He caught 11 total touchdowns in all four years with the Steelers.
Despite the seemingly low numbers and his inability to re-sign with the Steelers, Sanders holds no grudges. "It was definitely a blessing. [Steelers Head] Coach [Mike] Tomlin and the Rooneys, they gave me my opportunity in the National Football League, so I'm forever thankful for that," he said Dec. 16.
Sanders has not slowed down in his second season with the Broncos. He finished the regular season with 76 receptions for 1,135 receiving yards and six touchdowns despite missing week 10 versus the Chicago Bears. Peyton Manning has thrown to a plethora of capable receivers, including future Hall-of-Famers, in his time in the league and had high praise for Sanders Wednesday.
"Emmanuel has great ability. He has tremendous speed, quicks, the ability to separate and I think you combine that kind of ability and talent with one of the great competitors at the wide receiver position. He truly loves football. He loves to work. You guys have seen him out here after practice. He's always out there catching extra passes. I certainly appreciated playing with a guy like that. A guy that loves his craft and loves football. I know he'll be fired up and ready to go on Sunday," Manning said.
Sanders should have ample opportunities to make plays against the Steelers defense, who finished the regular season ranked 30th in the NFL in pass yards allowed per game (271.9). Demaryius Thomas also had a chance to echo Sanders thoughts on their duo Wednesday and how it affects defenses week-in and week-out.
"It's basically you can't really double either one of us because Emmanuel can go out and beat your No. 1, and I think I can do the same. He's a little quicker, faster. He can just do different stuff. It's good to have another pace on the other side. I think I'm big and fast and he's just quick and faster. It's two different. You've got to pick your poison," Thomas said.
The Steelers appeared to pick their poison last meeting, limiting Thomas to just five catches, but he also scored twice. Sanders appeared to be the more lethal weapon in the game but both will be tough for the Steelers' weak defensive backfield to cover.
Sanders has blossomed into a dynamic receiver in the NFL and it has shown numerous times during his two seasons with the Broncos. His version of the "Mile High Salute," coupled with a bow, has been a welcome sight to Broncos fans. Sunday, versus his former team, Broncos Country will be hoping for a similar game No. 10 had on Dec. 20, accompanied by multiple bows. This time, hopefully, the encore with finish with a standing ovation rather than a hushed, disappointing exit.
---
Email Sam at [email protected] and follow him on Twitter @SamCowhick.