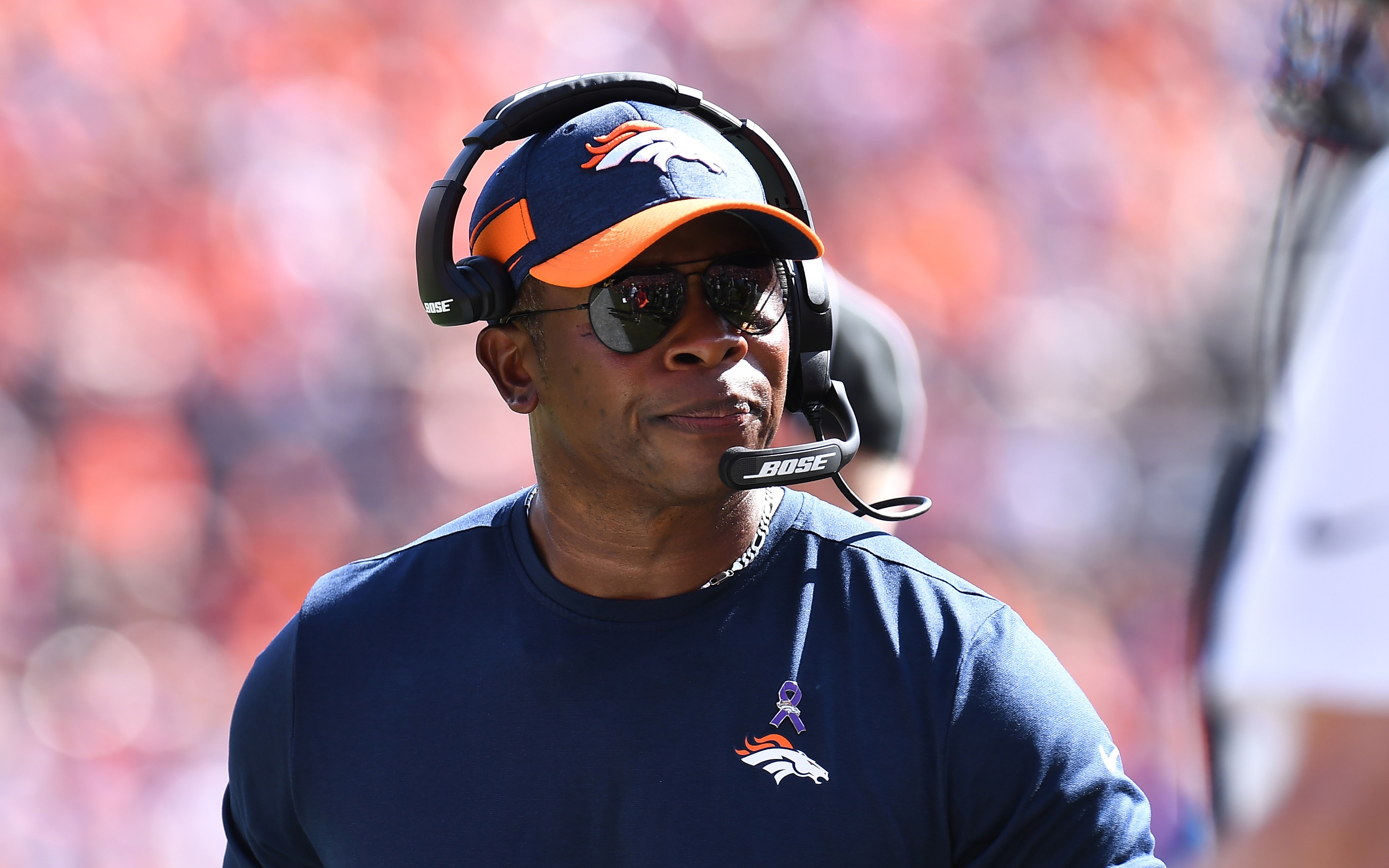 If you haven't – or don't – read this column or one like it, fear not – there will be plenty more coming. Count on that. This refrain will sound like a broken record until someone removes the needle and switches songs.
After an embarrassingly bad 34-16 loss at the hands of the New York Jets (Yes, the Jets. The previously 1-3 Jets. The Jets that lost to the Cleveland Browns.), the Denver Broncos need to say goodbye to Vance Joseph. And I won't be the first, or last, writer to write it, blogger to blog it, or squawker to squawk it.
VJ needs to go.
If you've been following the Broncos for the past season, you'll know that this is not a new concept. Joseph's aptitude for the job of being a head coach came into question multiple times last season, too. In truth, whether he was ever qualified was debatable from the moment he was hired.
You know the old gripe: Joseph "led" the 2016 Miami Dolphins defense to a No. 18 NFL defensive ranking in points allowed. That same defense was 29th in yards allowed. The "competition" for hiring Joseph was virtually non-existent, yet, the Broncos hired him anyway heading into the 2017 season.
And since then it's gotten worse. Joseph inherited a defense that was ranked 4th in points allowed and 4th in yards allowed. Certainly some of the personnel has departed, but Joseph and his equally underqualified defensive coordinator, Joe Woods, somehow managed to turn that once dominant D into mush. In 2017, the Broncos defense still wasn't allowing many yards (an impressive No. 3 ranking, in fact), but they couldn't stop the opposition from scoring, ranking No. 22 in points allowed. And this season has been an even bigger disaster. The Broncos are allowing 366.8 yards per game (No. 16) and 24.3 points per game (No. 17) and losing to teams they have no business losing to.
And that's just the defense, a unit formerly associated with excellence, a unit that was responsible for winning Super Bowl 50.
The offense, if anything, has more weapons. It's unfair to hold Joseph (or Mike McCoy or Bill Musgrave) responsible for the quarterback debacle last season, but Case Keenum – even if he's not quite Kirk Cousins – is a significant upgrade. The offensive line has looked better and the running back combo of Phillip Lindsay and Royce Freeman is nearly as good as it gets in the NFL. The Broncos have depth at wide receiver and even have production coming from the tight end position. Yet, Joseph's ball club can't quite seem to stop or score against the Jets.
Nobody will confuse the 2018 Broncos with the '98 team. But these Broncos aren't the Browns either. There is talent on the roster – probably enough to make a run at the playoffs, definitely enough to beat the damn Jets. It's just debatable if Joseph and his staff know what to do with it. There's no need to read between the lines with what Chris Harris Jr. – who, in his eighth season (two of which concluded in the Super Bowl), has seen a lot in the NFL – said following Sunday's loss: "We have too much talent to score only 16 points and give up 34."
John Elway hasn't been a perfect general manager (Is there such a thing?), but he certainly stepped up this offseason and gave Joseph some assets to work with. Yet, no dividends are being paid.
Elway hired Joseph – that's on him – but a look back at the evidence hints that he also knew Joseph was a mistake at the conclusion of the 2017 season. Remember that Adam Schefter tweet that suggested Joseph wouldn't see another year in Denver? Whether you're a fan of Schefter or not, you know by now that he doesn't throw crap on the wall in hopes that it will stick. Where there's smoke there's fire. What happened between Schefter's report, Elway's "I need to sleep on it," and the 2018 season? If Elway actually and truly "slept on it" and concluded that Joseph deserved another shot, I'd be shocked. So why is he still here?
Joseph's shortcomings – the clock management, the gameday miscues, the piles of penalties, the 1-9 record on the road (losing by a whopping 16.6 average!) – have been well documented. His team has been ill-prepared to play all season long; on the road during his tenure they're not even competitive. Joseph's explanations – "You score points by throwing the football" (sure, but not enough against the Jets apparently) … "I am not going to stand up here after a loss like that and start blaming our coaches or our players. It starts with me, and we have to coach and play better. Coaches coach and players play" (huh?) … "We had a good week of practice" (and practice clearly does not make perfect) – have worn thin.
Does anyone have any confidence that Joseph and his staff can come remotely close to solving the Broncos' problems in time to beat the Rams next Sunday? Anyone? Bueller… anyone? The Rams are good, but the Broncos shouldn't be this bad. If Joseph isn't gone before that one kicks off, the boo-birds at the temporarily-named field at one mile above sea level will ring off the Rockies like Thunder when he's headed to the locker room after what will be a beatdown, no doubt. Believe you me: That one will be ugly. If it's not already, the locker room will be so checked out it might as well be March. There will soon be 76,000 angry fans screaming what I and others are writing this week.
And if Joseph doesn't go after that, well, then the fans will stop showing up. Sure, the boxscore will always show a sellout in Denver, but the eye-test will prove that the diehards aren't willing to put up with this kind of nonsense for very long, certainly not four quarters. When the mercury drops right along with the Broncos record, so too will attendance. Seriously, why bother?
And then, a proud, proud franchise will be forced to make the same decision it made when the masses decided not to support Josh McDaniels. If that decision isn't made, it should be openly stated be that the Broncos are tanking in order to secure a draft pick that might land a future franchise quarterback, and perhaps a qualified coach who looks at what building blocks the Broncos actually do have.
The only logical retort is that there's nobody here, or "out there" who will turn the Broncos season around. Who cares? Let Musgrave do it. Let Andy Janovich do it. Let anyone with a pulse – anyone who "gets the NFL" – do it.
Enough is enough. Vance Joseph needs to go. And everyone in Denver – including and especially John Elway – knows it. This isn't a town that hasn't seen, or doesn't know, a winner. It absolutely does.
And this isn't one.
He's not one. Keeping him around sends an extremely bad message to one of the greatest fan bases in the entire NFL.
Turn the page, Broncos; you're just prolonging the inevitable. And in the process, you're taking the shine off the traditionally beautiful orange and blue.