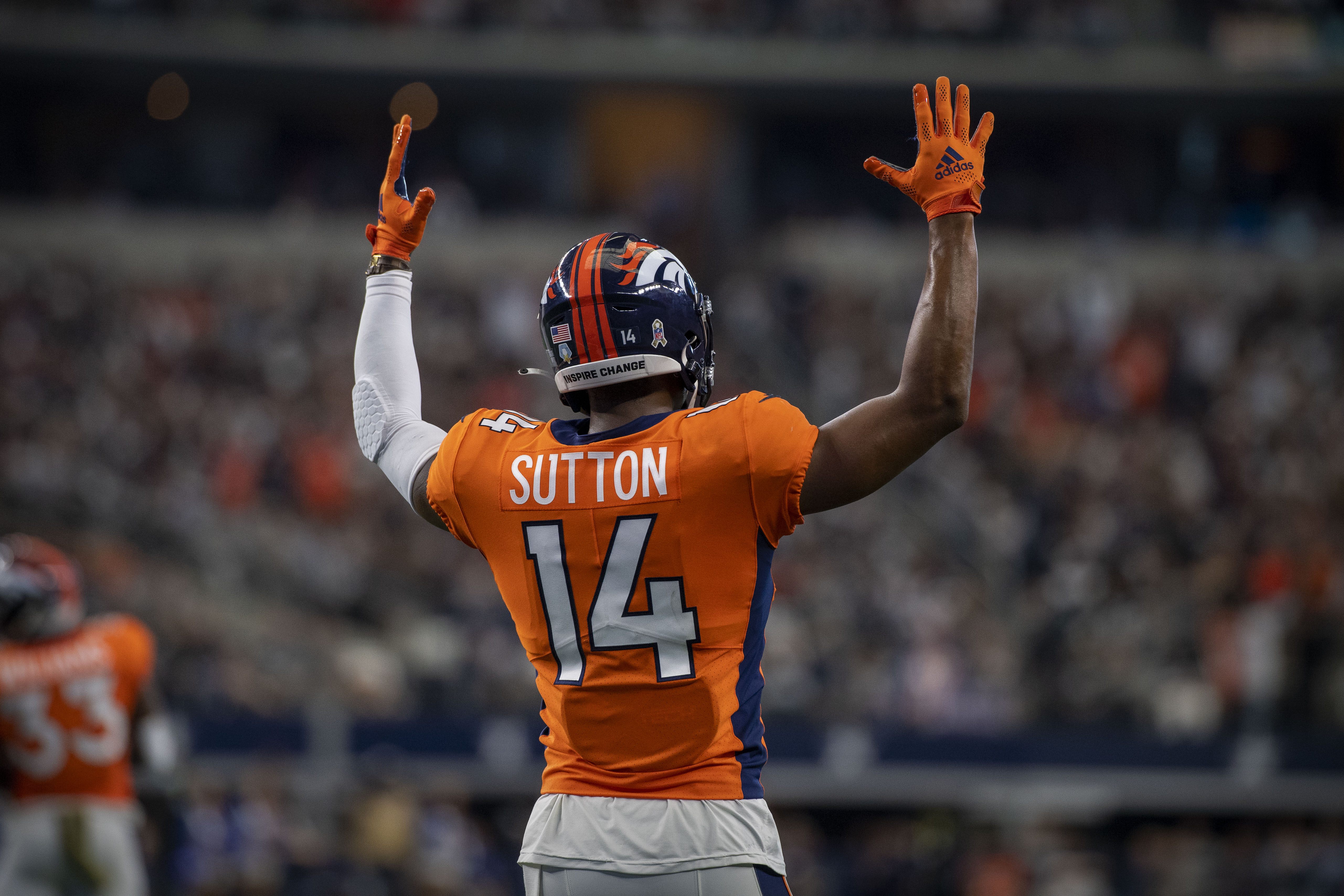 The Denver Broncos have arguably the most stacked wide receiving corps in all of the NFL. 
It's no wonder that Russell Wilson was adamant about being traded to the Mile High City. With 13 receivers currently signed, they have more wideouts than they even know what to do with.
How should the depth chart at this position be ordered, and what can we expect from every member of the wide receiver core in 2022? Let's take a look.
Courtland Sutton
In the midst of last season, general manager, George Paton, re-signed Sutton to a four-year, $60.8 million contract extension. With wide receiver value sky-rocketing this offseason, it's undeniable that this was a genius move for the Broncos.
Since his NFL debut, Sutton has played with the following quarterbacks: Trevor Siemian, Brock Osweiler, Paxton Lynch, Case Keenum, Joe Flacco, Drew Lock, Brandon Allen, Jeff Driskell, Brett Rypien, and Teddy Bridgewater. Overall, not the greatest cast of characters.
Still, the receiver has hit at least 700 yards in three of his first four seasons with the Broncos despite being stuck with below-average quarterback play. He hit 1,112 yards in 2019, earning him a Pro Bowl selection. In 2020, Sutton missed almost the entire season after suffering an ACL tear in Week 2.
There should be no debate that Sutton is primed to have a career year with Wilson at quarterback. It was evident at the recent voluntary OTAs that the veteran is already Wilson's favorite target. 
And Wilson loves to take deep shots, while Sutton loves to extend the field. Now two years removed from his injury, Sutton is likely to find himself among the top 10 receivers in the league in 2022.
Jerry Jeudy
A first-round pick in 2020, Jeudy has unfortunately not been able to live up to the hype. However, 2022 is likely to finally be the breakout season Broncos Country has been waiting to see.
Jeudy's rookie season was plagued with drops, totaling 12. He finished with a 17.6% drop rate, the highest percentage of any receiver with at least 100 targets. 
2021 started with disappointment when he went down with an ankle injury in the first game. While he eventually returned to the field, he went the entire season without a single touchdown and finished below 500 yards.
No other Broncos player will benefit from Wilson's arrival more than Jeudy. While Sutton will stretch the field for the long balls, Jeudy's route running skills and speed will make him a frequent target. All signs point to Sutton becoming the team's No. 1 receiver next season, but it wouldn't be a shock if Jeudy ends up there instead.
However, an increase in off-the-field maturity will be necessary for him to make the leap. It remains to be seen if Jeudy will face repercussions for his recent arrest, although it seems unlikely. If he faces suspension, his stats will take a hit, and he could tumble below Tim Patrick or K.J. Hamler. 
Tim Patrick
Patrick could very easily be the No. 1 receiver on a different team. Like Sutton, Paton moved quickly and locked him down mid-season last year for a bargain at just $34.5 million for three years.
Patrick started undrafted and was cut by both the Baltimore Ravens and San Francisco 49ers before landing on the Broncos. He was cut and re-signed by the Broncos in 2017 before finally earning playing time in 2018.
Over the course of the last four seasons, Patrick has scratched and crawled his way to earning much-deserved notoriety. He went the entire 2020 season without a single drop. Over the previous two seasons, Patrick leads the team in yards (1,472) and touchdowns (11). 
Even if both Sutton and Jeudy are healthy for the whole season, it's hard to imagine Patrick doesn't hit career-highs this year. If either one goes down, it's very plausible that he finds himself as a top 20 receiver this year.
KJ Hamler
It seems insane to have Hamler as a team's No. 4 receiver, but that's how stacked the Broncos are at this position.
Since being drafted in 2020, Hamler has shown flashes of having star power. Unfortunately, he's had to battle injuries that have held him back. After an impressive preseason last year, he suffered a torn ACL in Week 3 and was placed on season-ending injured reserve.
As long as he can stay healthy, Hamler's speed and ability to catch long touchdowns will put him in a position to be a playmaker this season. While his stats won't be anywhere near Sutton or Jeudy, he'll be used for some massive and exciting plays down the field.
Hamler is ahead of schedule with his injury recovery and is expected to be on the field for Week 1. 
Montrell Washington
Washington was not invited to the scouting combine, but the Broncos saw his potential to fulfill a need they desperately had.
The Broncos haven't returned a punt and a kickoff for touchdowns in the same season since Trindon Holliday did it in 2013. 
Washington played at Samford University for four years. In 2019, he averaged 21.9 yards per punt return with one touchdown. In 2021, Washington averaged 11.1 yards per punt return with a touchdown and 23.2 yards per kick return with a touchdown as well.
New special teams coordinator, Dwayne Stukes, saw an explosiveness in Washington's play that led to the Broncos drafting him in the fifth round.
On a team with so much receiving talent already, Washington has a perfect opportunity to create a niche for himself on special teams. 
Kendall Hinton
Hinton benefited the most from last year's high amount of receiving injuries the team faced. Not including the bizarre game where he played quarterback in 2020, Hinton saw the field for the first time last season. 
He finished 2021 with 15 receptions, 175 yards, and one touchdown. It's hard to say whether he did enough to secure a spot this season. 
With Washington a lock for special teams, it's a tight squeeze for the remaining receivers to try and lock a job. It'll depend on how many receivers the Broncos decide to keep. Given how reliable he's been when called upon, Hinton seems safe for now going into training camp.
Tyrie Cleveland/Seth Williams
Cleveland and Williams' chances of making the 53-man roster went out the window when the Broncos drafted Washington. 
Both guys spent time on and off the practice squad and starting roster last season. They saw an uptick in playing time because of the injuries to Hamler and Sutton. While neither shined bright, both proved to be dependable enough options.
If the Broncos decide to keep six receivers on the roster, it will swing in Hinton's favor. Cleveland and Williams will most likely be kept on as practice squad players who could be called up during the season if the team is plagued with injuries again.
Travis Fulgham
Fulgham is a tricky one because he has shown great flashes.
The Detroit Lions originally drafted the veteran receiver in 2019 in the 6th round. He was waived right before the start of the 2020 season. The Eagles then signed him, and he was eventually activated to the starting roster in Week 4. He caught his first NFL pass and touchdown in that game. Fulgham caught ten passes for 152 yards and a touchdown the following week. 
He became only the 11th player in Eagles history with at least ten catches and 150 or more yards in a game. His 152 yards are the most for an Eagle in one of their first five games. 
Fulgham finished the season with 38 receptions for a team-high 539 receiving yards and four touchdown receptions.
Although re-signed by the Eagles, Fulgham was released from the practice squad in October 2021. 
Is it likely that Fulgham will make the team? No. Is it possible? Yes. These odds are especially true for a practice squad spot. Russell Wilson is the best quarterback he's ever gotten to play with. Fulgham has proven he has the talent to play in the NFL, but time will tell if he can replicate it.
Kaden Davis/Brandon Johnson/Jalen Virgil
After going undrafted in the 2022 NFL Draft, the Broncos signed Davis, Johnson, and Virgil as free agents.
Davis earned All-MIAA honorable mention at wide receiver last fall. He led at Northwest Missouri State with 44 receptions for 714 yards and ten touchdowns. 
At the University of Central Florida, Johnson was a touchdown machine. He collected at least one in ten of the 13 games he appeared in. 
Virgil's best chances of making the team would have been on special teams as a returner. But since the Broncos drafted Washington, it'll be hard for him to pull that out.
Not one of these guys will probably not be on the Broncos' 53-man roster when Week 1 comes around. With 13 receivers currently on the roster, making the practice squad will be tough. However, like Trinity Benson last year, any of these guys could find themselves on an NFL roster elsewhere if they put together an impressive preseason.
Trey Quinn
2018's Mr. Irrelevant was selected by the then Washington Redskins as the last overall pick. Quinn also spent some time on the Jacksonville Jaguars' practice squad and was most recently a member of the Las Vegas Raiders until he was released on August 26, 2021.
It will be a miracle if Quinn is still on the roster by the time training camp starts.