Well, it took a while, but the Denver Broncos finally got a win against the Tampa Bay Buccaneers on Sunday.
Denver put together a 27-7 victory that took nearly five hours to complete. With 7:30 remaining in the game, lightning in the Tampa area caused the NFL to delay the game nearly 90 minutes. But this Denver Broncos team keeps finding ways to respond when they need to, and Sunday was just more of the same.
Despite losing starting quarterback Trevor Siemian late in the second quarter, the Broncos stepped up to help rookie quarterback Paxton Lynch get a win on the road.
The Broncos are now 4-0, and finding ways to win, even when things don't go their way.
Here is a look at how the Broncos stayed perfect so far in 2016.
5. The special teams made some impactful plays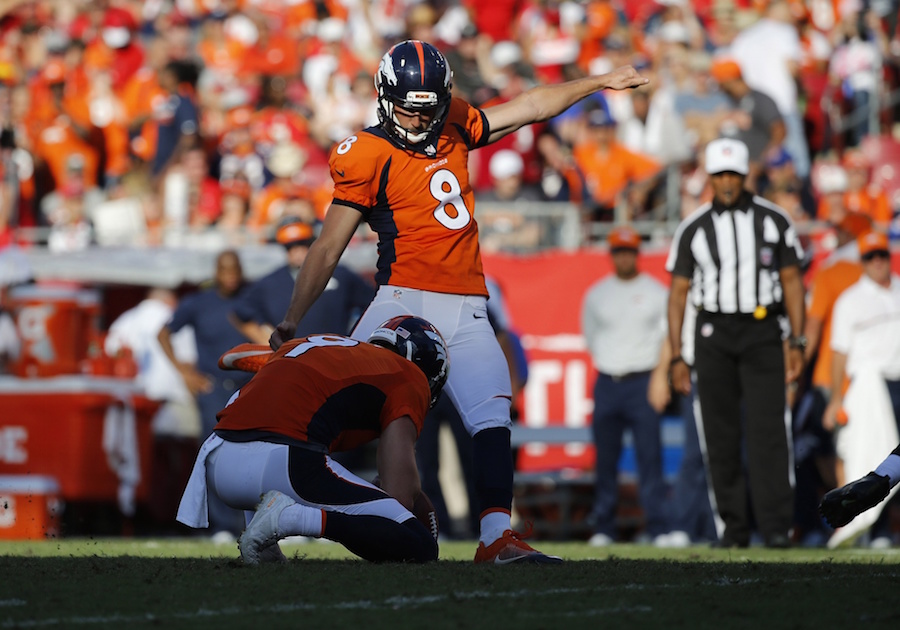 Kicker Brandon McManus was perfect on the day, going two for two on field goals and three for three on extra points, and Jordan Norwood was solid returning two punts for 12 yards, but I am actually talking about the play of punter Riley Dixon, who enjoyed the best day of his very young NFL career.
Going into Sunday's game, Dixon had punted 10 times with a 46.2-yard average. He had just one punt downed inside the opposing 20-yard line.
On Sunday, Dixon punted seven times, averaging 47.1 yards per attempt, and pinned Tampa inside their own 20 five different times.
Paired with the Denver defense, Dixon's punting can be a very potent weapon, forcing teams to go longer distances and limit the plays in their arsenal.
Riley Dixon contributed to the win on Sunday.