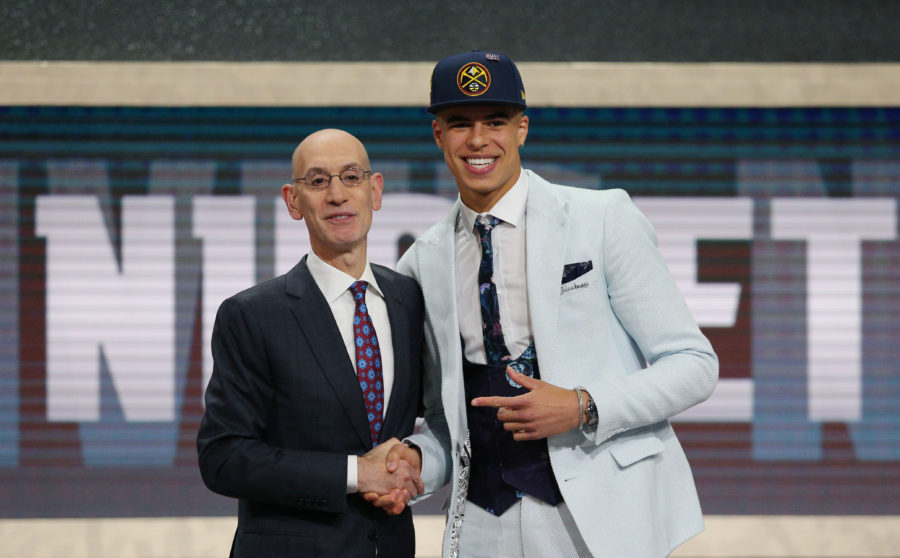 After an eventful 2018 NBA Draft for the Denver Nuggets — a night that saw a top-three prospect fall all the way to 14 for Denver to take as well as a second-round trade — there is much to discuss, but no topic is as pressing as Michael Porter Jr. being drafted by Denver.
There are countless questions and very few answers about Porter Jr. Most of the uncertainty surrounds how healthy he is, how high his potential ceiling could be, and even his fit on the Nuggets' roster. While there is a overwhelming amount of confusion surrounding Porter Jr. and the Nuggets, here are five different takeaways that are evident from day one.
Porter Jr. seems unlikely to play in the 2018-19 season, or will he defy the odds?
Throughout the NBA, there was no consensus opinion on if Porter Jr. will play in the 2018-19 season, let alone Summer League, but anyone who was thinking about selecting him in the 2018 NBA Draft already knew that.
What comes next for Denver is figuring out how healthy Porter Jr.'s back currently is, how long it will take for him to get him back to full health, and what steps need too be taken to ensure that Porter Jr. has a long career. For that to happen, Denver's doctors need to get a first-hand look at their newest player. That meeting is set for Friday.
If you take Porter Jr.'s words as fact, you would be led to believe that he could play as soon as July 6th when the Nuggets tip off against the Minnesota Timberwolves for their first Summer League game. After Porter Jr. was selected by Denver, he was interviewed on ESPN where he proceeded to tell the world that he expects to play at Summer League and that he has "no concerns" about his back injury. Porter Jr. then doubled-down on those thoughts during his interview with the local Denver media where he said that he said that he "feels like he could play immediately," and that he has "no reason to believe," that there is any chance that he will not play for the entirety of his rookie season.
When Tim Connelly, the Nuggets President of Basketball Operations, spoke to the media, he had an entirely different tune. Connelly said that the Nuggets are "going to be extremely patient," and that they are "going to take the long view with everything we do with him." The reason that some, including myself, have speculated that Porter Jr. may not play during the 2018-19 NBA season is because Connelly made it clear that they will not risk the longevity of Porter Jr.'s career in any way, shape, or form. Connelly eloquently explained this when he said that the goal with Porter Jr.'s health is to "make sure he has a long career and not just a productive Summer League."
Anything is possible this year. Porter Jr. could be healthier than originally thought and play as soon as July 6th, or he could redshirt his rookie season. Nobody knows until Denver's doctors get a look at him.
Boom-or-bust is an understatement
There are an obscene amount of variables when discussing Porter Jr. and his fit in Denver.
Will he stay healthy enough to be the best version of himself?
Can he adapt to playing such an altruistic style of basketball?
What kind of defender will he be at the NBA level?
All of these answers are prerequisites when trying to decipher how good or bad things can go with Porter Jr. in Denver.
Worst-case scenario? His back injury saps his athleticism rendering him useless on defense and just a shooter on offense while also drastically diminishing the longevity of his career. That possibility sounds like the basketball version of a horror story, but the opposite end of the spectrum is unbelievably enticing.
Now, imagine this potential best-case scenario: Porter Jr.'s back fully heals and he is able to regain his elite athletic ability and mobility. If that happens, his ability to rise up and hit shots over virtually any defender comes back into existence. His handles and ability to attack — and finish above — the rim would likely return. He would become the terror in transition that he was in high school.
Even more important to his long-term success is if he can defend at a high level physically. If he decides to battle on defense and use his length, strength, and mobility to stymie either wing position or shooting guards, he immediately could become a two-way terror and even a potential All-Star-caliber player.
With so many unknowns, the one thing that is for sure is that the boom-or-bust potential of Porter Jr. is extreme.
Confident, or over-confident?
If one message was conveyed from Porter Jr. to the media during his interview after being selected 14th, it is that he is an unbelievably confident individual — potentially even over-confident.
Just read this quote. Saying that it exudes extreme confidence would be an understatement.
"I am one of those players that can do everything on a basketball floor," Porter Jr. told the media via a conference call. "When I am on the floor, you always have a chance to win. I think I can get my shot off on anybody whenever I want. Even if the shot clock is running down I will at least get a decent shot up that has a chance to go in. You know I am a winner."
Let's also not forget that this is the individual who compared himself to Kevin Durant and Giannis Antentokoupo prior to the draft. Porter Jr. wholeheartedly believes that he can be the best player in the draft, but on such an altruistically-minded Nuggets' team, he is walking a very thin line between confident and cocky.
Every player needs a chip on their shoulder or supreme confidence to reach their full potential, and it seems that Porter Jr. has both in spades. Now, the challenge will be directing all of the motivation in the correct direction to get the most out of such a hyper-talented player.
"Basketball comes easy to me — it always has," Porter Jr. explained. "I just need to keep getting healthy and basketball takes care of itself."
Porter Jr. knows that he could be great. Hopefully that understanding of his elite potential talent is not what keeps him from achieving it.
Focus on unselfishness
The other big takeaway from Porter Jr.'s interview was his extra effort to point out that he is unselfish and likes playing with unselfish players. The weird part is that one of the frequent demerits on his record is that he tends to be much more of an isolation player than a team player. Over a seven-minute conference call, Porter Jr. was able to speak on his adoration of being unselfish three separate times.
"Honestly, I feel like I fit right in," Porter Jr. explained when asked about his fit with the team-oriented Nuggets. "I am very unselfish, but I can score the ball very efficiently.
"I love playing with unselfish players and I am going to do whatever it takes to win," Porter explained.
"It is a very good, good young team who are very unselfish, and that is what I like about them — their unselfishness," Porter said. "That is how I like to play — with guys who love basketball."
This is not to say that Porter Jr. is a bad teammate, selfish on or off the floor, or someone who will only call their own number while ignoring everyone else. It is just notable that he clearly wanted to make sure that everyone in ear shot understood that he wants to be an unselfish player while playing with unselfish teammates.
National attention
Something that slipped through the cracks when the Nuggets selected Porter Jr. with the 14th pick of the 2018 NBA Draft was how much national attention it would be bringing to Denver.
Porter Jr. was once the top-ranked recruit coming out of high school. He won Most Valuable Player of the McDonalds All-American game, was the Naismith National Player of the Year, and was the Gatorade Boys National Player of the year. A player of that caliber already draws in a crowd, but when adding in the intrigue of trying to decipher what kind of player he is without his back injury cloaking all of his incredible skills, the attention he will receive will be massive as everyone attempts to get a look at him.
Denver has struggled gaining a more national audience for the better part of a decade and drafting Porter Jr. is a sizable step towards reversing that trend. Now, Denver has some of the most exciting and polarizing players in the entire National Basketball Association. Jamal Murray is a flame-throwing shooter who just recently became old enough to have an alcoholic beverage in the United States. Nikola Jokic is the darling of all analytically-minded evaluators, which tends to infuriate evaluators who trust their own eyes over any set of numbers presented to them. That has led to Jokic becoming one of the most polarizing player in the league. Adding Porter Jr. to that mix just elevates the national intrigue surrounding the Nuggets.
If nothing else, this 2018-19 Nuggets team will be very interesting.