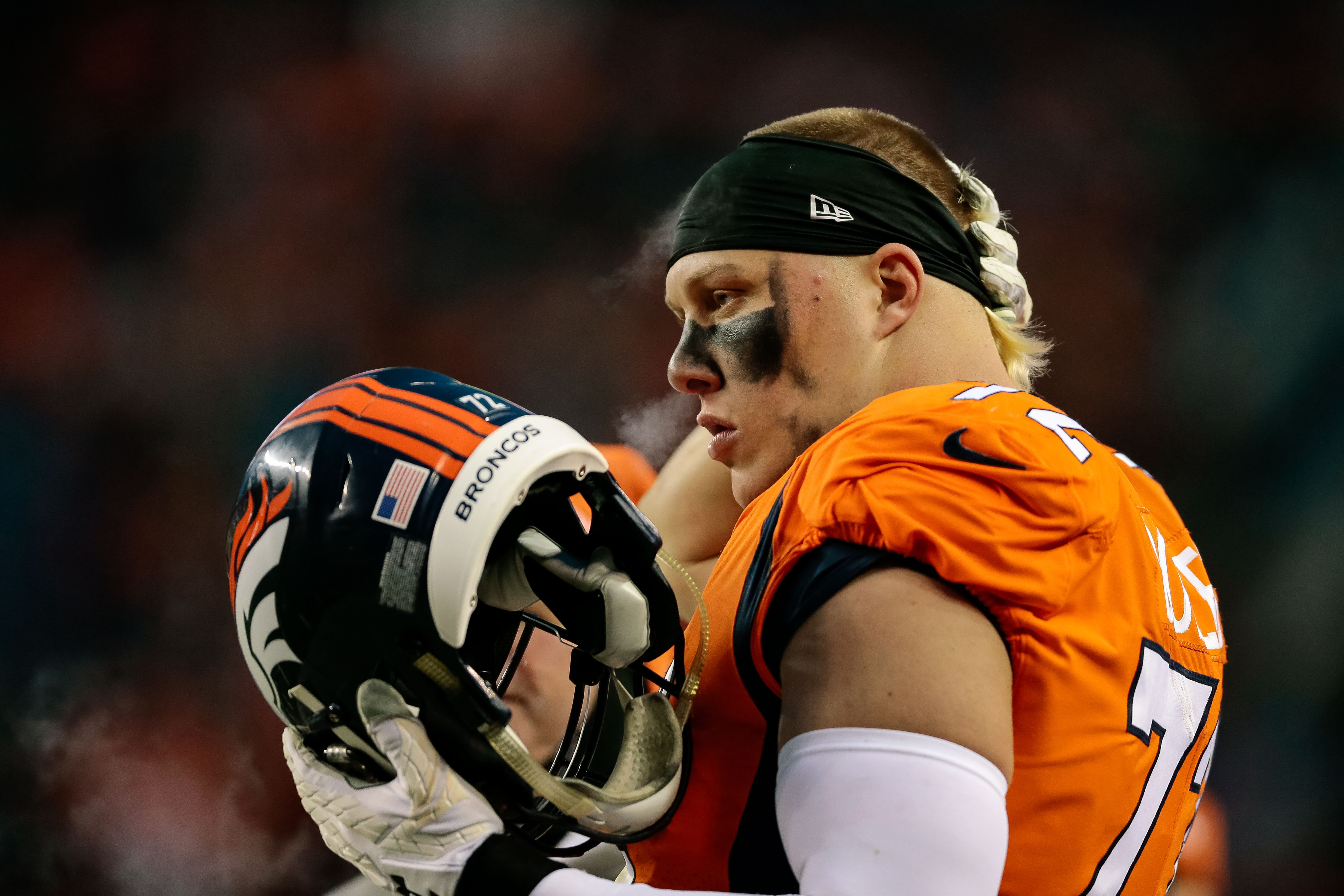 The Denver Broncos had one of its worst seasons in franchise history last year, going 5-11 and finishing dead last in the AFC West. A big detriment to the unfortunate season was their 2017 draft class.
Garett Bolles (first round) was the only rookie from the 2017 draft class that started all 16 games, while the rest barely saw the field, missing a combined 75 games and totaling zero starts.
Following an extremely disappointing season, the time is now for the 2017 draft class to make an impact on the field, otherwise, the Broncos may continue to be the doormat of the division in 2018.
An in-depth look at the Denver Broncos 2017 draft class:
1. (No. 20) Garett Bolles, T, Utah
A PFWA All-Rookie Team member in 2017, Bolles had an intriguing rookie season with the Broncos. Bolles was considered a project out of the University of Utah. The 6-foot-five tackle only played one season of Division 1 football but his raw athleticism and nasty attitude impressed the Denver scouts.
It is no secret that the Broncos o-line has struggled to consistently protect the quarterback.  The Broncos had the 23rd ranked offensive line unit in the NFL (PFF) and Bolles was graded as the third highest offensive lineman on the squad.
Bolles was selected to be the left tackle of the future for Denver – a position that has yet to find stability since the departure of perennial All-Pro Ryan Clady. Bolles finished his rookie season as the 73rd best pass blocking tackle in the NFL (PFF). The young tackle has shown promise at times, but still has a long way to go.
Bolles was told to bulk up during the offseason and he has done exactly that, putting on 10 pounds to bring his weight to 305. Bolles' play will be key to the success of the Broncos offense and protecting quarterback Case Keenum, so we will how bulking up impacts his performance on the gridiron.
2. (No. 51 ) DeMarcus Walker, DE, Florida State
Walker was selected to help fill the void of DeMarcus Ware, who retired prior to the 2017 season. After finishing his senior season at Florida State (2016) with 16 sacks and first-team All-ACC honors, the Broncos had high hopes for Walker but after attempting to transition him to an outside linebacker, Walker struggled to make much of an impact.
The Jacksonville, Fla. native played in just 100 defensive snaps for the Broncos last season, finishing 2017 with seven total tackles. After dropping nearly 40 pounds during the position change experiment last season, Walker (272 pounds) is much closer to his original playing weight of 280.
Ya boy weighed in at 272 today, almost back to my normal weight?

— DeMarcus Walker (@livinglegend_44) May 10, 2018
3. (No. 82) Carlos Henderson, WR, Louisiana Tech
Henderson has yet to play a snap for the Broncos after missing the 2017 season in its entirety due to a torn ligament in his left thumb.
Henderson was named first-team All-Conference during his junior year at Louisiana Tech and caught 82 receptions for 1,535 yards, and 19 touchdowns. The New Orleans, La. native has failed to live up to expectations so far and his chances of making the 2018 roster are already on thin ice.
Earlier this week Broncos Head Coach Vance Joseph stated that he is going to have to get back on the field if he wants to make the team. Henderson was recently put on the Reserve-Did Not Report List and things are looking rather bleak.
Broncos WR Carlos Henderson will start training camp in exempt list as he's dealing with family and personal situation. Agent Erik Burkhardt "We've spoken to Coach Joseph and the organization and they are fully aware of this and have been supportive." #9sports

— Mike Klis (@MikeKlis) July 25, 2018
3. (No. 101) Brendan Langley, CB, Lamar
Langley had a fairly disappointing rookie season with the Broncos finishing with just three tackles, zero interceptions/pass deflections and was graded a 35.0 (PFF), one of the lowest grades given out.
The Marietta, Georgia native was surpassed on the depth chart late in 2017 and was only active in 11 games for Denver last season. Langley is slated to be buried on the depth chart in 2018 once again and unless he can make an impact in camp, Langley may be scratched for most of the year.
5. (No. 145) Jake Butt, TE, Michigan
Butt was a big-time player during his collegiate days, leaving Michigan as a two-time All-American (2015, 2016) and two-time first-team All-Big 10 honoree (2015, 2016). The athletic tight end was at one point projected to go as high as the second round in 2017 before he tore his ACL in the Orange Bowl.
The Pickerington, OH. native unsurprisingly missed all of last season, but is ready to go for 2018. Butt is expected to play a big role for the Broncos in 2018. The team has lacked production from the tight end position for a few years now and needs Butt to make a difference. Denver tight ends combined for 31 catches, 433 yards and three touchdowns in 2017.
5. (No. 172) Isaiah McKenzie, WR, Georgia
McKenzie had more fumbles (6) than any skill position player in the NFL in 2017 and likely will not have much of a chance at making the roster this season.
With so much depth at wide receiver and a serious fumble problem that buried him on the depth chart, McKenzie would have to drastically change his image to make the 53-man roster. McKenzie did show some flashes last year, returning three punt returns for 48 yards against the Chargers in Week 1 but was only active in 11 games for the Broncos.
6. (No. 203) De'Angelo Henderson, RB, Coastal Carolina
Henderson was scratched for most of 2017 but did catch some attention with a 29-yard screen pass for a touchdown in Week 17 against the Chiefs. Henderson, like McKenzie, is in a very crowded room and playing time might be limited in 2018, similarly to how it was in 2017.
Henderson's ability to catch the ball out of the backfield may give him an opportunity to make an impact in the offense though. Look for the Broncos to give Henderson some looks as a scat back during the preseason to help bring some juice to the offense.
7. (No. 253) Chad Kelly, QB, Mississippi
Kelly was selected to be a developmental quarterback for the Broncos in 2017 and missed the season due to a wrist injury. The Buffalo, NY native was second-team All-SEC in 2016 and first-team All-SEC in 2017 but attitude issues resulted in Kelly almost going undrafted.
Kelly certainly has a big arm but maturity will be the biggest question mark for Kelly entering 2018. As the nephew of Hall of Fame QB Jim Kelly, Chad had the benefit of growing up around a true professional. It will be interesting to see what a healthy Kelly can do on the field, as he competes with Paxton Lynch for the backup position.