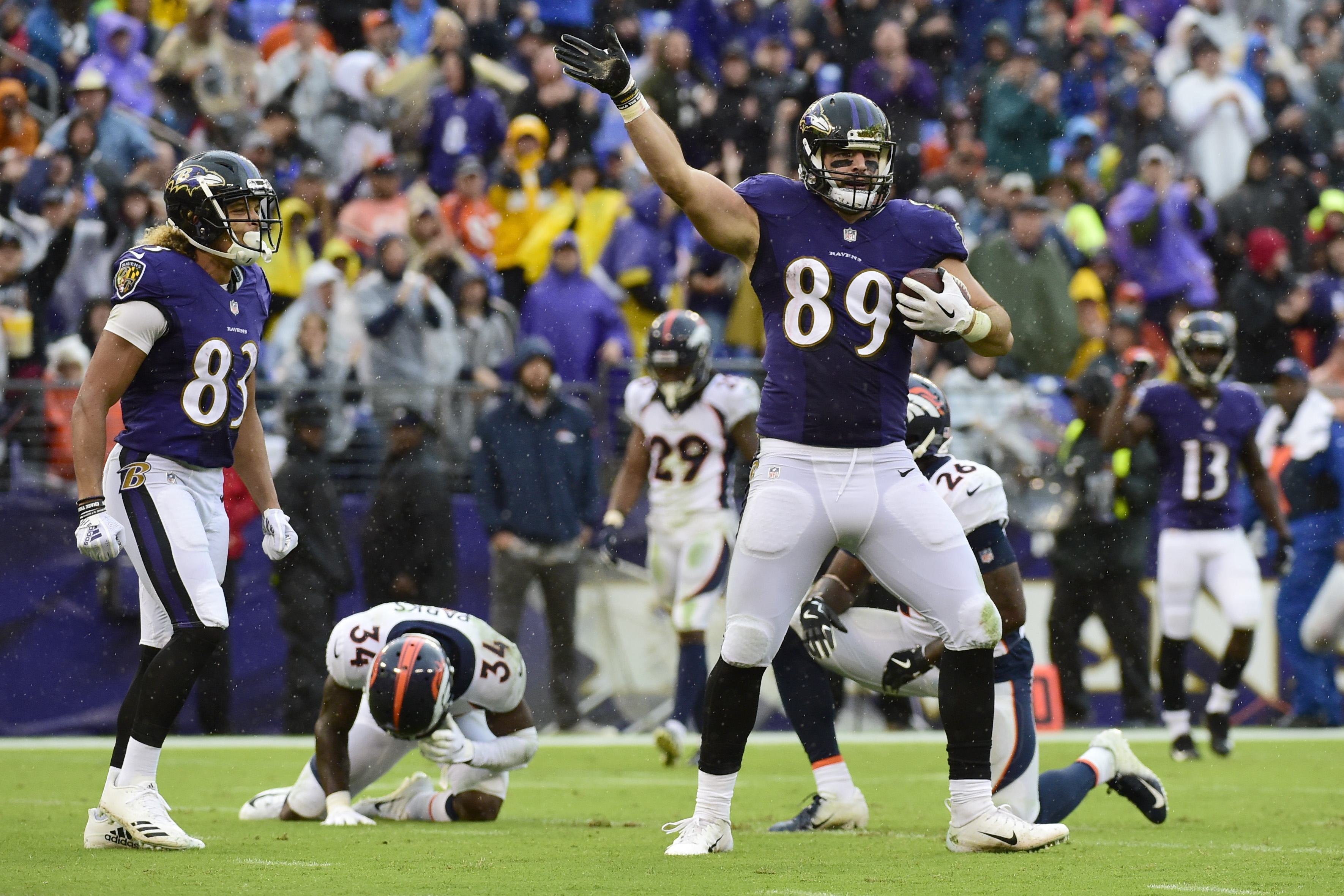 NFL teams don't win many games when they commit 13 penalties for 120 yards. They win fewer when a one penalty nullifies a touchdown, and another get's the league's No. 3 rusher kicked out of the game.
The Broncos played undisciplined football, and when quarterback Case Keenum wasn't running for his life, he short-armed throws and generally looked like the journeyman quarterback he was for his entire career prior to 2017's shockingly successful run with the Minnesota Vikings.
Broncos lineman Garrett Bolles — who led the league in holding last year — stayed ahead of pace to break his own record this season, beaten regularly by speed rushes on the outside and wrestling defenders to ground to earn multiple flags. Fellow starters Connor McGovern had a few of his own and Ron Leary's critical holding call stifled the Broncos' underwhelming offense on a critical drive. As a special-teamer, backup tackle Billy Turner allegedly erased Chris Harris, Jr.'s touchdown return of a blocked field-goal attempt; Turner actually wasn't on the field on the play – it was likely Domata Peko who earned the block-in-the-back penalty that took Harris' touchdown — and the Broncos' lead — off the board.
Never again would the Broncos hold a lead as Ravens quarterback Joe Flacco all but neutralized the Broncos' pass rush after the first few drives by doing what every team will do to the Broncos for the rest of season — completing dump-off passes to running backs and splitting the seam with the tight end. Flacco, who finished with a 91.4 quarterback rating, completed 10 of his 25 passes to a pair of running backs (Alex Collins and Javorius "Buck" Allen) and a trio of tight ends (Mark Andrew, Maxx Williams and Nick Boyle).
The Broncos, who had surrendered three sacks to the Ravens, could have easily coughed up double that due to difficulty picking up blitzers or stopping rushers on the outside. Keenum's propensity to hold on to the ball for a legitimate three seconds or so longer than he should have didn't help; despite overcooking many dropbacks, most of Keenum's passes were short dump-offs, which made things easier for a Baltimore defense that was missing star linebacker C.J. Mosley to injury. Mosley's replacement, rookie Kenny Young, led all players with 10 tackles.
Rookie sensation Phillip Lindsay, who came into the game as the NFL's third-leading runner, was effective early on, averaging 5.0 yards per carry. But Lindsay was visibly frustrated on multiple plays in the second quarter, and when Keenum was hit and fumbled, Lindsay dove incredibly late into the pile and started throwing punches, for which he was rightfully ejected. While it wasn't the difference in the game, Devontae Booker, who averaged two yards per carry and was only effective as a receiver (where Lindsay excels). Booker simply isn't capable of replacing Lindsay's production, and Lindsay's absence limited what the Broncos could do as they attempted a fruitless comeback.
Denver's special teams were excellent, for the most part. A blocked punt by Joseph Jones — who was involved a nearly every good special-teams play on Sunday — led to Denver's first touchdown; a well-blocked scamper by Freeman.
Fullback Andy Janovich sprang wide receiver Emmanuel Sanders on a 35-yard touchdown run off of a reverse to give Denver 14-7 lead in the first quarter.
Keenum threw his fifth interception on the season in the red zone, when the Broncos still appeared to have life. Like he did for much of the day, Keenum didn't get much on the throw, allowing Ravens' safety Patrick Onwuasor to step in front of Jeff Heuerman and pluck an easy pick, scoring a touchdown that was nullified by a block-in-the-back penalty on Baltimore. Whether it was the wet weather, the idea that Keenum had 'happy feet' running for his life all day — or perhaps his arm just isn't that strong — he missed many passes that simply fell in front of Broncos' receivers or floated through the air, like the pass that Onwuasor nabbed. Regardless, Keenum has now thrown only three touchdowns to his five interceptions, a ratio that's far more in line with his 27-25 TD/INT ratio with every team in his career save the Vikings.
The Ravens' defense was solid, and Flacco in particular was efficient, but Sunday's game was one the Broncos could have — and maybe should have — won. Baltimore was never able to pull away, despite Denver's staggering array of miscues, and even when the Broncos had a chance to make it a game again, they always found another way to cast those chances aside with another questionable decision.
The Broncos started 2-0 last season, winning only three more game after that. Sunday's performance looked all-too-familiar in that regard, and it won't get any easier for the 2-1 Broncos when they host the division-rival Kansas City Chiefs next Monday night. The unbeaten Chiefs are the NFL's highest-scoring team behind second-year quarterback Patrick Mahomes II, who's already broken Peyton Manning's 2013 NFL record of 12 touchdowns to start the season without throwing an interception. Mahomes threw for 314 yards on Sunday against the 49ers in their 38-27 road win.