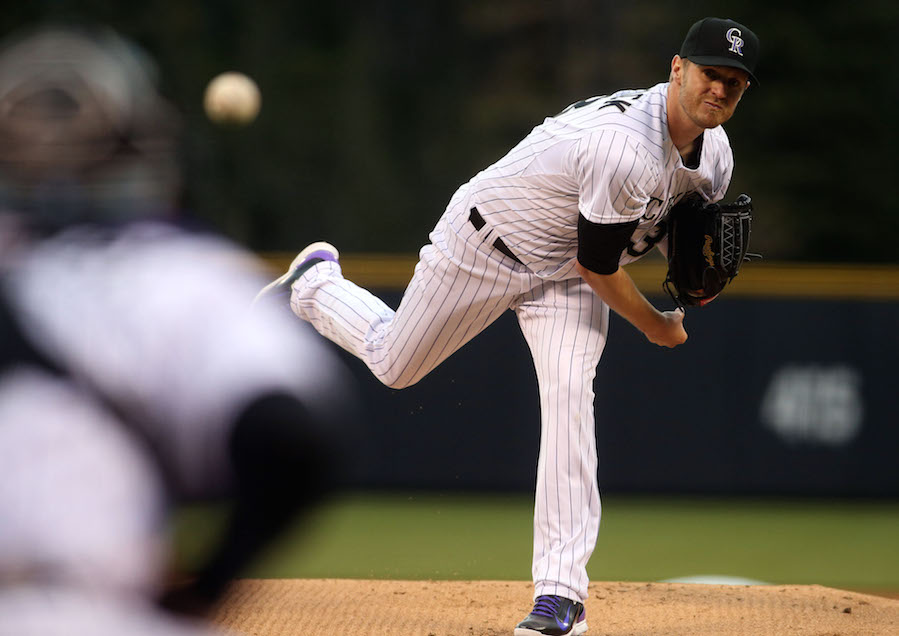 It was easy to beat up on Kyle Kendrick this year. Opposing batters seemingly did it every fifth game.
Ok, no more pot shots. I promise. Of all guys who don't deserve them, Kendrick is high on that list.
What started as a season of promise for Kendrick – described when he signed as a "grinder," an "innings eater" – with a shutout victory in Milwaukee, quickly eroded.
The Kyle Kendrick who allowed eight earned runs in five innings on eight hits and five walks against the Cubs in his second start in a Rockies uniform proved to be the Kyle Kendrick Colorado would be forced to live with for the rest of the season.
When 2015 came to its long and merciless (for Kendrick, at least) end, the 31-year-old right hander was 7-13, having lost nearly 50 percent of his 27 starts. His 6.32 ERA ranked 252 out of 313 pitchers who made a big league start this year. It was nearly two full points higher than his career average before coming to Colorado (4.42) and was more than a point higher than his team's ERA (5.04), which was the worst in baseball.
It was a bad year for Kyle Kendrick. As such it was a bad year for the Rockies, who finished with 94 losses – dead last in the NL West for the third time in four years.
But regardless of how poorly Kendrick performed on the mound every five days, what he was doing off of it is grounds for praise.
Kendrick is the Rockies' nominee for the annual Roberto Clemente Award. As MLB describes the criteria, each team nominates "a player that best exemplifies the game of baseball through sportsmanship and in his individual contribution to his team. But the award is also about what the player does off the field – his commitment to community and understanding the value of helping others."
For Kendrick, 2015 might have been disastrous on the field but he found plenty of positives off it. "From the front office, to the training staff, to the guys on the team, it's been great," he recently told The Denver Post.
During his time in Colorado, Kendrick made things great for some very special young people. Kendrick's Clemente Award nomination was not due solely to his friendliness around the clubhouse. His "Kendrick's Krew" program followed him from Philadelphia and started a Colorado chapter, which helped serve Special Olympics-Colorado and the Global Down Syndrome Foundation.
Down syndrome hits close to home for Kendrick; his wife has a longtime friend whose aunt has Down syndrome. She's a big Kendrick fan and raised his awareness of the syndrome and its community.
Throughout the season, Kendrick hosted Rockies fans with Down Syndrome at Coors Field and helped support athletes with Down syndrome in their Special Olympics pursuits.
Kyle Kendrick is the #Rockies nominee for the Roberto #Clemente Award. Last chance to vote: http://t.co/aCgigWOCeP pic.twitter.com/b7SY6r4BOA

— Colorado Rockies (@Rockies) October 8, 2015
In that Oct. 3 conversation with the Post, Kendrick repeatedly referred to Colorado as "there," a perhaps telling sign that he won't be back in 2016. And perhaps that's better for both Kendrick and the club.
Kendrick is one of the good guys and he deserves a fresh start and a chance to succeed.
Yes, it was a bad year in many respects for Kendrick. But his charitable work while here was more than good.
Voting closes soon for the 2015 Roberto Clemente Award.