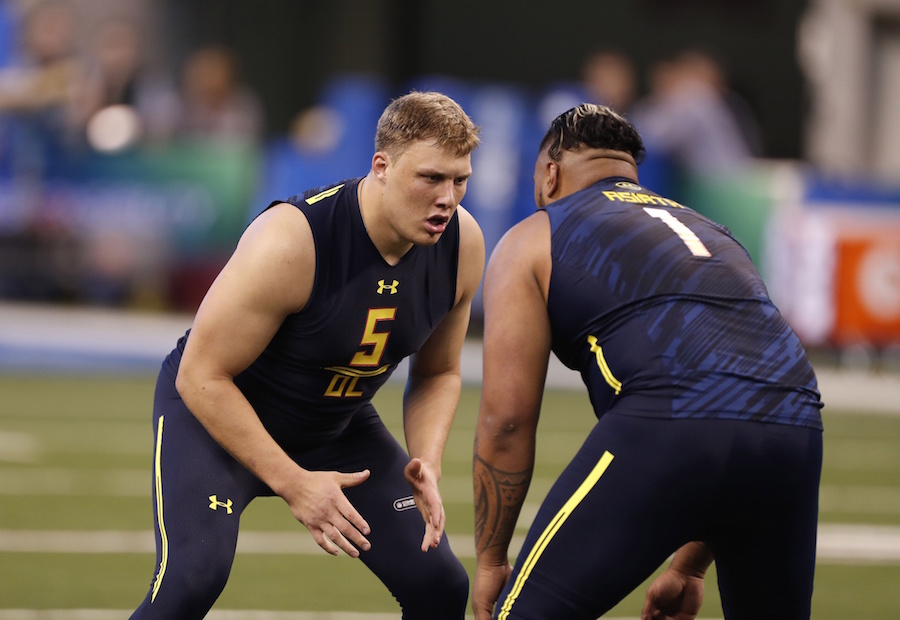 When the Denver Broncos drafted Garett Bolles with the 20th overall pick of the 2017 NFL Draft, it was clear that the rookie would have an opportunity to compete for the starting left tackle job on day one. But the biggest question that surrounds Bolles coming out of Utah is if he'll be prepared to make the leap to the NFL so quickly. Former Broncos offensive lineman Mark Cooper has been studying Bolles' game, and says he believes that the 24-year-old could be ready to make an impact early in the season.
Cooper joined Gil Whiteley on Mile High Sports AM 1340 | FM 104.7 on Wednesday to break down what he's seeing from the tape on Bolles, and what the rookie will need to do to be ready entering his first season in the NFL. When asked if Bolles is ready right now, in May, Cooper said he isn't yet convinced.
"No; he hops and he has a tendency to lead with his head to slow guys down," Cooper told Whiteley. "Think about it, he's a big kid, he's much bigger than a majority of the people he played against, and he didn't play at Alabama or Miami, you know he didn't play at those kind of schools."
Bolles played just one season at the University of Utah, in the Pac-12 Conference. The Pac-12 is historically a smaller, speed-based conference, although it usually boasts numerous top-25 teams and dozens of NFL Draft picks each year. Prior to attending Utah, Bolles spent two years at Snow College, a junior college based in Ephraim, Utah.
Compare that experience to other high draft picks on the offensive line like Cam Robinson, who played three years at Alabama. Robinson had three years to develop at one of the best schools for linemen, while Bolles is still in the learning process. Cooper specifically sees a need for Bolles to improve his footwork.
"Those things can be fixed," Cooper said. "You know the kick step is going to take a little bit of time because when you got a guy running your corner [Bolles is] going to have a tendency to want to athleticize [sic] himself out of his stance to get out in front of that guy and then get beat underneath if he doesn't understand the kick step and jam step."
The good news for Broncos fans wanting to see Bolles out on the field to start the season is that he'll be learning by blocking against some of the best edge rushers in the NFL.
"He'll learn all that pretty quickly with Von [Miller] and the boys out there, so I am encouraged, since the guy is such a great athlete, that he will adjust pretty quickly."
For Cooper, the key to Bolles' success lies in his ability to learn and apply technique. If Bolles can process and master new techniques quickly, he should have no trouble making an impact right away.
"Let's put it this way," Cooper said, "as long as that kid is a quick study then he will be fine. Like I said, he's a great athlete and a big strong guy. If he gets his kick steps down he will be just fine. He's going to get beat every once in a while, just like everybody else does. You couldn't be in a better place to learn as quick as he needs to than the people he is going to play against at practice. What encourages me is that his learning curve is going to be steep, but it will also be where it needs to be when he gets to his first game against the Oakland Raiders, the Kansas City Chiefs, and some of those others that will have outside rushers that will rival Von."
Listen to the full conversation with Mark Cooper, including his take on the NFL concussion protocol, in the podcast below.
Catch Gil Whiteley every weekday from 11a-noon on Mile High Sports AM 1340 | FM 104.7 or stream live any time for the best local coverage of Colorado sports from Denver's biggest sports talk lineup.