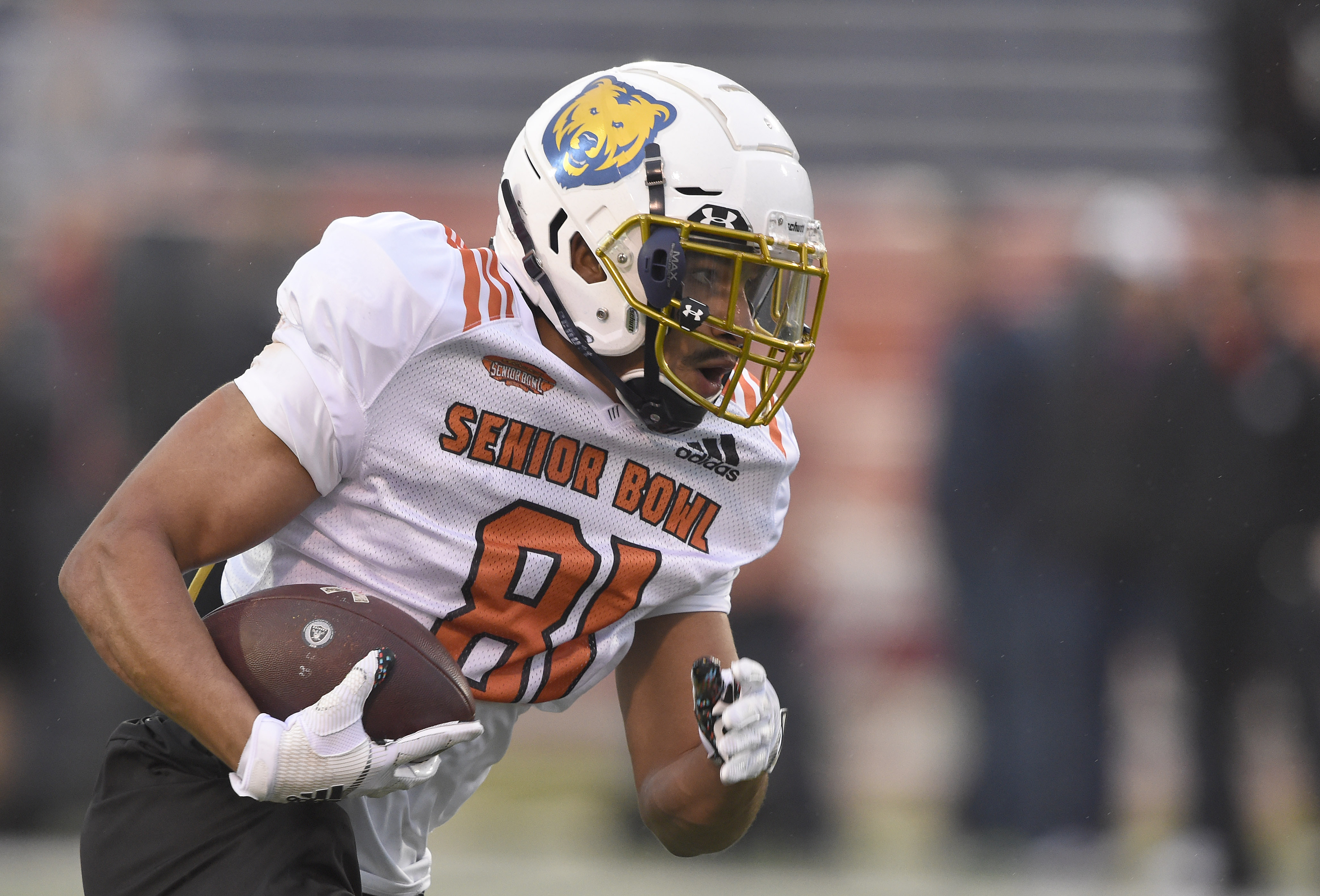 From Wylie High School in Texas to Greeley, former University of Northern Colorado star receiver Alex Wesley is looking to make his NFL dreams a reality.
In an exclusive interview with Mile High Sports, Wesley discussed those goals and how he has always been trying to do something a little different than most people.
"When I got to college, I realized that I was trying to do something different than most people and I realized that my dream since when I was a little kid could be a reality soon," Wesley explained of those NFL dreams. "It was always something that I wanted since I was a little kid watching the Cowboys play. I started realizing my senior year of high school that I could obviously go play in college and when I got to college, I started realizing that I could go play at the next level."
During his four-year career at UNC, Wesley posted eye-popping stats totaling 2,716 career receiving yards, 156 receptions and 17 touchdowns. His junior and senior seasons were the years where Wesley made his mark as he totaled 2,060 yards receiving and 10 touchdowns. It was at that point in Wesley's career where NFL scouts really started to take notice and pay attention to his play.
Remember the name Alex Wesley, he'll be playing on Sundays next year @yungwes81 is a baaaad man. All tied up at 21. #UNCommon pic.twitter.com/hJF5MnrvNR

— Northern Colorado FB (@UNCBearsFB) September 23, 2018
"Really, the speed with Alex, that really jumped out at that level," Senior Bowl director Jim Nagy said on Wesley during his Senior Bowl press conference. "My friends on the west coast, I mean that was the one guy that they were calling about was you got to check out this dude at Northern Colorado."
Find him they did as Wesley was invited to the Senior Bowl, where he had a tremendous showing during three days of practice. Wesley was held out of the game for precautionary reasons (groin), but the impact he left throughout the week should do nothing but help his draft stock moving forward.
"I think showing teams that I can play with the best competition," Wesley said on his performance during Senior Bowl week. "That is why I was out there, it's the best of the senior class, so I just wanted to show teams that I'm not afraid to get out there with the guys from the bigger schools or the top talented guys, and just go out there and compete."
Wesley noted how he thought he had a pretty good week and that he heard the same from teams and scouts. Playing in the Senior Bowl also allowed him to talk with NFL teams, which provided him the opportunity to show them who he is as a person. Even though he did not get much feedback from teams about his play on the field, Wesley was able to showcase his charisma and maturity, which he attributes to his four years spent at UNC.
"For me, it was more maturing off the field and the on the field stuff came naturally. I'm obviously athletic and talented, but you know if I didn't get it right off the field, I don't think the things on the field would have happened," Wesley said on how his time at UNC. "For me, it was separating myself and knowing that I'm trying to do something a little bit different than everybody else."
One thing Wesley possess that is certainly different than most receivers in this draft class is his lightning quickness and ability to get open in the blink of an eye. That's something he put on full display throughout Senior Bowl week, but Wesley is also aware that perfecting his craft is something he needs to continue to work on moving forward.
"I felt like I had a pretty good week and kept perfecting my craft," he explained of the Senior Bowl. "Just working on routes and getting in and out of breaks and things like that. I didn't really hear to much in terms of what teams are looking for, but I obviously have things that I work for and things I'm trying to work on."
Speed is not one of those things. Wesley has already perfected that in large part to his his track and field background, which he also competed in during his time spent at Northern Colorado. In 2017, Wesley won the Big Sky Outdoor Championship in the 400m dash to qualify for the NCAA Regionals. There, Wesley finished in the top-12 to advance to Nationals where he became a second-team All-American with his time of 45.91 seconds. This was also the same time in Wesley's life where he finally had that moment of realization he was starting to reach his goals, which occurred at the Senior Bowl as well.
"I kind of had that moment at the National Championship last year when I was running track," he said. "To kind of stop and say, 'This is crazy, it's something you've always watched.' Being at the Senior Bowl, being in the room with Torry Holt, Jerome Bettis came and he had a speech. So it was kind of crazy seeing these guys in person. They're real people kind of thing, like you see them on TV, but you'll never meet them, but getting to shake hands with them and have conversations with them, it was pretty crazy."
Senior Bowl week was just the beginning for Wesley as he will also be competing at the NFL Combine later this month. There, Wesley will be able to show off his blazing speed in the 40-yard dash, which he says UNC fans and football people alike should expect nothing less than a 4.3 time.
"I'm looking around a 4.3, 4.3 anything I'll be happy. I've ran 4.39 in the past, I did that last spring. So, 4.3 anything and I'll be good," Wesley said on the expectations for his 40-time. "Definitely expect that, I expect that from myself, so I'm not expecting anything different from ya'll."
The record in the 40-yard dash is 4.22 seconds as John Ross posted that time at the 2017 combine. Wesley certainly has the speed to compete with that and he is excited to show the world what he can do when the bright lights are on.
"I think the same thing will happen at the combine when I walk out there to run my 40 and all the lights are on and the cameras are on and there's millions of people watching," Wesley said on that moment he will take everything in at the combine, like he has before. "I think it's going to be fun. It's going to be a little nerve racking, but I think can handle it."
It is not just speed that stands out when you watch the receiver, though, as he also has an uncanny way of using his feet to create separation against defenders.
@yungwes81 During 1 on 1 at the @seniorbowl #UNCommon 🐻🏈 @UNCBearsFB @UNCCoachCollins @CoachKGrable @armour223 pic.twitter.com/5d7lleACB2

— BC (@B_C_1_) January 23, 2019
Wesley's ability to match his footwork with his speed is what makes him such a high level prospect in this draft class, but he also wants it to be known that he is not afraid to get physical either.
"Going from FCS, going against some of the big school guys, you know it's a little more physical. Things happen a little bit faster, so just showing that I can play at any level. I was just so happy to be at Northern Colorado, I got on the scale and I was 192 pounds, so that was something that I wanted to show teams that I could put on weight," Wesley said on showing teams his physicality in Mobile. "I can play at a heavier weight then what I was playing at UNC given the fact that I was running track and all that kind of stuff. Just showing them that I can play at that higher weight and be more physical because of that."
Coming from a smaller school in UNC, Wesley said it is important for him to show teams and scouts where he came from considering most people don't even know where Northern Colorado is.
"Obviously, nobody knows who you are, none of the players know where Northern Colorado is," he said of Greeley. "Just trying to show everybody what you already know, what your coaches know, and people who follow UNC football know. We already know, we're just trying to show everybody else." 
Northern Colorado WR Alex Wesley showing off his footwork and his hands out here at the Senior Bowl. pic.twitter.com/gkws9Wtk5w

— Pro Football Focus (@PFF) January 24, 2019
Playing at the Senior Bowl and competing at the combine will certainly show teams that, which will hopefully make Wesley an NFL draft pick come April. This whole draft experience is certainly something the receiver is enjoying, though, as it is something you can only do once in a lifetime. That is what makes this such a surreal experience for Wesley as the combine is something he has always watched on TV, but now he will actually be participating in the event.
"It was something I've always watched as a kid and now I'll be on the TV with some kid watching me wanting to be in my place," he said. "It's a little surreal, same thing with me being at the Senior Bowl and being in the same room as Jon Gruden. It's just a surreal thing to see these people and even watching these things on TV for years and now you're actually doing it."
No matter what happens come draft time in April, one thing is for certain and that is Wesley has already made every fan of Northern Colorado football proud. For a smaller school that has not seen many players make it to the NFL, Wesley definitely has an incredible shot to break that trend. Whether it is competing in Mobile at the Senior Bowl or when all the lights are on at the NFL combine, Wesley is on his way to making his NFL dreams truly a reality.