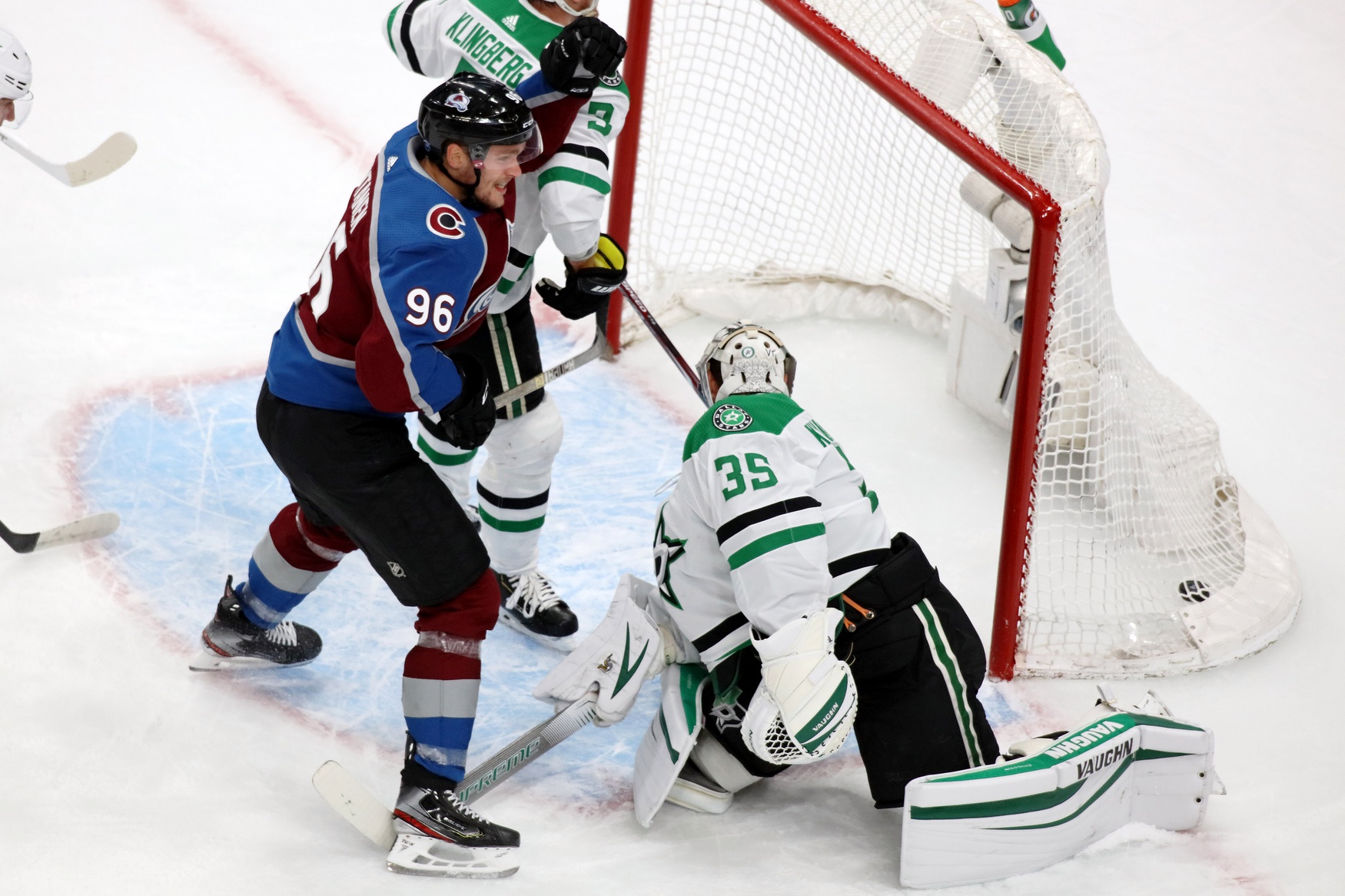 High-five for Avalanche fans.
The Avs' first-period performance Monday provided five reasons why they're not ready to leave the bubble just yet.
Colorado erupted for five goals, including four in a span of 2:36, to jump out to a 5-0 lead in the first period in Game 5 on its way to a 6-3 victory over the Dallas Stars at Rogers Place in Edmonton.
The four goals were a second off the record for fastest four goals in a playoff game (Montreal Canadiens, 1944)
The Avs, who were down to third-string goalie Michael Hutchinson starting in net, now trail Dallas 3-2 in the Western Conference semifinal with Game 6 on Wednesday at 6 pm MST.
Hutchinson, a trade-deadline acquisition on Feb. 24, was spotted a five-goal lead and made 31 saves — 17 in the third period in his first career NHL playoff start.
"I'm really happy for Hutch," Avs coach Jared Bednar said.
Colorado's first-period domination started with a goal from fourth-line center Pierre-Edouard Bellemare. The 1-0 lead, set up by young forward Logan O'Connor, lasted just over seven minutes before the four-goal scoring-spree began.
Top-six forwards Andre Burakovsky, Nathan MacKinnon, Nazem Kadri and Mikko Rantanen were the Avs scorers, with the first three against starter Ben Bishop. The Stars' top goalie had not seen action in eight games and was inserted into the starting role in place of Anton Khudobin, who surrendered a goal to Rantanen on the first shot he faced in relief.
It was a far cry from Game 4, where Colorado trailed 3-0 and didn't register a shot on goal until the 18:34 mark of the first period.
"We didn't like our start in the last game," Bednar said. "Dallas came out and took it to us and it won them the hockey game. I thought we came around and started to play well as the game went on but we didn't put a full 60 minutes together and we didn't deserve to win. But tonight our guys are ready to go. We're facing elimination, our backs up against the wall and they came out guns blazing."
Goaltender Pavel Francouz, who has started each of the last three games, was deemed unfit to play so the Avalanche turned to their third-string goalie who made his playoff debut in relief in Game 4 on Sunday.
"Since the day we got him he's come in every day and went about his business," Bednar said. "He's a really quiet guy in the locker room and just a great human being. Talking to him last night when I was telling him he was going to start, I just wanted him to be relaxed and go be himself and have a fun night. He's a confident guy."
Colorado outshot Dallas 23-5 in the opening period and frustrated the Stars into taking four minor penalties, including two in the final 24 seconds. It was a statement period of hockey for a team facing elimination and playing without its top two goalies (Philipp Grubauer and Francouz), a top-four defenseman (Erik Johnson) and two of its key forwards (Matt Calvert, Joonas Donskoi).
Yet suddenly, the Avalanche are one victory away from forcing a decisive Game 7.
"We were not happy about the start last game and we decided that tonight we're going to try to be better," Bellemare said. "It was just a matter of time before we understood that we had to play that way. I wish we played the same way for 60 but I'm really happy about the start, for sure."
The Stars attempted to claw back in the second period. Veteran forward Joe Pavelski and young defenseman Miro Heiskanen scored to make it 5-2. But Burakovsky put an end to the comeback attempt, capitalizing on a one-timer off a setup from MacKinnon 33 seconds after Dallas' second goal.
"His last handful of games here, he's been working, he's been on pucks, winning more battles, winning more races," Bednar said. "He has all the skill and ability and he's got this wicked shot. When he's working like that and he's engaged he's a tough guy to handle and he can hurt you in a bunch of different ways. He stepped it up at the right time and he's making a difference and we need him to continue to do that."
Burakovsky. Burakovsky's three-point effort brings him to 14 points in 13 playoff games and six in his last three. The former Washington Capitals forward has scored eight goals in his last seven playoff games when facing elimination dating back to his days in Washington.
"I just love those games," Burakovsky said. "You have to win. I like playing under pressure and I've been finding success in those important games. I can't really put a finger on what it is and why I'm scoring in those games but I really enjoy playing big games."
Footnotes: Hutchinson was backed up by Colorado's fourth-string goaltender Hunter Miska. … MacKinnon extended his playoff point streak to 13 games. Only three players in NHL history have started the playoffs with a longer point streak. … MacKinnon leads the NHL with 23 points in the playoffs, matching last year's top playoff point-producer in half the games (Ryan O'Reilly, 23 points in 26 games). … Rantanen, Kadri, Burakovsky, defenseman Cale Makar and captain Gabe Landeskog all rank within the top-15 in playoff scoring. … Young defenseman Conor Timmins made his playoff debut. The 21-year-old replaced Kevin Connauton in the lineup and was paired with Sam Girard.